When installing Windows updates , the error code 0x80080008 occurs under certain conditions  . This error code is not a specific Windows 10 error code, it also occurs in the previous version of Windows. Below we have shown you the original error message of  error 0x80080008 .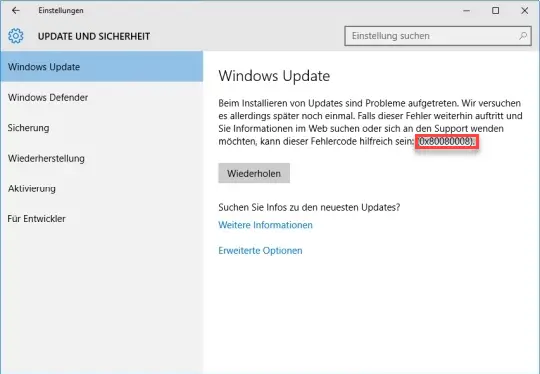 Virus scanners cause error code 0x80080008
Often the installed virus scanners are the real problem with the error code 0x80080008 . As reported in numerous forums, Bitdefender virus protection seems to be particularly often involved. It can of course also be virus scanners from other manufacturers such as TrendMicro, Kaspersky, Avira etc. In order to be really sure whether your problems with the error code 0x80080008 also occur due to the antivirus software , you should temporarily deactivate the virus scanner. In many cases, it is even necessary to uninstall the entire antivirus software to eliminate the error.
Reregister Windows Update DLLs
Another option is to re-register the DLLs that are responsible for the Windows Update function . To do this, you have to run the following command in a command prompt, which must have administrator rights .
REGSVR32 WUPS2.DLL / S
REGSVR32 WUPS.DLL / S
REGSVR32 WUCLTUX.DLL / S
REGSVR32 WUWEBV.DLL / S
REGSVR32 WUAUENG.DLL / S
REGSVR32 WUAPI.DLL / S
REGSVR32 /
MSSXMLV.DLL
After that, you should try again to get and install the Windows updates.
Microsoft Tool for 0x80080008
Microsoft offers a special tool for numerous Windows Update error codes, which is called " Windows Update Troubleshooter ". This free tool is now available for the operating systems Windows 7, Windows 8.1 and Windows 10. You can find all the information you need on the Microsoft website " Fix Windows Update Errors ".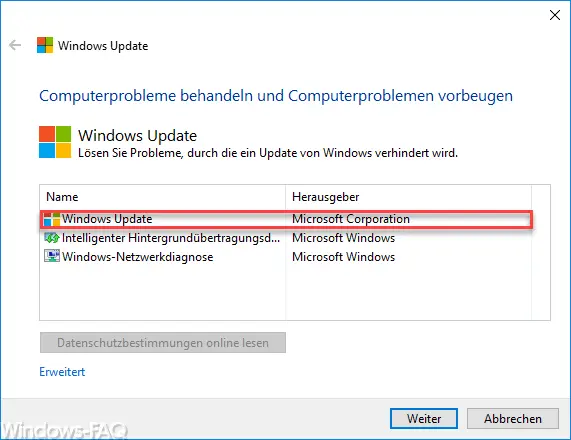 After downloading the tool ("wu170509.diacab") you only have to go through the steps step by step, the existing Windows Update problems are automatically eliminated. Then you should restart and try again to see if the error 0x80080008 is still occurring.
You can also find a lot more help for Windows Update errors in the following articles.
– 0x80070490 Windows Update error code
– 0x8000ffff Windows error code
– 0x8e5e03fa Windows 10 Update error code
– Windows Update error code 0x80240fff
– 0xc1900201 error code for Windows 10 Anniversary Update
– 0x80070003 error code for Windows Update
– Windows Update error code 0x80240437
– 0x80240031 Windows Update error
– 0x80248007 error code for Windows Update
– Windows Update error code 0x80245006
– 0x80072ee7 error code for Anniversary Download
– 0xc004f014 error code for Windows 10 Upgrade Home -> Pro