For Windows 10 Anniversary Version 1607 , Microsoft has also released a new cumulative update called  KB4022715 . It changes the Windows 10 build number to status 14393.1358 . Below you can see an original image from the installation of the update KB4022715 .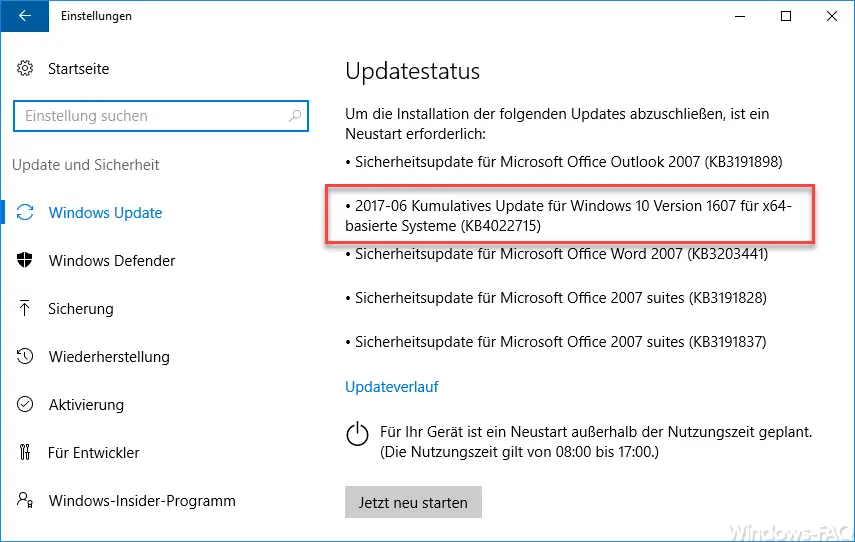 Microsoft has incorporated the following changes into this cumulative update KB4022715 :
Addresses issues after installing KB3164035 because users cannot print extended metafiles (EMF) or documents with bitmaps that are turned off using the BitMapSection (DIBSection) function.
Troubleshoot Internet access when using non-Microsoft proxy devices after "Credential Guard" has been activated. The error only occurs in connection with the NTLMv2 protocol.
Windows 10 clients that have activated Windows Information Protection (WIP) cannot access secured documents when clients connect to the company network.
Internet Explorer crashed when the Microsoft Active Accessibility application was running in the background.
Problems with the " Certutil.exe " in connection with version 1 certificates have been fixed .
Network adapter description name error on a network adapter that is not updated after a device driver update in  Hyper-V . The management of a NIC team or vSwitch within the Hyper-V administrator or the system center Virtual Machine Manager can be affected by the problem.
Wifi problems when using the Privacy Separator have been fixed.
Devices could crash when using hot-plug USB 3.0 network adapters.
Windows 7 clients (incl. Service Pack 1) were unable to run applications such as Internet Explorer after connecting to a Windows Server 2016 domain controller for a longer period (sometimes 10 minutes) after logging on.
Errors in the application list of the Windows 10 start menu have been fixed.
After installing KB4019472 , the End User Defined Characters (EUDCs) were not displayed.
Further problems with the time information, the Windows storage file system, the Windows update protocol and in the Windows task bar and shell have been fixed.
You can download the update KB4022715 here below.
– 2017-06 Cumulative Update for Windows 10 Version 1607 for x64-based Systems (KB4022715)
– 2017-06 Cumulative Update for Windows 10 Version 1607 for x86-based Systems (KB4022715)