Microsoft has just released update KB4019472 for Windows 10 version 1607 Anniversary . It increases the Windows 10 build number to build version 14393.1198 .
The update is made available via the integrated Windows 10 update function . Of course, like every Windows update, you can download and install this update from the Microsoft Update Catalog.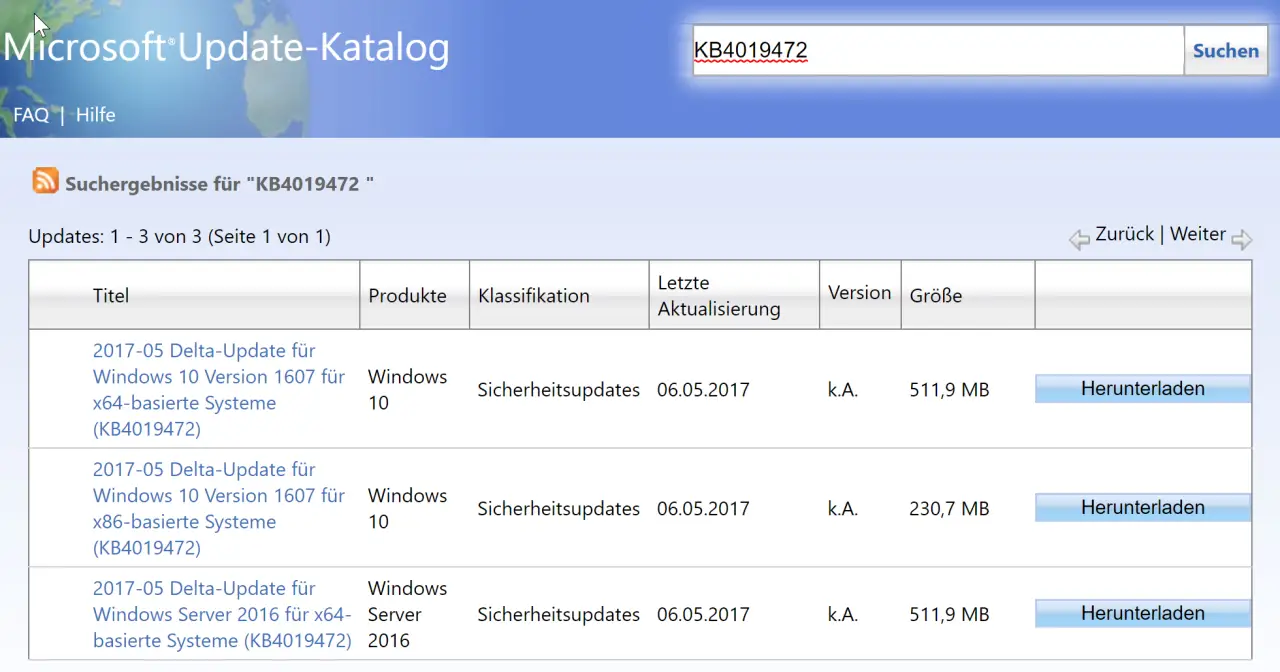 The following changes and improvements have been incorporated in this delta update KB4019472.
Fixed an issue with update KB3213986 because after installing language packs it did not show the correct options.
Font troubleshooting when using an App Graphics Device Interface (GDI) or GDI Plus.
After installing the security update KB4015550 , there were problems with the msado15.dll file.
Windows 10 stopped responding when a user activated custom characters (EUDCs).
Windows 10 crashed when a user logged out of a Virtual Desktop Agent (VDA) session.
Problems with scaling settings of the display in connection with the Japanese IME have been fixed.
The CPU utilization of the Windows Explorer was over 20% if an executable file was saved on a file question and the offline attribute was set.
Problems with Windows Event Forwarding between two Windows 2012 R2 servers have been fixed.
Bitlocker Problems with the BitLocker Drive Encryption Assistant in connection with the Bitlocker GPO have been fixed.
Applocker had problems with binary files and revoked certificates.
Virtual machines (VMs) can lose network connectivity if the VM does not send address resolution protocol packets within five minutes.
VPN connections were terminated when using computers with an integrated WLAN card.
Problems with the multipath I / O with the error message "Illegal request, LUN not available (sense codes 05/25/00)".
Error code 0x27 could occur after user login with domain user name and password .
Problems with USB flash drives have been fixed.
Servers that had more than 750GB main memory and with Hyper-V enabled had problems creating crash dumps.
Blue screen due to problems with the paging file.
Services.exe could crash with the error code " 0xc0000374 – A heap has been corrupted " and request a system restart .
Windows Defender update problems of the anti-virus definitions.
The IE11 had problems exporting JavaScript files to an MHT file.
Numerous other IE11 problems have been fixed in the area of ​​news feed, redirects, SSL, TLS server authentication.
Furthermore, many other problems in the following areas have been eliminated: Windows Shell, Enterprise Security, Datacenter Networking, Storage Networking, IIS, Active Directory (AD), Clustering, Windows Server, SMB and Microsoft Edge.
You can download the Windows 10 Anniversary Updates directly here below:
– Delta update KB4019472 for Windows 10 version 1607 for x64-based systems
– Delta update KB4019472 for Windows 10 version 1607 for x86-based systems
– Delta update KB4019472 for Windows 10 version 1607 for Windows Server 2016