Microsoft has released another new cumulative update called KB4016635 for Windows 10 version 1607 Anniversary. It is again an update that replaces the previously released updates  KB4013429 and  KB4015438 due to errors in the update packages. Numerous users also had significant problems after installing the 2nd cumulative March 2017 update for Windows 10 Anniversary, which Microsoft now wants to eliminate with the 3rd update called KB4016635.
According to the Knowledgebase article, the following errors should be fixed by Microsoft .
Problems with Microsoft CRM 2011 on Internet Explorer 11 in connection with update KB4013429 have been fixed.
After installing update KB4013429, error message 0x80070216 may occur when updating apps from the Windows Store.
This new cumulative update can be easily installed over the two existing March updates ; only the faulty components will then be replaced. So the installation is very quick.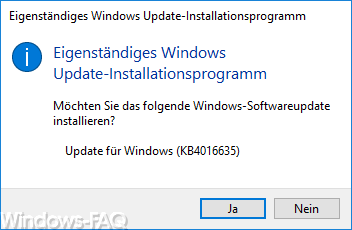 The update KB4016635 is normally delivered via the Windows Update function. You can also download it directly from the Microsoft servers using our links below . The 64-bit update again has a size of approximately 1.06 GB, the 32-bit update, however, only a size of just under 570 MB. The update is also available for Windows Server 2016.

After installing the new Windows 10 update, your Windows 10 version will be upgraded to the current build version 14393.970 , as you can see below.

The update KB4016635 can you you download here:
– Cumulative update for Windows Server 2016 for x64-based systems (KB4016635)
– Cumulative update for Windows 10 version 1607 for 64-bit systems (KB4016635)
– Cumulative update for Windows 10 version 1607 for 32-bit systems (KB4016635)