Emojis have become an integral part of email and chat communication like WhatsApp or other messengers . Even with Windows 10 emoji are available and can be inserted in any input field. We already reported about it in our article " Using emojis in Windows 10 ".
But it is even easier to insert emoji on Windows 10 . This relatively unknown key combination immediately shows you a selection field with numerous emoji symbols . To get to this emoji selection list, you just have to press the following key combination.

Immediately after pressing the Emoji key combination Windows key + "dot" , the following Emoji window appears .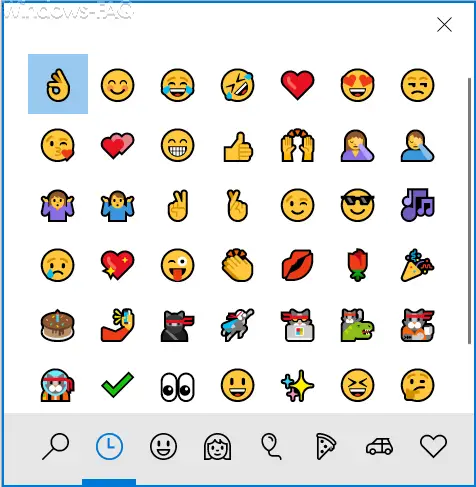 As you can see, there is an extensive collection of emoji symbols to choose from. Similar to Whatsapp, the individual emoji icons are divided into different areas. The following emoji selection areas are available to you.
Last used
Smiley faces and animals
People
Celebrations and objects
Food and plants
Transport and places
Symbols
In total there are about 290 emojis available for you to choose from in the 7 different emoji categories .
The key combination (Windows key & ".") Works in all Windows application programs that allow text input. Regardless of whether it works in Outlook , Word or Excel , you can use this emoji key combination to quickly and easily insert suitable emoji icons into your text .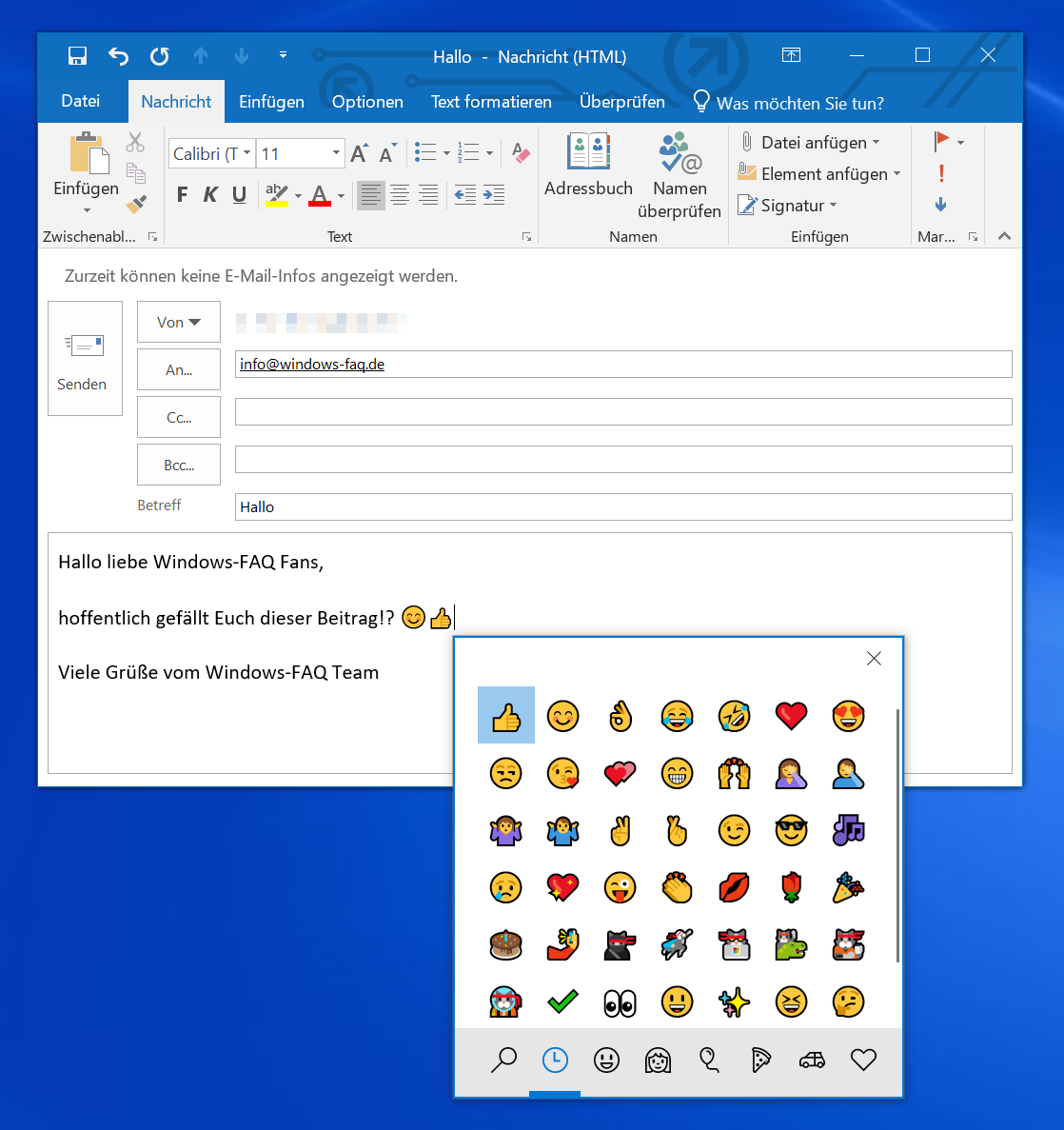 If you want to close the Emoji selection window again, just click on the " x " at the top right or you can close the Emoji window immediately by pressing the ESC key .
If you should not find the desired emoji symbol straight away, you can simply click on the " magnifying glass " at the bottom left and then simply enter the desired search term. Then you will only be shown the emojis that match.
You can also find other interesting Windows keyboard shortcuts in these articles.
– Quickly start the Windows calculator using the keyboard or keyboard shortcut
– Useful keyboard shortcuts for Outlook
– Useful keyboard shortcuts from the Microsoft Edge Browser
– Quickly open Command Prompt (CMD) and PowerShell using the keyboard shortcut as administrator
– Deactivate certain Windows hotkeys (keyboard shortcuts)
– Start Windows programs quickly using the keyboard shortcut ( CTRL + ALT Hotkey)
– Key combinations in the MS-DOS prompt
– Key combinations for Windows Explorer
– Overview key combinations under Windows 10
– Key combinations under Windows 8
– Useful key combinations for Internet Explorer 9 (IE9)
– Copy / move process in Explorer with key combination undo make
– Minimize all windows except the active with a key combination (AeroShake)