The virtualization solution Hyper-V Microsoft enjoys increasing popularity. Not without reason, because with Windows 10 Hyper-V is also included as standard, at least in Windows 10 Professional and Enterprise Edition. Windows 10 Home users unfortunately do not enjoy Hyper-V, at least not without trickery.
If you work a lot with Hyper-V and virtual machines , you will surely sometimes be interested in getting certain information from installed Hyper-V VMs. This is usually the quickest and easiest way with Windows PowerShell .
With the following command you can get tons of Hyper-V information about a single VM.
Get-VM VMNAME | select property *
For the placeholder " VMNAME " you must of course use the exact name of the virtual machine. Below we have shown you the complete output of the Hyper-V information .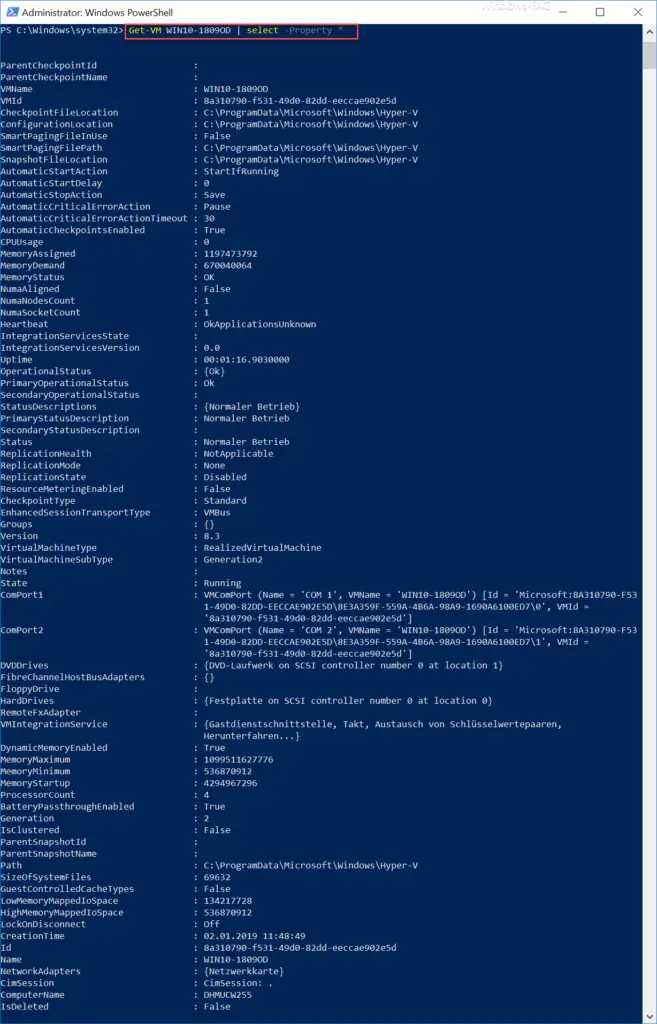 As you can see, this information is extremely extensive . The following Hyper-V information is available per VM:
ParentCheckpointId
ParentCheckpointName
VMName
VMId
CheckpointFileLocation
ConfigurationLocation
SmartPagingFileInUse
SmartPagingFilePath
SnapshotFileLocation
AutomaticStartAction
AutomaticStartDelay
AutomaticStopAction
AutomaticCriticalErrorAction
AutomaticCriticalErrorActionTimeout
AutomaticCheckpointsEnabled
CPUUsage
MemoryAssigned
MemoryDemand
MemoryStatus
NumaAligned
NumaNodesCount
NumaSocketCount
Heartbeat
IntegrationServicesState
IntegrationServicesVersion
Uptime
OperationalStatus
PrimaryOperationalStatus
SecondaryOperationalStatus
StatusDescriptions
PrimaryStatusDescription
SecondaryStatusDescription
status
ReplicationHealth
ReplicationMode
ReplicationState
ResourceMeteringEnabled
CheckpointType
EnhancedSessionTransportType
Groups
version
VirtualMachineType
VirtualMachineSubType
Notes
State
ComPort1
ComPort2
DVDDrives
FibreChannelHostBusAdapters
FloppyDrive
HardDrives
RemoteFxAdapter
VMIntegrationService
DynamicMemoryEnabled
MemoryMaximum
MemoryMinimum
MemoryStartup
ProcessorCount
BatteryPassthroughEnabled
generation
IsClustered
ParentSnapshotId
ParentSnapshotName
Path
SizeOfSystemFiles
GuestControlledCacheTypes
LowMemoryMappedIoSpace
HighMemoryMappedIoSpace
LockOnDisconnect
CreationTime
Id
Surname
NetworkAdapters
CimSession
ComputerName
IsDeleted
This Hyper-V information is so extensive that the user generally does not need all of the information from it.
That is why we have summarized a command below that summarizes the most important information such as the name of the VM, number of processors, assigned RAM, dynamic memory activated, Hyper-V Generation 1 or 2, replication mode, current status and creation date of the VM.
Get-VM VMNAME | select -Property VMName, ProcessorCount, MemoryAssigned, DynamicMemoryEnabled, Generation, ReplicationMode, State, CreationTime
After the execution of the PowerShell command this looks like this.

Export Hyper-V information to CSV
Of course, you can expand this information and redirect it to a CSV file or a grid window. Then the commands look like this:
Get-VM VMNAME | select -Property VMName,…. > c: temp hyper-v-export.csv
Display of the Hyper-V info in the grid view
Or you can have the information displayed in a grid view , as you can see below.
Get-VM VMNAME | select -Property VMName,…. | Out-GridView

Below we have listed further articles on the topic of "Hyper-V" .
– Create desktop shortcuts to Hyper-V VMs
– Activate the extended session mode with Hyper-V VMs
– Install Hyper-V with Windows 10
– Hyper-V application error when starting a copied VM
– Reset Windows password of a Hyper-V VM
– Stop or start Hyper-V Manager VMMS service
– query versions of Hyper-V integration services
– convert Hyper-V VMs generation 1 to generation 2
– problems with Hyper-V replication on iSCSI volume
– Microsoft Hyper-V version numbers (integration services) Overview