Again and again, many Windows 10 users complain about problems with their Windows 10 start menu . Either it has stopped responding, empty tiles are displayed or the following error message appears.
The "Start" and "Cortana" menu do not work. We strive to resolve the issue until the next login.
It is currently not known why the problem occurs. Microsoft has provided a small FixIt program for download , which you can use to fix problems with the Windows 10 Start menu or Cortana. The program is called " startmenu.diagcab " and you will find the appropriate download link at the end of this article.
After downloading and starting the program, the following start window appears.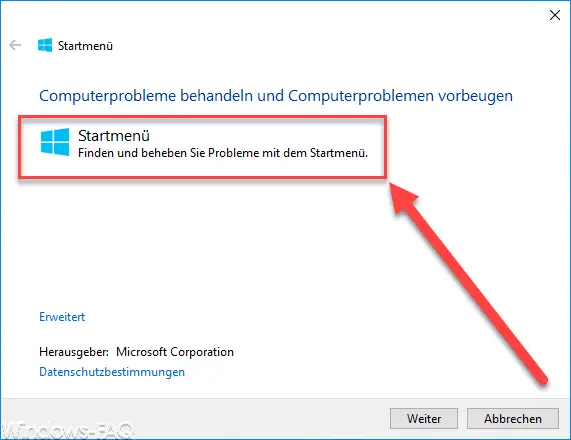 After confirming " Next ", your Windows 10 installation will be checked for any errors and these will then be fixed and displayed at the end as a summary. Below you can see the " Troubleshooter Report " that shows you where the problems were.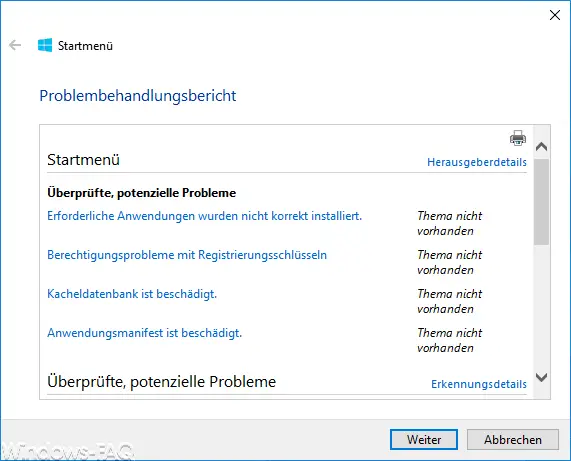 The following Windows components are examined closely:
Whether all required applications have been installed correctly. The applications " Microsoft.Windows.ShellExperienceHost " and " Microsoft.Windows.Cortana " must be installed correctly.
Whether there are authorization problems with registry keys. The current user needs the permissions to access the following registry key: HKCU: Software Microsoft Windows CurrentVersion DeviceAccess Global
Whether the Windows 10 tile database is damaged.
Whether the application manifest is damaged.
After finishing the "startmenu.diagcab" tool, you should check whether the problems with the Windows 10 start menu are now eliminated. You can download the tool here below.
Download startmenu.diagcab Tool (Diag_StartMenu) from Microsoft (direct download link)
If you are interested in further interesting information about the Windows start menu  or Cortana, then you should take a closer look at the following articles here on Windows-FAQ.de .
– Remove the "Uninstall" function from the Windows 10 start menu
– Hide Windows 10 apps in the start menu
– Replace prompt with Powershell in the start menu
– Replace Cortana search text "Ask me something" with your own text
– Switch off Windows 10 Bing search results (Cortana)
– Windows 10 Replace or hide the Cortana search field with an icon
– Disable Cortana using the registry entry
– Disable Cortana in Windows 10
– Disable Cortana in Windows 10