The error code 80244004 occurs very frequently in the Windows Update process on. This error message 80244004 is an "unknown" update error , which can have various causes. Today we would like to show you various possible solutions how you can fix this Windows Update error.
Here is the original error message of code 80244004 .

Unfortunately, as so often, the error message is not particularly meaningful, so you should try the following:
ESET virus scanner
The virus scanner from ESET is mentioned particularly frequently in connection with this update error. Apparently there are problems when SSL scanning is activated in the ESET options. Eset itself has published its own support article that describes the error and how to correct it. You can find the entry under "Windows update ends with" error 80244004 "when SSL scanning is enabled in ESET Smart Security and ESET NOD32 Antivirus".
Of course, the virus scanners from other manufacturers can also be the cause of this problem, because SSL scanning or SSL inspection can now be done by some security manufacturers. You should check the security software you are using and briefly deactivate this SSL option so that the Windows updates can be installed again without any problems. If your virus software does not offer the deactivation of SSL inspection, you should temporarily deactivate the entire antivirus software for the update process.
Windows Update Services
Another Egyptian mistake is that one of the two necessary Windows Update services has not started. You can check this using the "Services.msc" utility. There are the services
BITS (Intelligent Background
Transfer Service ) WUAUSERV (Windows Update)
Below we have shown you both services together.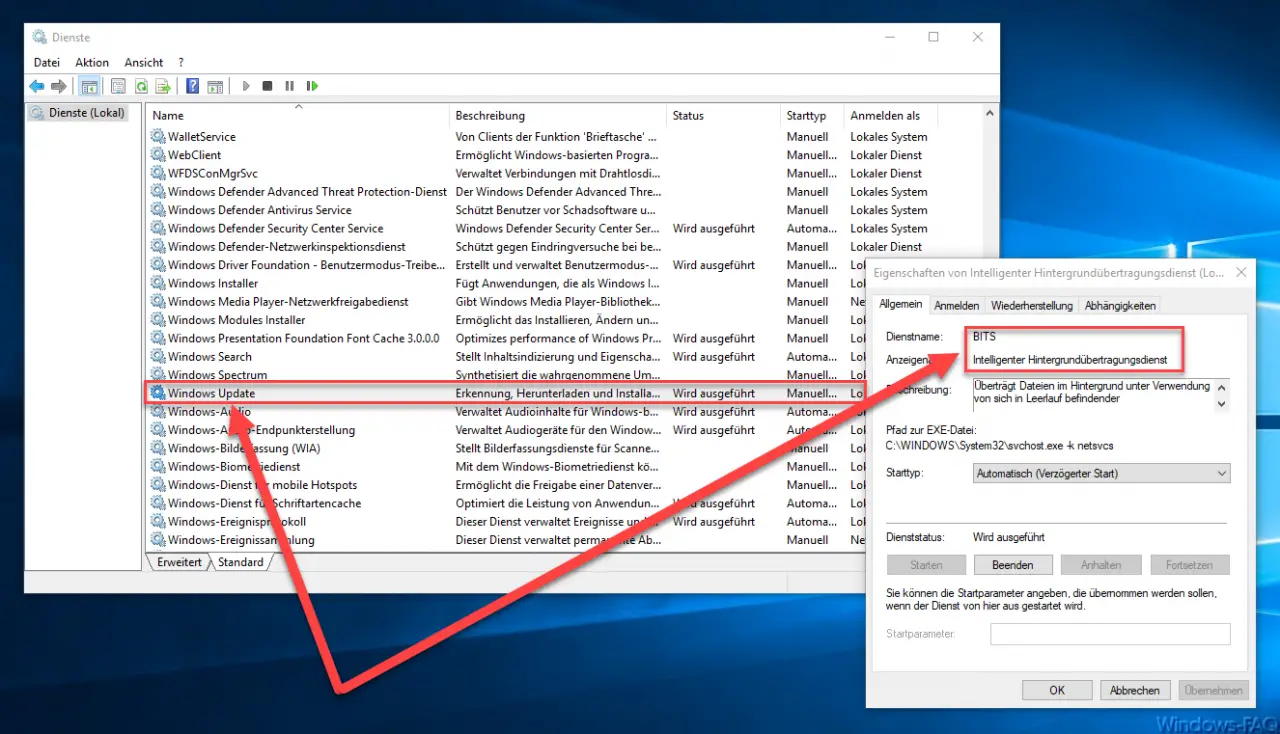 Both services must be " started " and thus set to " is running ". If this is not the case, please start these services. Then you perform the Windows update function again and check whether the update  error 80244004 occurs again.
In the past, we have often reported many Windows Update error codes . Below we have given you an extract from the most important error messages. If you don't find the right one for you, please use the search function on the top right of our blog Windows FAQ.
– Windows Update error code 803D000A
– 0x80096004 error message with Windows 10 update
– 0x80072ee7 error code with anniversary download
– 0xC1900101 – 0x20017 Windows 10 could not be installed
– 0x8000ffff Windows error code
– Windows App Store error code 0x8024500c
– 0x8e5e03fa Windows 10 update error code
– 0x80248007 error code with Windows Update
– Windows Update error code 0x80245006
– 0x80240031 Windows Update error
– 0x80070003 error code for Windows Update
– Windows Update error code 0x80240fff
– 0xc1900201 error code for Windows 10 Anniversary Update
– 0x80070490 Windows Update error code
– 0xc004f014 error code for Windows 10 Upgrade Home -> Pro