Many users are currently complaining about error code 0x80244018 when downloading or installing the Windows 10 Fall Creators Update . We have already reported on this update several times, you can find all the necessary information about the Fall Creators Update in our article " Feature Update to Windows 10 Version 1709 Fall Creators Update (Build 16299.15) ". However, this error code 0x80244018 does not only appear with the new feature update for Windows 10, it can also occur with other versions of the most varied updates.
Below is the error message from the update error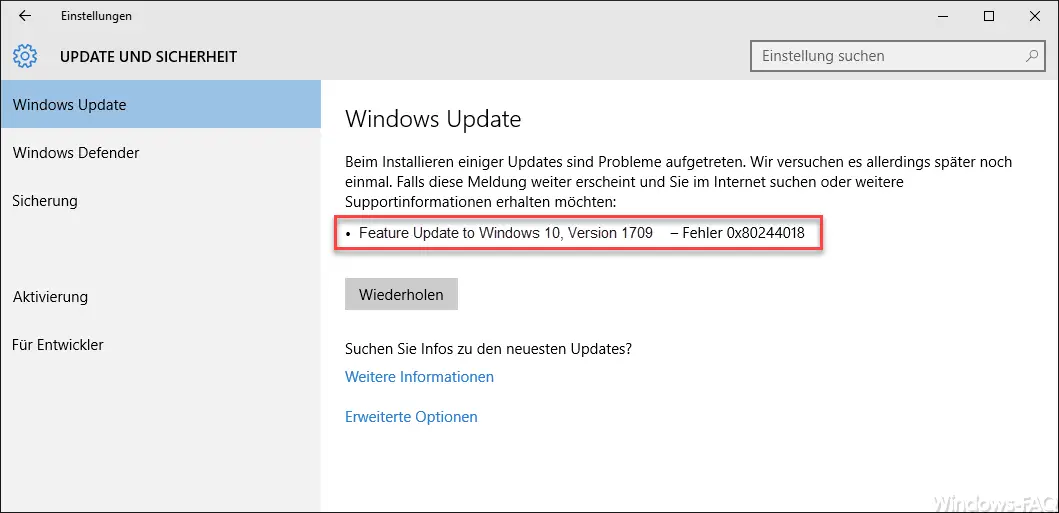 Causes of the update error code 0x80244018
Unfortunately we cannot generally tell you that it is due to a specific cause. However, we have listed some options below that you can try so that the update error 0x80244018 no longer occurs.
Clean up update files
First you should delete or reset the update files that have already been downloaded and saved on the local hard drive . To do this, you should stop the services of Windows Update Service (Wuauserv), BITS (Intelligent Background Transfer) and cryptography services (CryptSvc) and then rename the folder " C: Windows SoftwareDistribution " or completely empty it.
This will reset all temporarily saved update files and cause Windows 10 to completely download and install all updates again.
Check Windows system files
The cause of the update problem 0x80244018   can also be missing or corrupt Windows system files . You should have them checked and any existing problems eliminated. To do this, open an MS-DOS prompt with administrator rights and issue the following command.
As a result, all Windows system files are checked for correctness and completeness and existing problems are automatically remedied. After a further system start you should then check again whether the error code 0x80244018   occurs again.
In the past, we have already reported many other Windows system errors during the update and we have put together a selection for you below.
– 0x80070020 error code for Windows Update
– Windows Update error code 0x80073701
– 0x80010108 error code for Windows 10 Update
– 0x8024a105 Windows Update error code
– 0x80070422 error code for Windows Update
– 0x80240442 error code Windows Update
– error 0x800704c7 for Windows Update
– 0x8e5e03fa Windows 10 Update error code
– Windows Update error code 0x80240437
– 0x8000ffff Windows error code
– Windows Update error code 0x80240fff
– 0xc1900201 error code for Windows 10 Anniversary Update
– 0x80248007 error code for Windows Update
– Windows Update error code 0x80245006