Lately , numerous users have complained about the update error code 0x80071a3f , which appears to be occurring frequently at the moment . Below we have shown you an example of the error code 0x80071a3f that occurred on a Windows 10 system.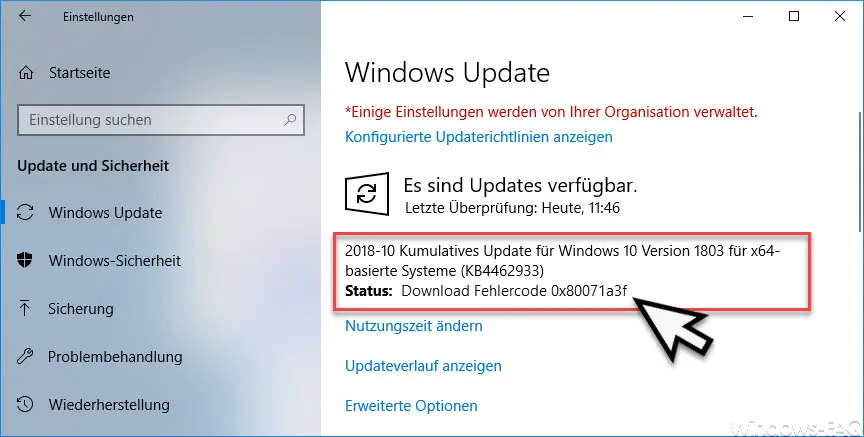 Unfortunately the Windows Update window only shows the error 0x80071a3f  , but no further information about the cause of the update error. However, there are 2 ways to get rid of error 0x80071a3f .
Check hard disk space
Numerous users have reported that scarce hard disk space is not the cause of update error 0x80071a3f . Please check your Windows system partition for enough space, there should be at least 5 GB of space.
For example, you can also delete old Windows installations , use Windows disk cleanup, or search for large files to get enough free hard disk space.
After you have enough space on the system partition again, you should install the Windows updates again.
Delete Windows update files
If the update error 0x80071a3f continues to appear, you should clear the Windows update cache and have all Windows update files downloaded completely again. This process is quite simple, all you have to do is open a command prompt with administrative rights and gradually issue the following commands one after the other.
net stop cryptsvc & net stop bits & net stop msiserver & net stop wuauserv
ren C: Windows SoftwareDistribution SoftwareDistribution.OLD
ren C: Windows System32 catroot2 Catroot2.OLD
net start wuauserv & net start msiserver & net start bits & net start cryptSvc
These 4 commands first stop all the necessary services that have something to do with the storage and management of the Windows updates. Then 2 directories are renamed, in which Windows creates all update files. It is not a problem that these directories are renamed, because Windows automatically creates these directories. When trying to download the updates, all update files are then downloaded again and stored in these directories.
This process can be used to eliminate update errors, since all update files are simply downloaded from scratch and there can be no inconsistencies in the update files.
Now the update error 0x80071a3f should   no longer occur.
– 0x8024a11a error code for Windows Update
– 84B30002 error code for Windows Update
– Windows Update error code 0x800c0002
– Windows Update error code 0x80070157
– 0x8024000E error code for Windows Update – XML Data Error
– Windows Update error code 0x8007007e
– Windows error code 0x80070570
– Windows 10 upgrade error code 0x80190001
– 0x800704B3 with Windows Update
– Windows Update error code 0x8024a20617
– 0x80070017 error code with Windows Update
– The Windows Store cache may be damaged