There are generally fewer and fewer websites with Adobe Flash , because due to the permanent security problems, the Adobe Flash Player has been badly discredited in recent years and is increasingly being replaced by HTML5 pages . Nevertheless, all current browsers, including the Microsoft Edge browser, support the Adobe Flash standard.
Nevertheless, many Windows 10 users have the problem that the Flash content is not displayed on the websites. You will then receive the message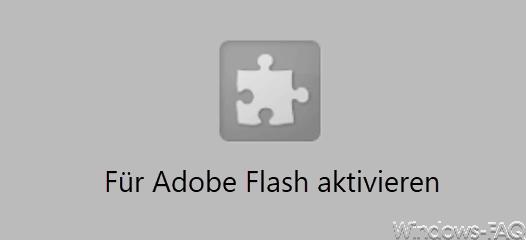 The message " Activate for Adobe Flash " informs the user that Adobe Flash is not activated in the Edge Browser. By default, the Edge Browser is already equipped with the ability to play Adobe Flash animations . No further software installation is necessary for this. Adobe also points out this on the Flash Player page and the following message:

The exact message is:
Flash Player is integrated in Windows 10 with Microsoft Edge. You don't need to install Flash Player.
Activate Flash Player in Edge
To activate the Adobe Flash Player in the Edge , you have to do the following:
Click on the 3 dots at the top right , as you can see below.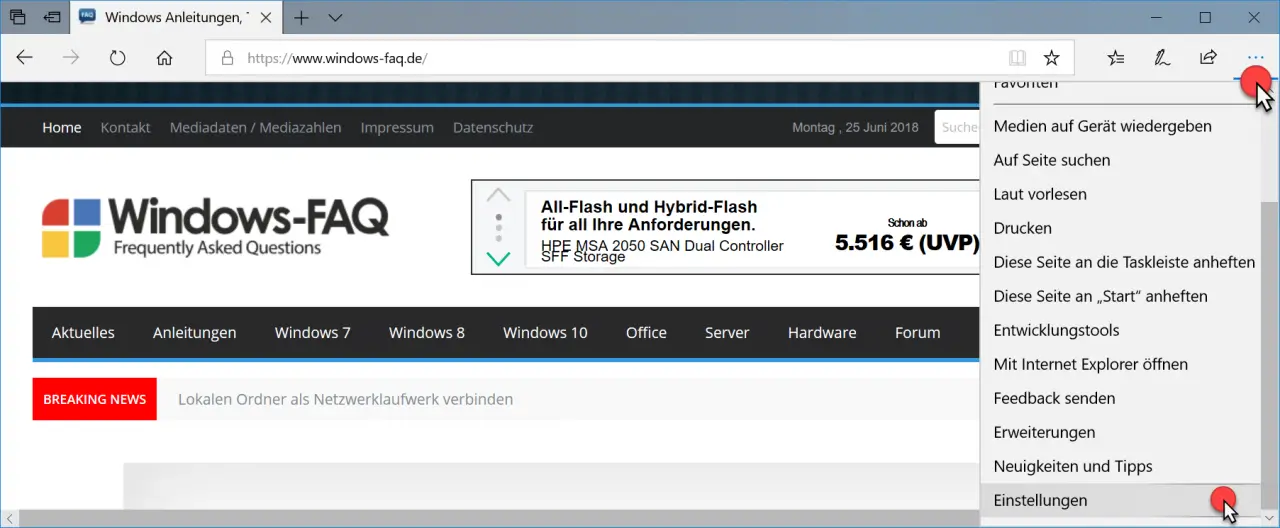 Then you have to go to " Settings " and then "Show advanced settings ". Then the decisive option becomes visible, as you can see in the following illustration.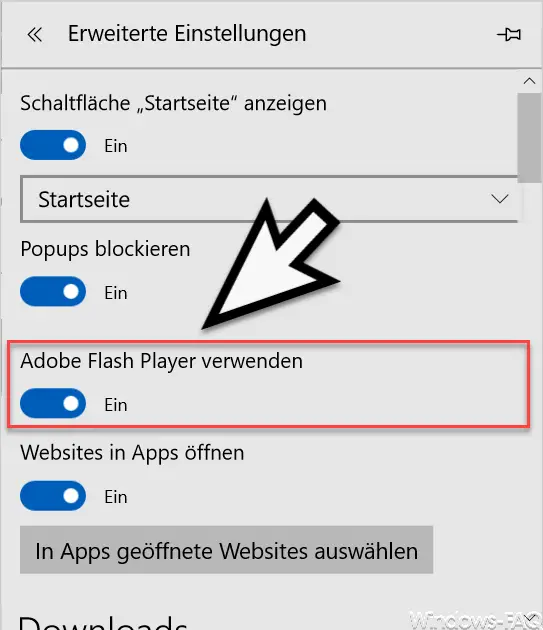 The option is called:
Use Adobe Flash Player
You only have to set this slider to " On " and the web pages based on the Flash Player or containing Flash content will now be displayed correctly and correctly again. In the same way, you can of course, also for security reasons, deactivate the Flash Player in the Edge Browser .
You can find more information about the Microsoft Edge Browser in these articles:
– Windows 10 always opens PDF files in the Edge Browser
– Switch off Microsoft Edge page prediction (prefeching)
– Start Windows 10 Edge Browser in "InPrivate" mode
– Deactivate or activate the
Preview window tab on the Edge Browser – Switch off Edge and Onedrive advertising windows and information on Windows 10