With the KB4489899 update for Windows 10 version 1809 , Microsoft released another cumulative update on Patchday in March 2019.
This update KB4489899 raises the Windows 10 build number to version 17763.379 . It is now available for download via Windows Update. At the end of this article you will find the download links for update KB4489899 .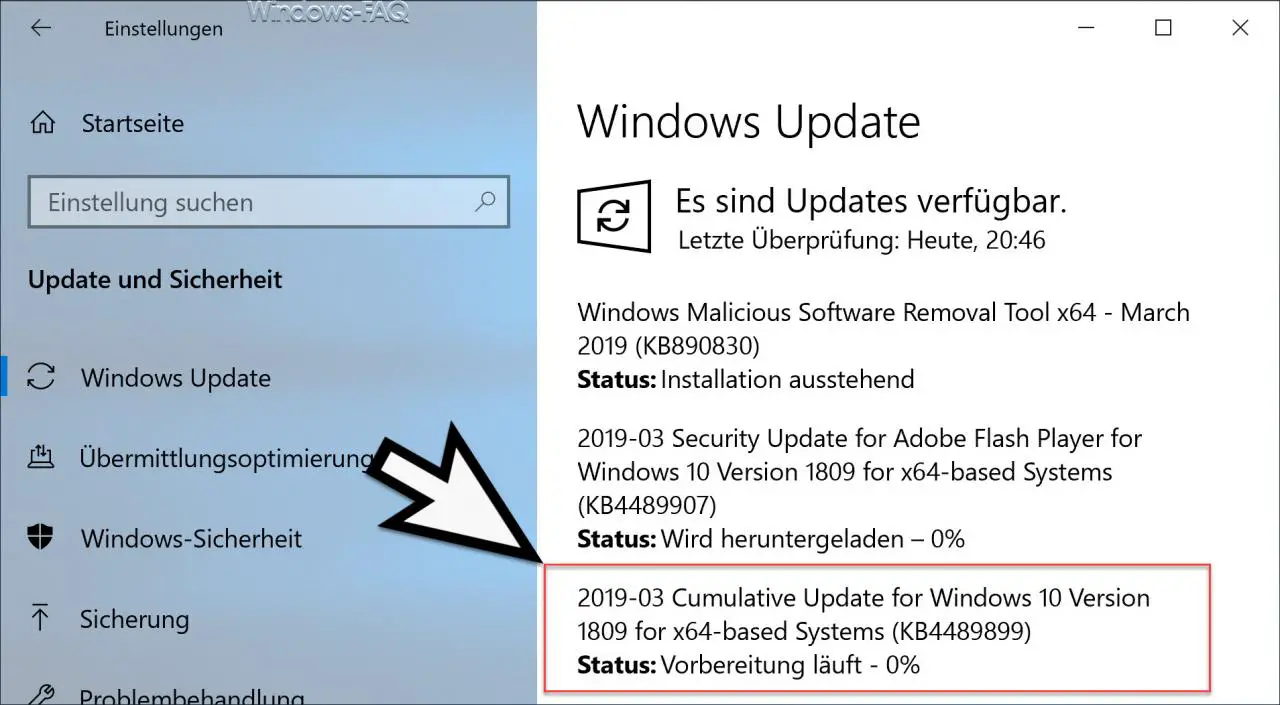 The following bug fixes have been integrated in the update KB4489899 .
This update KB4489899 fixes a problem in Microsoft HoloLens with tracking and device calibration that affected some users. You may notice improvements 10-15 minutes after installing this update. However, we recommend resetting the holograms for best results.
It fixes a problem when installing or uninstalling certain types of MSI and MSP files because users get the "Error 1309".
Also fixes the issue that can affect graphics and mouse performance in desktop games when certain games like Destiny 2 are running after KB4482887 is installed.
Furthermore, the update KB4489899 includes numerous security updates for Microsoft Edge, IE, Microsoft Scripting Engine, Windows Shell, Windows App Platform and Frameworks, Windows kernel mode drivers, Windows Server, Windows Linux , Windows Hyper-V, Windows Datacenter Network, Windows memory and File systems, Windows wireless network, Microsoft JET database engine, Windows kernel, Windows and Windows basics.
The following problems are already known, which can occur through the installation of the update KB4489899.
Problem 1:
After installing this update, authentication problems may occur with IE 11. This occurs when two or more people use the same user account for multiple concurrent logon sessions on the same Windows Server computer, including Remote Desktop Protocol (RDP) and Terminal Server logons. Symptoms reported by customers include:
Cache size and location are zero or empty.
Keyboard shortcuts may not work properly.
Web pages may not load or render properly.
Credential problems
Problems downloading files.
The following workaround is offered for this problem.
Create unique user accounts so that two people do not share the same user account when they log on to a Windows Server computer. Also disable multiple RDP sessions for a single user account for a specific Windows server. Microsoft is working on a solution and will provide an update in an upcoming version.
Problem 2:
After installing this update on computers with multiple audio devices, applications that offer advanced options for internal or external audio output devices may no longer function properly. This problem occurs for users who choose an audio output device other than the default audio device. Examples of applications that may no longer work are:
Windows Media Player
Realtek HD Audio Manager
Sound blaster control panel
The following workaround is offered for this problem.
As a temporary solution, select the "standard audio device" in the options provided by the application. See the application user guide for more information.
For example, to set the default audio device in Windows Media Player:
Open Windows Media Player> Tools> Options> Devices.
Select the device and choose Properties.
In the next dialog box, from the drop-down menu under Select audio device, select Standard audio device from the list.
You can then send audio data from the application to the desired audio device in the audio settings of the respective application under Settings> System> Sound> App volume and device settings.
Microsoft is working on a solution and estimates that a solution will be available in late March 2019.
Below you will find the appropriate download links for update KB4489899 .
– 2019-03 Cumulative update for Windows 10 version 1809 for x64-based systems (KB4489899)
– 2019-03 Cumulative update for Windows 10 version 1809 for x86-based systems (KB4489899)
– 2019-03 Cumulative update for Windows Server 2019 version 1809 for x64-based systems (KB4489899)