Microsoft released update KB4483235 for Windows 10 version 1809 build 17763.195 last night . This update is again a cumulative update for version 1809 and thus replaces all previously released updates for Windows 10 1809.
As with all cumulative updates for Windows 10, only bug fixes have been included in this update KB4483235 . The update can now be downloaded and installed via Windows Update and the Windows Update Catalog.
The following errors are eliminated by the update  KB4483235 .
The update KB4483235 only contains security updates for Internet Explorer on Windows 10.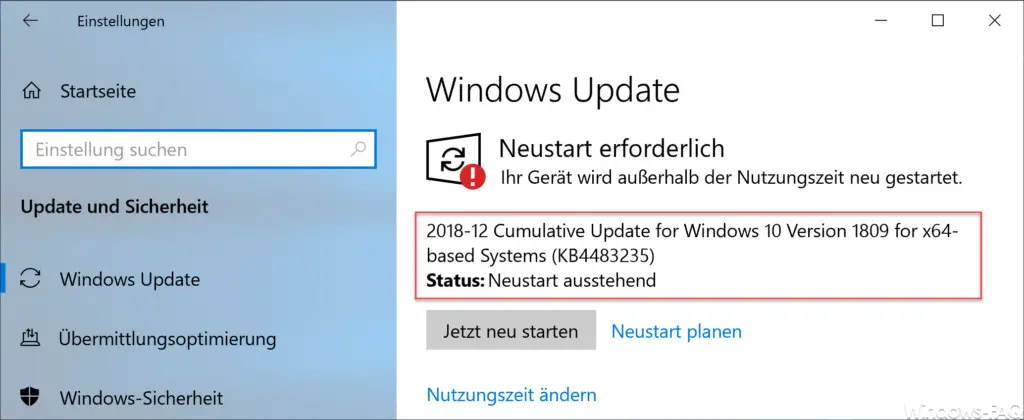 So far, there are no known bugs that should result from installing the KB4483235 update .
Before installing this update, it is strongly recommended that the latest Service Stack Update (SSU) for Windows 10 version 1809 be installed before installing this update KB4483235 . SSU updates improve the reliability of the update process to reduce potential problems when installing Cumulative Updates ( LCU ).
If you are using Windows Update, you will automatically be offered the latest SSU (KB4470788) . To get the standalone package for the latest SSU, go to the Microsoft Update Catalog.
Here you can download the corresponding update KB4483235 for your Windows 10 installation.
– 2018-12 Cumulative Update for Windows 10 Version 1809 for x64-based Systems (KB4483235)
– 2018-12 Cumulative Update for Windows 10 Version 1809 for x86-based Systems (KB4483235)
– 2018-12 Cumulative Update for Windows 10 Server 2019 for x64-based systems (KB4483235)