Especially when using mobile Windows 10 devices such as notebooks or tablets, Bluetooth devices are indispensable. Bluetooth keyboards or mice are used particularly often , but Bluetooth headsets, scanners, audio devices or other Bluetooth devices are also often used in Windows 10.
Unfortunately , all Bluetooth devices still use a lot of power , so the built-in battery of these devices is used up relatively quickly. For this reason, Microsoft has now integrated a new feature in Windows 10 version 1809 so that you can see the current battery level of the connected Bluetooth devices .
Show battery level of the Bluetooth devices
To do this, simply start the Windows 10 Settings app with the Windows key combination

(Windows logo key & "I") and then you switch to the area
Devices ( Bluetooth , printer, mouse)
Then you will find the area on the left
Bluetooth and other devices
We have shown you this example below as an example.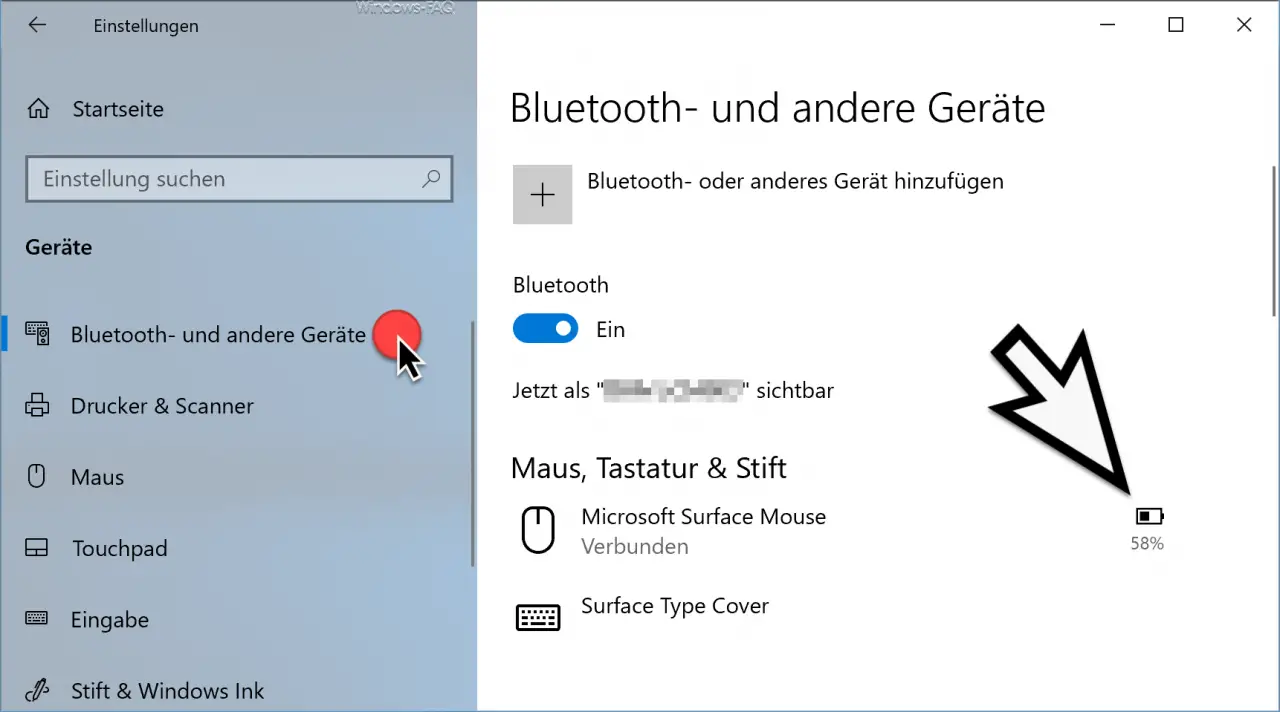 All connected Bluetooth devices are now shown here, in our case it is the " Microsoft Surface Mouse " and the " Surface Type Cover ".
With the Microsoft Surface Mouse, the current battery status of the mouse is displayed at the end of the line . In our example, the battery is still 58% full.
However, this battery indicator of the Bluetooth devices only works with the Bluetooth devices that also supply this data to Windows 10. The Bluetooth battery display only works with the supported devices.
It would be nice even if the Windows 10 InfoCenter at critical battery stands of Bluetooth devices would indicate an appropriate message so that the user could react in time to complete empty batteries. Unfortunately, this is currently not planned, maybe this battery notification will come in one of the next Windows 10 versions.
Finally, we have listed other interesting articles around Bluetooth and WiFi .
– Permanent Bluetooth connection drops in Windows 10
– Find out which Bluetooth version is being used
–
Show or delete available WLAN connections with a command – Connect the ASCOM i62 WLAN cell phone to Aruba Wifi
– WLAN troubleshooting with the Windows WLAN report
– Ethernet network connection and WLAN connection in Windows 10 switch to clocked (metered)
– Show WLAN password in plain text using DOS command
– Forgot WLAN password – No problem – Simply read out with a tool