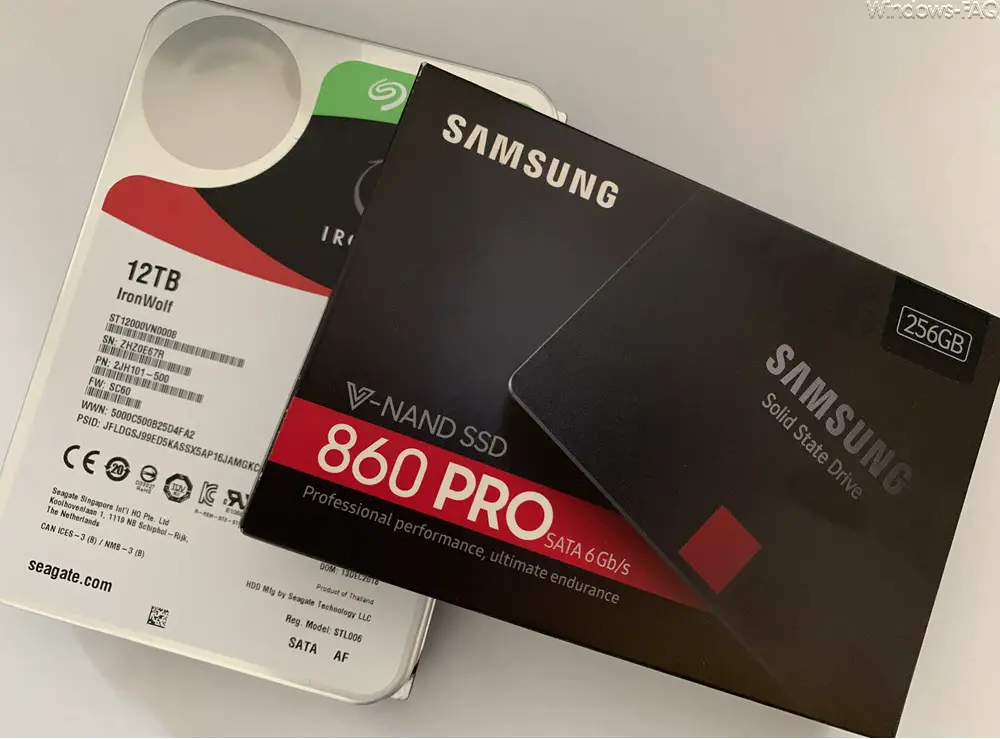 Do you need more speed when booting? Do you want to access stored data quickly? If speed is an important attribute for you and your PC or laptop, you should opt for a fast SSD hard drive. The little memory artists can not only show a rapid pace, they have also become affordable for small budgets. We give you an overview of which SSD hard drive is the best, which marvels accomplish the mass storage and how much money you have to take in hand.
Powerful SSD hard drives versus high storage capacity with HDD
Solid state drives simply bring more speed to your computer. While in the past, partitions on the storage media were often used to separate the operating system and application programs, today many computer users opt for an additional SSD hard disk.
In contrast to the classic HDD hard drives, the fast SSDs have no moving parts. They are composed of several flash memory chips, are low-noise and are insensitive to falls and bumps. The best SSD hard drives up to a capacity of 4 TB are now available. Unfortunately, data recovery proves to be more difficult compared to an HDD – the professional should do better here.
HDD hard drives hold an enormous amount of data. The manufacturer Samsung offers a sensational 32 TB storage space with the PM 1643 in this competition. The memory is fast with a reading speed of 800 Mbit, but cannot win the race against an SSD. In addition, a large number of small rotating magnetic disks are available in a hard drive disk, on which the data is backed up. A write and read arm access it on command. The mechanical components make them very sensitive to falls, but they can be saved in an emergency with the appropriate tools.
SSD or HDD? If you like speed, choose an SSD and if the storage space for large amounts of data is important to you, the HDD is the right one. We have browsed at Mindfactory.de and introduce you to high-performance mass storage devices at affordable prices.
Small budget: The best SSD hard drives
While the best SSD hard drives have a reputation for being expensive, most manufacturers are now increasingly offering mass storage devices at affordable prices.
For just under 55 euros you can install the Intenso TOP III with 512 GB in your computer. The shock-resistant and low-noise SSD offers efficient performance and is even suitable for gaming. Equipped with a 2.5 inch frame and a maximum thickness of 7 millimeters, the mass storage can be easily installed in PCs and laptops. Read speeds of up to 520 MB / s and write speeds of up to 420 MB / s offer quick access to stored information and allow fast operating processes. Thanks to the SATA III interface, the computer is ready to start in less than 20 seconds.
The Crucial MX500 is only slightly more expensive. A PC or laptop is ready to go in a matter of seconds for upcoming tasks. Reading is possible at up to 560 MB / s, you can write at 510 MB / s. The 2.5 inch hard drive with 500 GB of storage space is particularly cheap at 70 euros. If the capacity is not enough, you get the models with the SATA III interface also up to 2 GB: enough space for family photos or an extensive music and video library. The Crucial MX500 is perfect for everyday work processes as well as resource-consuming gaming.
For PC enthusiasts: The best and most powerful SSD hard drives
The Samsung EVO 860 is almost uncompromising. The hard drive, which costs almost 90 euros, is used both as an alternative for a conventional HDD hard drive and as an add-on for efficient work processes. If 500 GB is not enough for you, you can upgrade up to 2 TB. Reading at 550 MB / s and writing at 520 MB / s leave nothing to be desired in terms of speed. The intelligent TurboWrite buffer ensures stable performance even with long-lasting work processes. The Samsung EVO 860 is arguably the best SSD hard drive by guaranteeing fast communication between the system and the mass storage device. If you want to use the hard drive as an alternative, data can be transferred quickly from an HDD using the appropriate data migration software.
The Adata XPG is for gaming and video professionals. The slim M.2 module provides up to 1 TB of storage space. If we stay in the 512 GB class, the SSD hard drive costs just under 100 euros. Thanks to the fast PCIe Gen3x4 interface, reading up to 3500 MB / s and writing up to 3000 MB / s is possible. Since there is no extensive housing for hard drives with M.2 interfaces, the mass storage has a separate heat sink. Computationally intensive tasks such as gaming or extensive video rendering do not pose any hurdles. The built-in 3D NAND flash modules enable high storage capacities and faster speeds. The best SSD hard drives are used especially in high-end PC systems.
Interesting facts about the best SSD hard drives
Basically, the flash memory will mean the future. Users are increasingly using the fast mass storage devices for upgrading. Notebooks or PC systems of the new generation are already equipped with them at the factory. A big plus is energy efficiency. Flash memories are non-volatile components and do not have to be permanently supplied with electricity. So far, we have mainly been familiar with this technology from USB sticks. In general, the storage capacities of the best SSD hard drives will grow and access speeds will increase. In the near future, they will be able to adequately replace the HDD hard drives.