The Windows System Restore can be quite useful, especially for bad program installations or from troubled Windows updates . We have already reported several times about the possibilities of Windows system recovery, you will find a selection of the most popular articles on Windows system recovery at the end of this article.
However, it can also make sense to prohibit users from restoring Windows systems and to deactivate this function.
Disable Windows System Restore
To disable system restore, you have to do the following. Starts the Windows Group Policy Editor and changes to the following GPO.
Computer Configuration / Administrative Templates / System / System Restore
Here is the following group policy.
Disable system restore
We have shown this to you below.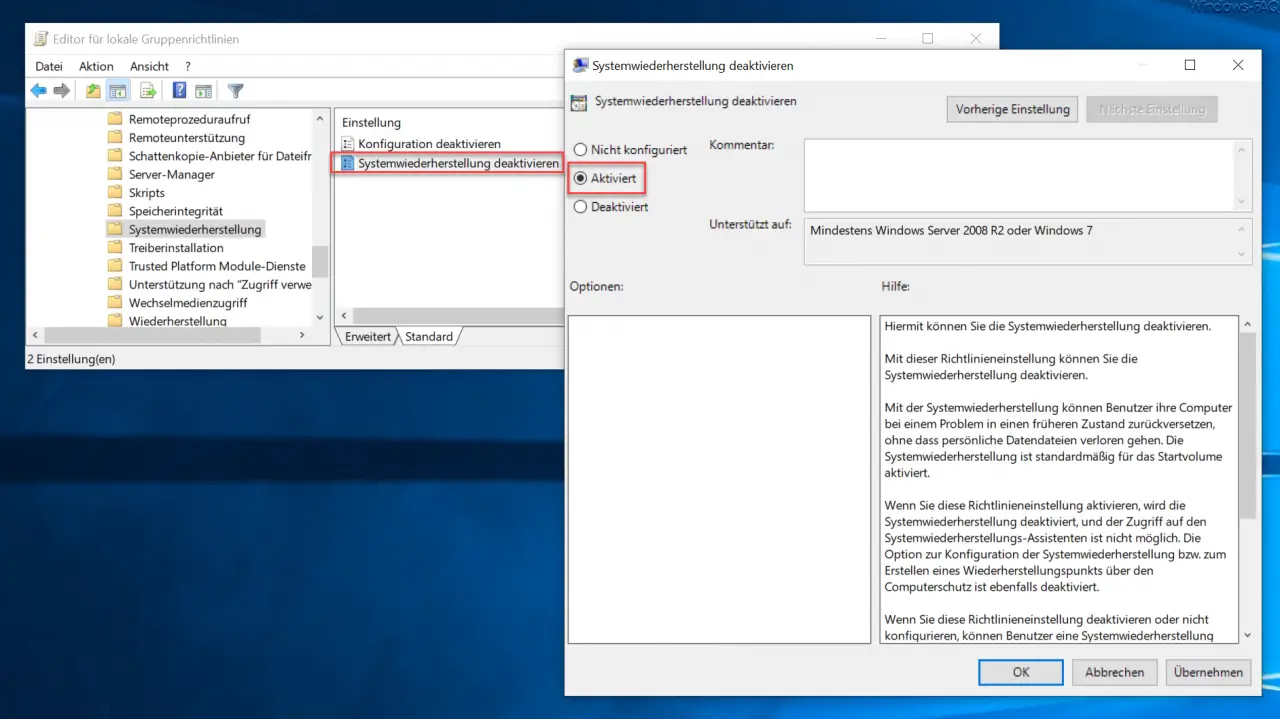 With this GPO you can deactivate Windows System Restore by activating it. Microsoft has released the following information about this GPO.
Allows you to disable system restore.
You can use this policy setting to disable system restore.
System Restore enables users to restore their computers to a previous state if there is a problem without losing personal data files. System recovery is enabled for the startup volume by default.
If you enable this policy setting, System Restore will be disabled and the System Restore Wizard will not be accessible. The option to configure system restore or create a restore point using computer protection is also disabled.
If you disable or do not configure this policy setting, users can perform a system restore and set the system restore settings through computer protection.
For more information, see the Disable System Restore Configuration policy setting . If the Disable System Restore policy setting is disabled or not configured, the Disable System Restore Configuration policy setting determines whether the System Restore Configuration option is available.
However, this setting only becomes active after a Windows restart. If you are interested in further information about Windows system recovery , we recommend the following articles here on Windows-FAQ.de.
– Create daily system restore points in Windows
– 0x81000203 Error in Windows system restore
– 0x80070091 Error in Windows 10 system restore – Create
Windows 10 system restore point with PowerShell
– Create restore point in Windows 10
– Data restore in case of raid defect
– Work in PowerShell with restore points
– Delete system restore points and free up space