We have already reported on the Windows tool for hard disk partitioning (Diskpart) in the past. We have given you a list of the most popular Diskpart contributions at the end of this entry .
In this Diskpart tutorial we would like to point out a relatively unknown parameter of Diskpart , through which you can query very detailed information about the installed hard disk. In the figure below you can see how you can access the information on the HDD or SSD .
To do this, you first start the program
DISKPART
and let yourself be ordered
list disk
display the installed hard drives. Then the hard drive in question must be included
select disk NUMBER
to be chosen.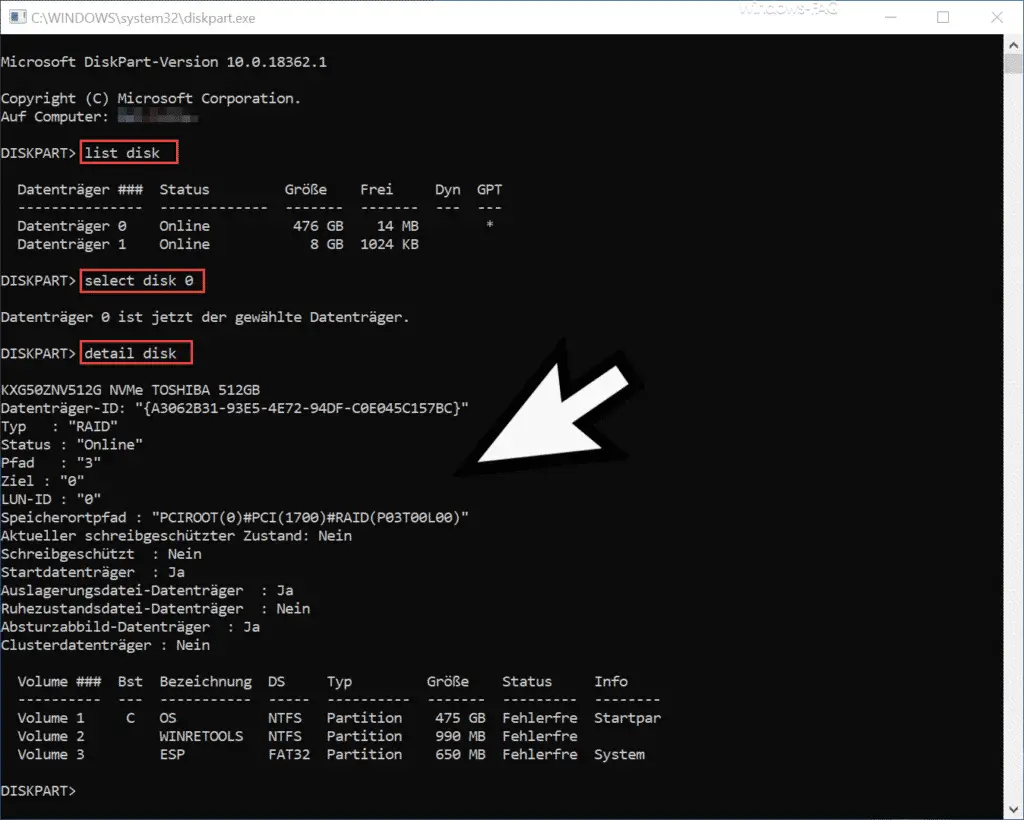 Now you can with the command
detail disk
learn a lot of and interesting information about the selected data medium. This is the following data:
Hard disk production and hard disk type designation
Disk ID
Type
status
path
target
LUN ID
Location path
Current read-only state (yes, no)
Read only (yes, no)
Start disk   (yes, no)
Swap File Volume   (Yes, No)
Hibernation file disk (yes, no)
Crash Dump Disk (Yes, No)
Cluster disk (yes, no)
Below this hard disk data you will then be shown all possible information about the existing partition on this data carrier. This includes, among other things, the data carrier name , the storage type (NFTS, FAT32, …), the partition size , the status and general information.
In our article " MSINFO32 – Read hardware and system information extensively with Windows board tools " you will find another way to query information about the available data carriers of your Windows PC.
Below you will find further articles dealing with the Windows command "diskpart" .
– Safely delete hard disk or USB stick with DISKPART
– Merge two Windows partitions
– Make USB stick bootable
– Check whether a hard disk uses an MBR or GPT partition style