In a central Active Directory domain , more and more group policies are created over time , which are distributed to users or computers. Most administrators are not concerned about whether they should back up these group policies from time to time. The backup of the group policies works relatively easily and we would like to briefly describe how you can backup the group policies.
To do this, you have to open the Group Policy Editor and click on the container
Group Policy Objectives
click, which is located relatively far down in the GPO tree structure . You click on this container with the right mouse button and the following context menu appears.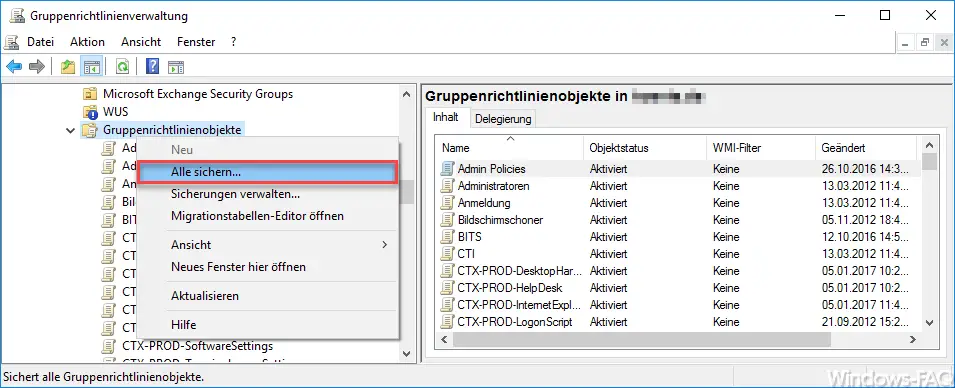 As you can see, the entry " Save all … " appears. Thereupon another window appears in which you have to enter the " storage location " and a suitable " description ".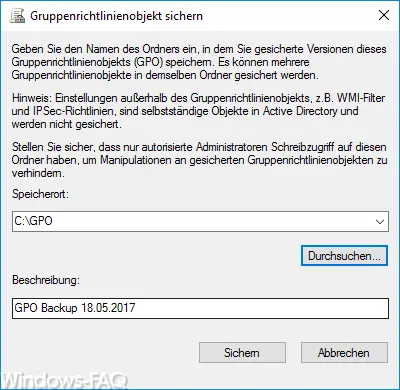 Microsoft provides the following information for data backup of the GPOs:
Enter the name of the folder where you save saved versions of this GPO. Multiple GPOs can be saved in the same folder.
Note: Settings outside the Group Policy object, such as WMI filters and IPSec policies, are independent objects in the Active Directoriy and are not saved.
Make sure that only authorized administrators have write access to this folder to prevent tampering with secured GPOs.
It is important to know that UNC paths cannot be specified during the backup. After performing the backup, which only takes a few seconds, the backup directory looks like this.
A separate folder is created for each group policy. Each folder then contains the relevant information about the individual GPOs, which we do not want to go into here.
If you want to get an overview of all your GPO backups , then there is the function " Manage backups … " in the same GPO context menu from the first picture . Here you will receive detailed information for each GPO, when and where you saved the individual group guidelines.
We can only advise every administrator to regularly backup the GPOs . This can save you a lot of work and annoyance if you lose the GPOs.
Should you be interested in further information on the subject of " backup ", we recommend the following articles here on Windows FAQ.
– The BackupExec Management Service could not be started – .NET Framework update error
– Backup Exec 16 from Veritas available
– FP5 for Backup Exec 15 released (revision 1180)
– Hyper-V .AVHD problem with Backup Exec 15 FP3
– Backup job at Symantec Copy (Veritas) Backup Exec
– Backup Exec – Create SDR disk – Part 1
– Backup Exec preparation for SDR disk – Part 2
– Backup Exec – Create SDR disk – Part 3
– Symantec (Veritas) Backup Exec Error V-79-57344-33932
– Symantec (Veritas) Backup Exec error message (FIXEDB2DDevice, memory could not be deleted)