Even if the function is used relatively rarely, mouse control via the numeric keypad makes sense for Windows. With this function you can perform mouse functions with the separate numeric keypad on your keyboard if you have activated the corresponding mouse option in the Windows 10 settings.
The fastest way to do this is to call the Windows 10 settings application with the key combination

Windows key & "I" and then selects the area
Ease of use
and then into the sub-area
mouse
switch. We have shown you the options that appear here below.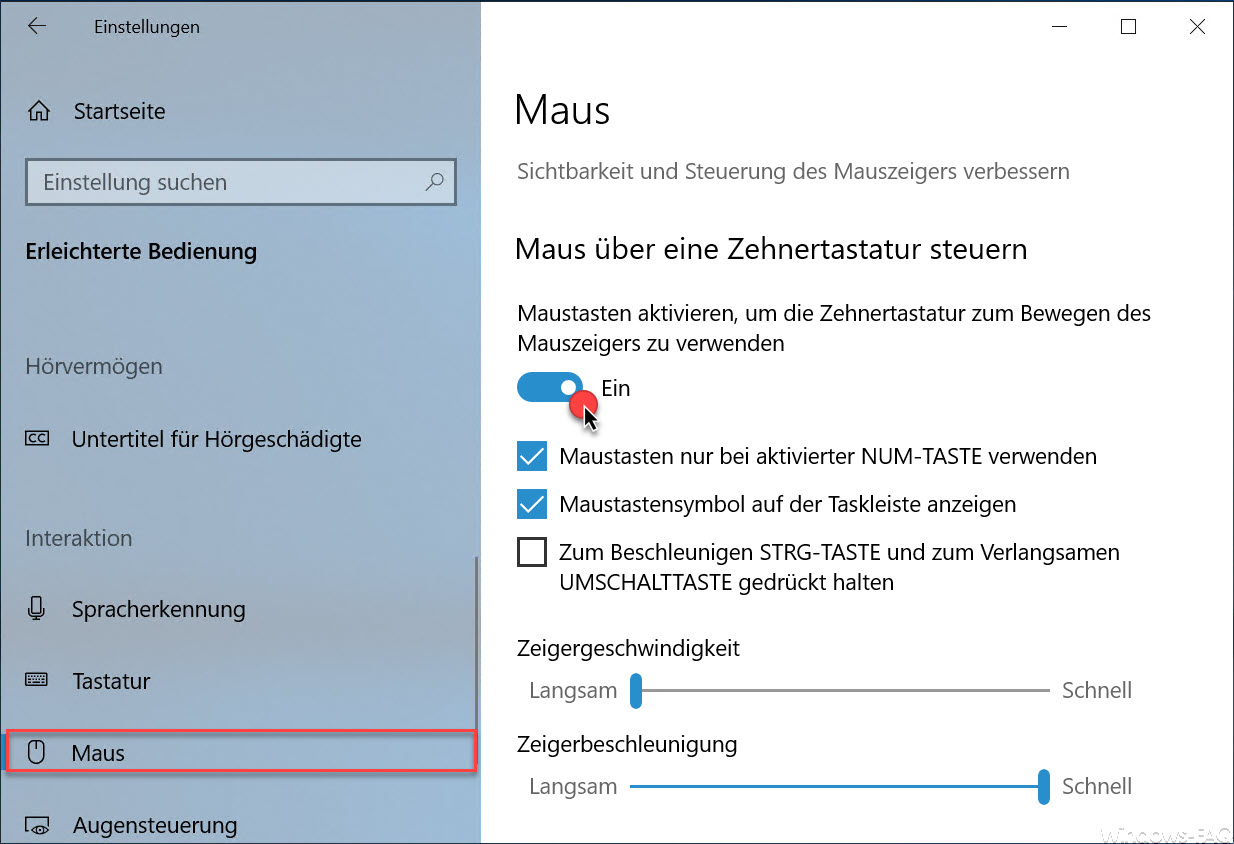 Here you will find the following option relatively high up.
Activate mouse buttons to use the numeric keypad to move the mouse pointer .
This option must be " activated " so that the mouse control via the keys 1-9 works at all. Then you have the following 3 further options available.
Use the mouse keys only when the NUM key is activated.
Show mouse button icon on the taskbar.
Hold down the CTRL key to accelerate and the SHIFT key to slow down.
In total, all 3 options make sense and simplify the handling of the mouse with the 10-key keyboard . You can then set the optimal mouse speeds using the slide switches for " pointer speed " and " pointer acceleration " .
The following mouse control buttons are then available.
| Numbers on the numeric keypad | Mouse movement |
| --- | --- |
| 1 | Move the mouse to the bottom left |
| 2nd | Move mouse down |
| 3rd | Move the mouse to the bottom right |
| 4th | Move mouse to the left |
| 5 | Mouse click |
| 6 | Move mouse to the right |
| 7 | Move the mouse to the top left |
| 8th | Move mouse up |
| 9 | Move the mouse to the top right |
| + | Mouse double click |
Should you be interested in further tips and tricks around the " mouse pointer ", we recommend the following posts here in our Windows FAQ blog.
– Change the color and size of the mouse pointer under Windows 10
– Activate the mouse function "click into place" – Perform mouse functions without pressing the mouse button
– Hide the mouse pointer
when entering the keyboard – Scroll inactive windows when pointing – Windows 10 mouse setting
– Deactivate touchpad when mouse is plugged in or switched on let
– 3 finger gestures and 4 finger gestures on the touchpad in Windows 10
set double-click speed of the mouse in Windows 10 –
– speed of the mouse cursor in Windows change 10
– size change the mouse cursor
– enable mouse tracking on Windows 10
– right and left mouse button in Windows 10 To deceive