Downloads that you download with the Google Chrome browser are in the folder by default
C: Users USERNAME Downloads
saved. This is generally the standard download folder and is also used by other programs such as the Edge Browser. Now it can make sense under certain circumstances that you want to specify a different download folder for the Chrome browser .
This is relatively easy and you just have to click on the three vertical dots in the top right of Chrome . Google calls this button " Adjust and set Google Chrome ". Then you see the following context menu in Chrome, after which you see the point
Settings
have to choose.

Then the Google settings menu is displayed, which you have to scroll all the way down. There you can see, as can be seen in the following illustration
"Advanced Chrome settings".

Thereupon the Chrome settings menu changes again and you have to scroll down again until you reach the area
Downloads
is coming. We have also shown this to you below.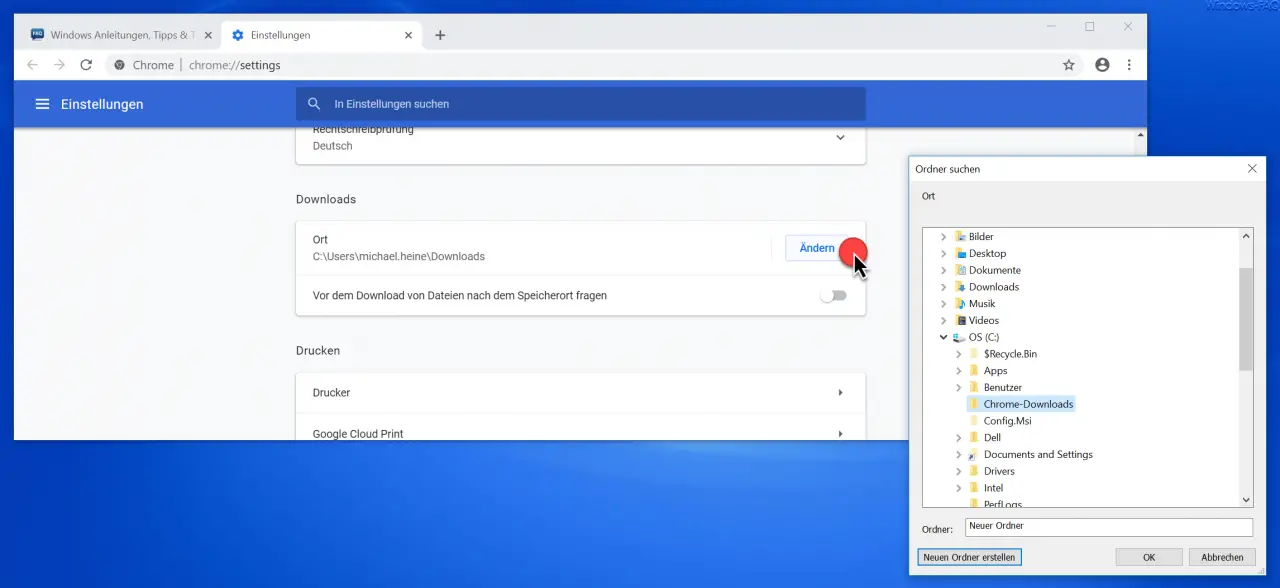 Here you have different options. On the one hand, you can use the " Change " button to set the standard Chrome download folder . In this selection window you can move through the folder structure of your hard drive and, if necessary, even create a new folder especially for the download files. In our case, we created and selected the " Chrome Downloads " folder directly in the root of the C partition.
But there is also the option
Ask for location before downloading files.
This option is deactivated by default and can of course be activated if required. This means that before each download you will be asked where the Chrome download files should be saved .
If you are interested in other Chrome settings , we recommend these posts here on Windows FAQ.
– Create a desktop link to a website in the Chrome browser
– Delete cookies in the Chrome browser
– Show home button in the Chrome browser
– Deactivate advertising in the Chrome browser
– Automatic translations with the Google Chrome browser (extension)
– Start Google Chrome in incognito mode
– Browser speed comparison – Firefox, Opera, Safari, Chrome, Iron and Internet Explorer tested