The protection of the Windows installation and our data are extremely important, as all Windows users have generally recognized. With the Windows Defender Firewall, Microsoft offers a very good level of basic protection, which is completely sufficient for many Windows users.
However, if you need additional services, you have to use third-party providers, such as the product
Total Security 2020 malware protection
from the house " Bitdefender ". In our article, we would like to go into more detail about the functions of the Total Security 2020 Suite and show you why it can be worthwhile for you.
The installation is very simple and easy. The security software can be used immediately after installation. After starting the software you will see the Bitdefender dashboard , which looks like this.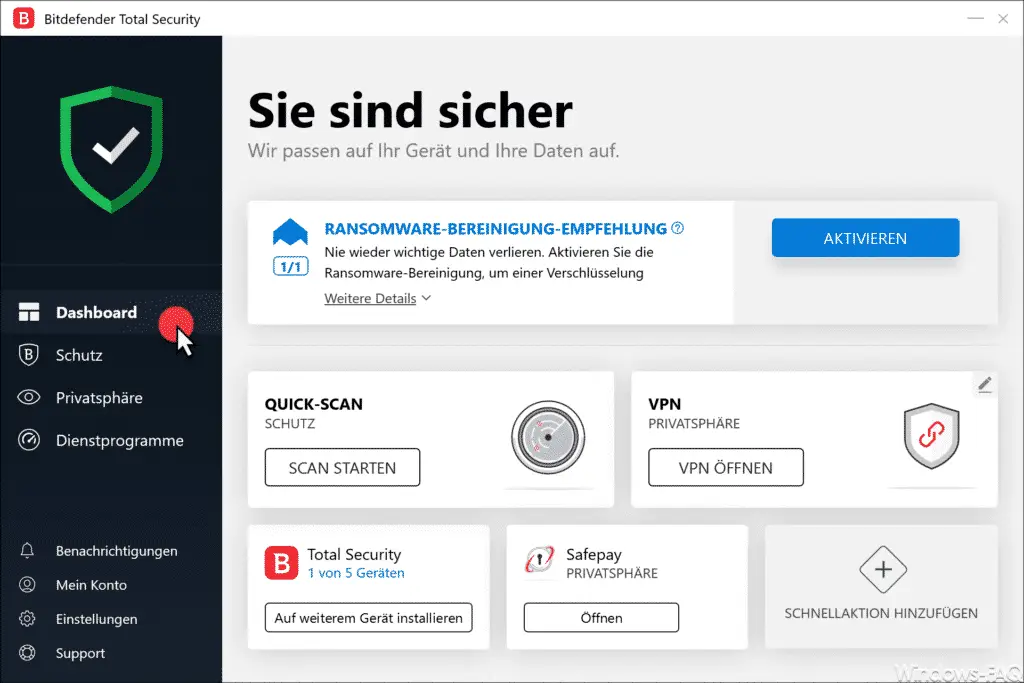 Here you can immediately see the 4 areas that are included in the " BitDefender Total Security 2020 " package.
protection
privacy
Utilities
The Bitdefender protection includes a multi-layered protection and all new and existing threats. It can detect, investigate and block suspicious activity at the network level. Complex exploits, malware and brute force attacks are also detected and blocked.
The multi-level ransomware protection offers reliable protection of your documents, pictures, videos and music files against the current ransomware attacks, which repeatedly attack unprotected Windows installations and encrypt files.
The integrated surf protection prevents infected websites from being accessed and thus malware is installed on your Windows PC. The Total Security Suite also includes protection against phishing and spam mails.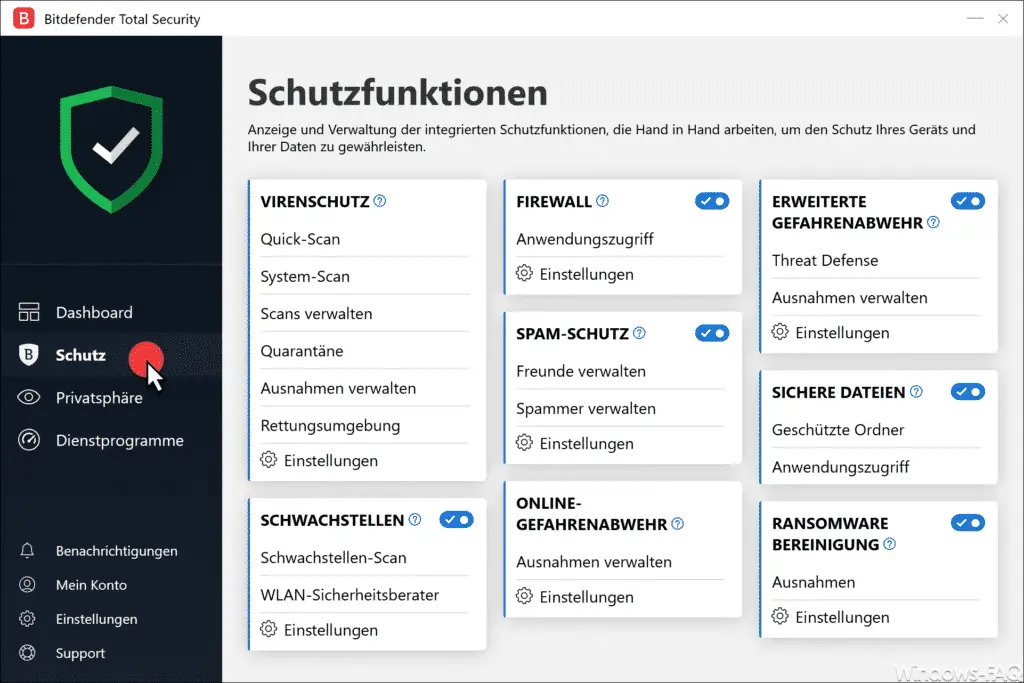 In the " Protection " area you can see the possibilities that this security software offers:
Virus protection (quick scan, system scan, quarantine, etc.)
Vulnerabilities (scan, WLAN security consultant)
Firewall (application access)
Spam protection
Online security
Extended security
Secure files
Ramsomware cleanup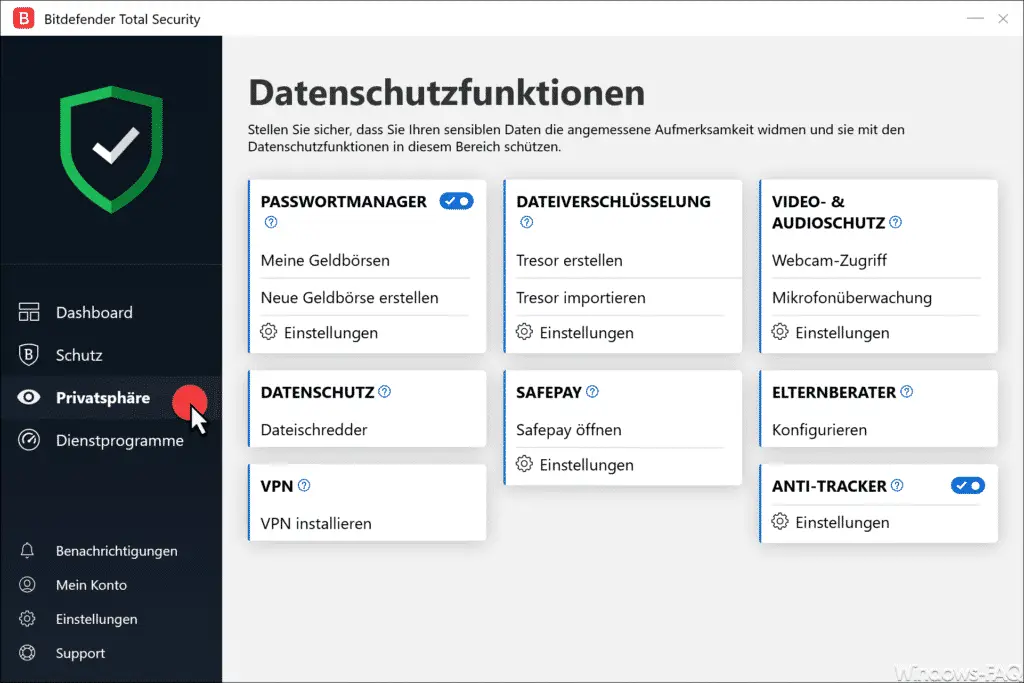 Extensive data protection functions are available in the "Privacy" area.
Password manager
privacy
VPN
File encryption
SafePay
Video and audio protection
Parent counselor
Anti tracker
With the Bitdefender VPN Client you can connect to a VPN server depending on your location and thus surf the internet securely and anonymously. BitDefender Total Security 2020 Suite contains 200MB of encrypted VPN traffic every day . The production and use of the VPN client is very simple and self-explanatory.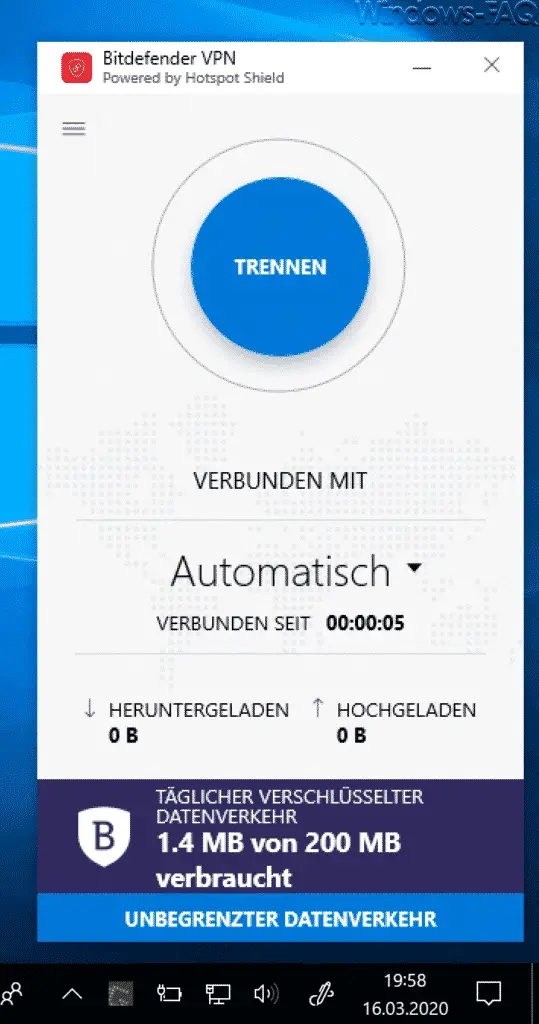 In addition, this security suite offers some utilities that you can use to increase the performance of your Windows PC.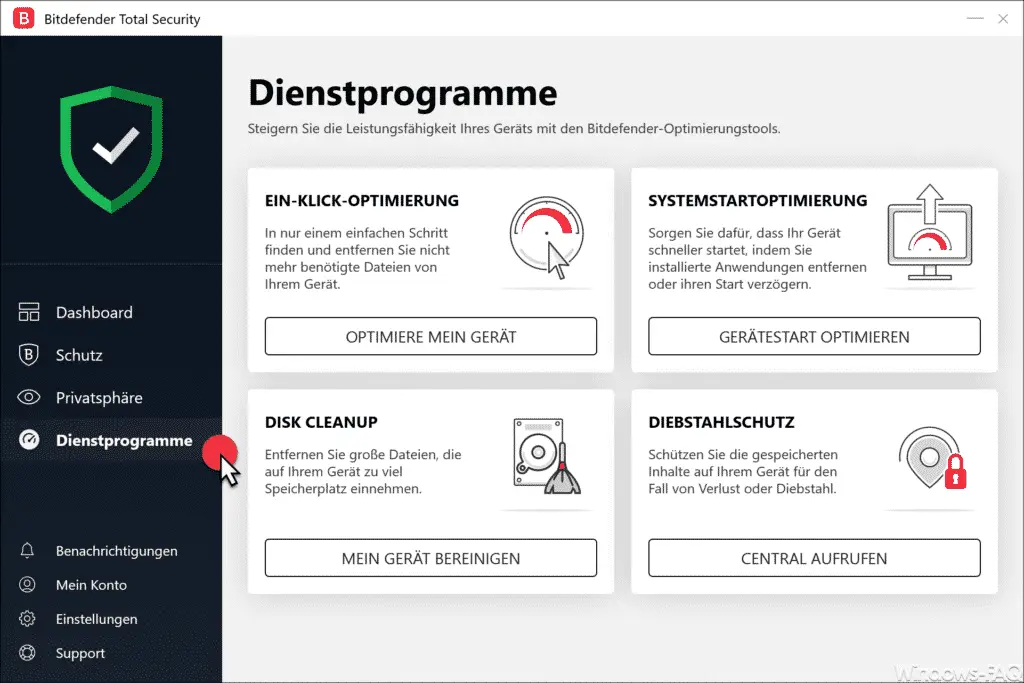 This includes tools like
One-click optimization
Disk cleanup
Startup optimization
Theft protection
The Bitdefender Total Security Suite license, which currently costs € 34.99 , includes the right that you can install this security software on up to 5 PCs . It is therefore well suited for use in families so that several Windows PCs are protected accordingly.
In addition, the Bitdefender Tool is not only available for Windows, macOS , Android and iOS devices can also be comprehensively protected with this suite.
We did not find any problems in our tests and are very satisfied with the scope of services. It therefore provides a recommendable security product for Windows for Windows users for whom the Windows standard security features are not sufficient.
If you would like to test the software, you can download and install a 30-day trial version below . Only then do you have to decide whether you want to purchase an annual license.
More information on Bitdefender.de