The Google Chrome browser also supports saving passwords if you log in to the same website again and again. Then it is a good tool because you do not have to remember all passwords . Because for security reasons it is absolutely advisable to use a separate password for each website .
Here you quickly reach your limits and want a function to save these passwords . However, there are also many security experts who were before such password storage and recommend that you deactivate this automatic password storage.
Both options can be set up very quickly and easily. To do this, simply open the Chrome browser and enter the following command in the URL line .
chrome: // settings / passwords
This then looks like this in the Google browser ( here in dark mode ).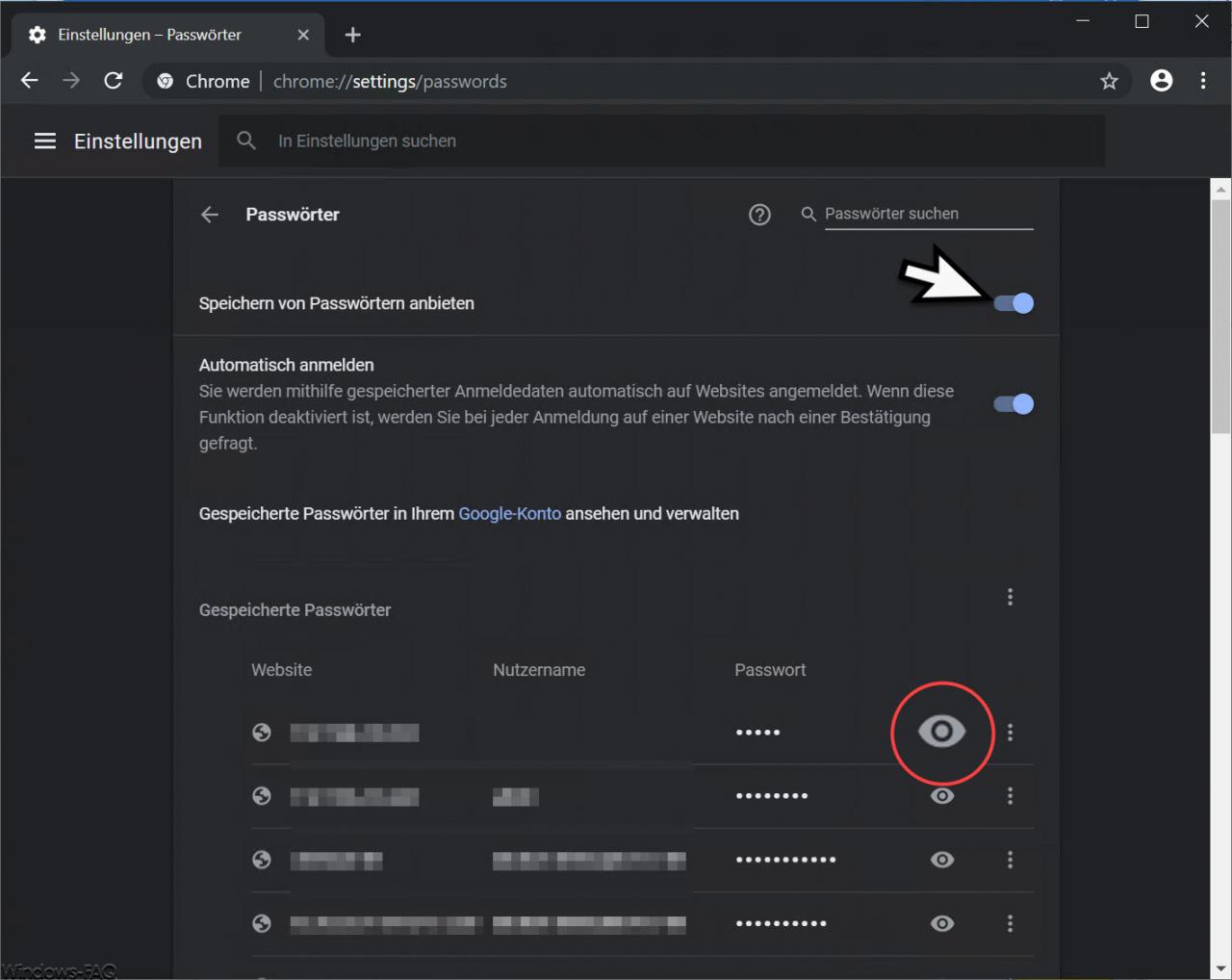 As you can see, I have the desired function right at the top.
Offer to save passwords
This function is activated by default, i.e. the slide switch in the rightmost position. By clicking on the left position you can deactivate the saving of the passwords .
Another function is that
Log in automatically
You will then be automatically logged on to websites using the saved login data if a corresponding login password is stored for this website . If you deactivate this function, you will be asked for confirmation each time you log on to a website.
Below you can see an overview of the previously saved Chrome passwords . By clicking on the " eye " you can display the stored password . However, only after entering the corresponding access data .
If you are interested in further instructions for the Chrome browser , it is best to take a look at these articles.
– Let
Google Chrome search for malicious software – Delete all settings from Google Chrome and reset them to the default values
– Import Google Chrome favorites and bookmarks from Firefox, Edge or IE
– Change download folder in Chrome
– Create desktop link to a website in the Chrome browser
– Delete cookies in the Chrome browser
– Show the home button in the Chrome browser
– Deactivate advertising in the Chrome browser
– Automatic translations with the Google Chrome browser (extension)
– Start Google Chrome in incognito mode
– Browser speed comparison – Firefox, Opera, Safari, Chrome, Iron and Internet Explorer in the test