Maybe you know the problem? Whenever you work with Microsoft Outlook and process incoming e-mails, the original e-mail of the sender always remains open when replying and forwarding an e-mail .
This means that after submitting your email response, you still have to manually close the original email . This is basically not bad, because it is the default setting of Outlook, but it can be annoying if you have to do this with numerous emails.
That is why we always advise users to set Outlook so that the original email is always automatically closed when replying or forwarding . Microsoft offers a corresponding option for this, unfortunately it is relatively hidden. But we show you here in this short Outlook tutorial how you can set this email option quickly and easily.
First of all you click in Outlook on the top left
file
and then the following small menu opens.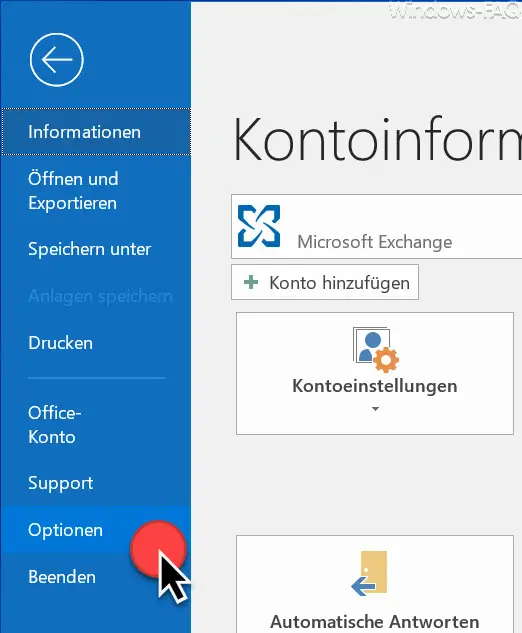 Then click here
Options
and then a very extensive window opens with numerous setting options for Microsoft Outlook. Usually you are on the tab
General
and then you have to get to the point
e-mail
switch, so you can see it in the image below.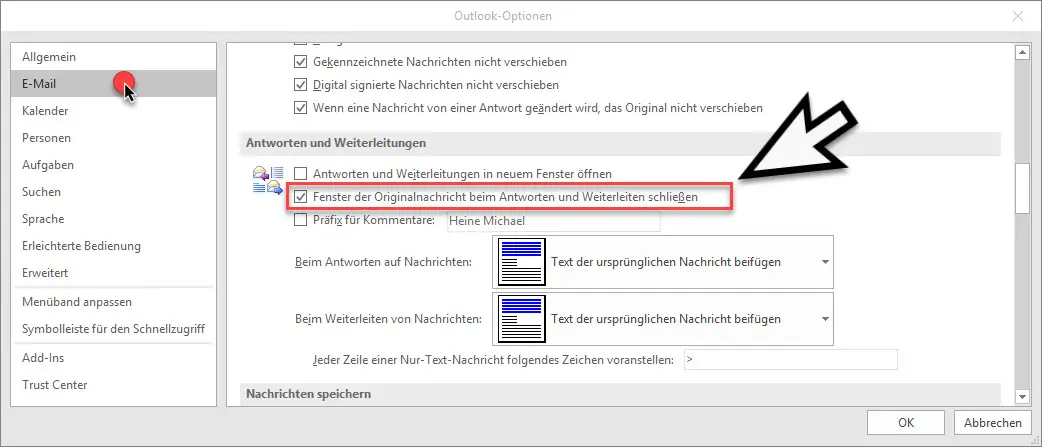 The option you are looking for is located relatively far in the middle of the email options and is called
Close the window of the original message when replying and forwarding
We have highlighted the option in question in the picture. This option is not set by default. By setting the option , the original message is automatically closed when replying and forwarding emails . This way you can save yourself some work in the daily work with Outlook.
If you are interested in further tips and tricks around Outlook , please take a closer look at the following articles.
– Display Outlook, Word, Excel and PowerPoint in dark design (Dark Mode)
– Clean up and create space in Outlook – Mailbox cleanup
– Converting Outlook OST files
– Delaying the sending of e-mails in
Outlook
– Useful key combinations for Outlook – E-mails sent
Retrieve mail in Microsoft Outlook – A client process has failed – Microsoft Outlook
– Reduce or compress Outlook PST file –
Activate spell check in Outlook
– Backup the Outlook PST file
– Convert Outlook OST file to a PST file with OST2
– Mailbox export to PST – Files on the Exchange Server
– Exchange 2007 mailboxes in PST file
– SCANPST – Tool to repair Outlook .PST files
– Outlook error messages 0x800CCC90 and 0x800CCC92
– Outlook error message "The Operation failed. An object cannot be found. "