Microsoft is constantly improving its "Hyper-V" virtualization solution , trying to reduce the difference to the market leader VMWARE . Microsoft has also introduced a new function in the " Checkpoints " area
Automatic checkpoints
is called. You can now configure your Hyper-V VMs so that test points are automatically generated for a VM. While this is not as convenient as VMWARE, it is a step in the right direction. You can find the settings for the test points in the Hyper-V Manager under the properties of the virtual machines in the area
Checkpoints
We have shown you this below in the original, whereby we use a Windows 10 version 1809 as host operating system.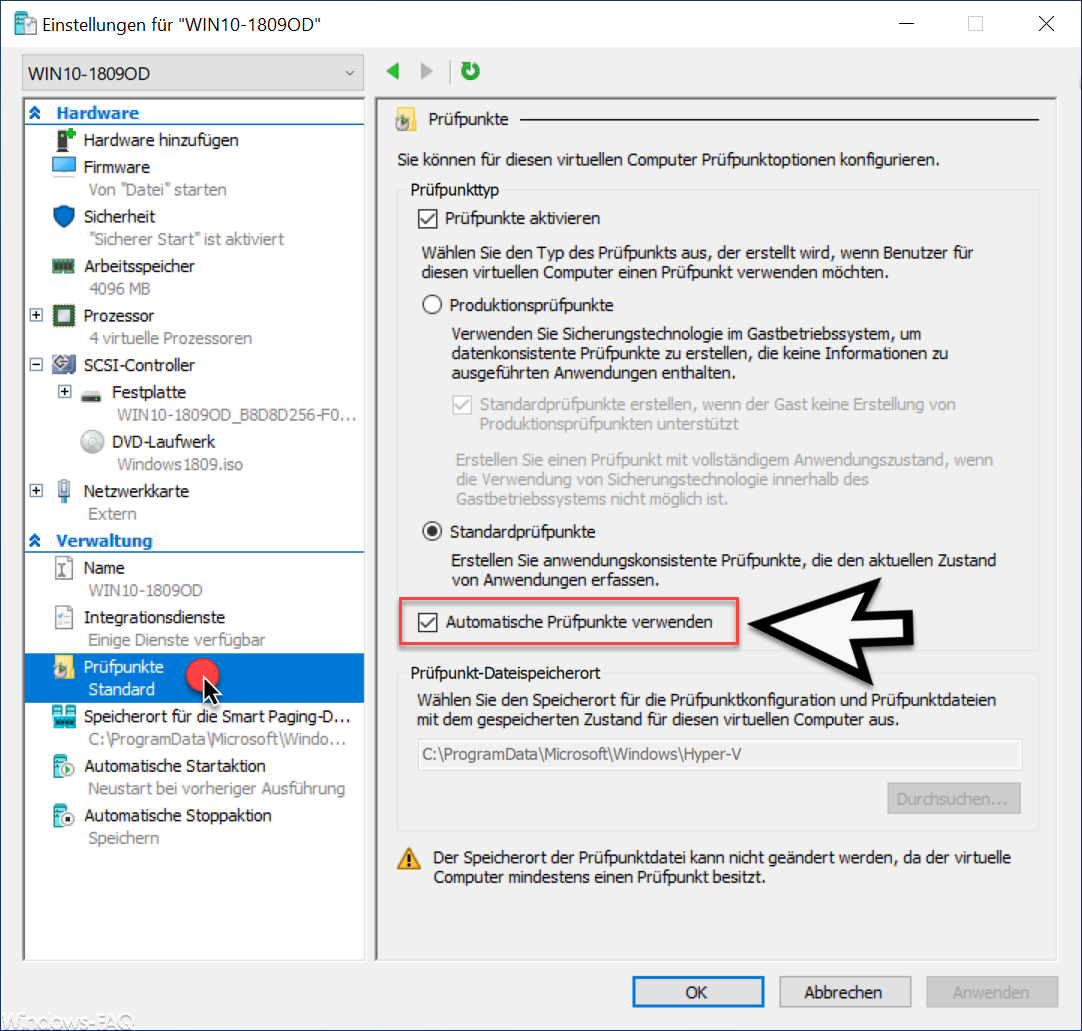 As you can see here, there is the point
Use automatic test points
This option is not active by default, but can be activated or deactivated individually for each VM . If the automatic checkpoints are activated , Windows automatically creates a new checkpoint each time the system is started .
We have also shown this once below.

As you can see, a checkpoint of our virtual machine was automatically created and automatically labeled with the date and time .
This checkpoint now remains until you shut down the VM. Then the automatically generated test point is automatically deleted.
However , if you find any problems in operation and return to the last checkpoint , you can do this using the Hyper-V Manager.
Overall, this option of automatic test points is a pleasant function, but unfortunately only one test point is always created and it would be desirable if, as with VMWARE, several automatic test points could be created. In addition, VMWARE can also create automatic test points after specified periods , which currently does not work with Hyper-V.
You can also find other useful tips and tricks for Hyper-V here:
– Set Hyper-V default folder for virtual computers and hard disks
– Get Hyper-V information about a VM using PowerShell
– Create desktop shortcuts to Hyper-V VMs
– Activate the extended session mode for Hyper-V VMs
– Hyper-V for Windows Install 10
– Hyper-V application error when starting a copied VM
–
Reset Windows password of a Hyper-V VM – Stop or start Hyper-V Manager VMMS service
– Query versions of Hyper-V integration services
– Hyper-V VM's Generation 1 in Convert Generation 2
– Problems with Hyper-V Replication on iSCSI Volume
– Microsoft Hyper-V Version Numbers (Integration Services) Overview