The innovative M1 chip developed by Apple is introduced for the first time in the new iPad Air , launching together with other products of the brand in the last keynote of the month of March as the Mac Studio .
The processor is the great reason for buying this tablet that really makes it pro or at least very similar to its older sister. The M1 offers a massive performance boost for even the most demanding applications and workflows , with incredible power efficiency and all-day battery life. Its 8-core CPU delivers up to 60 percent faster performance, and the 8-core GPU delivers up to 2x faster graphics performance compared to the previous iPad Air.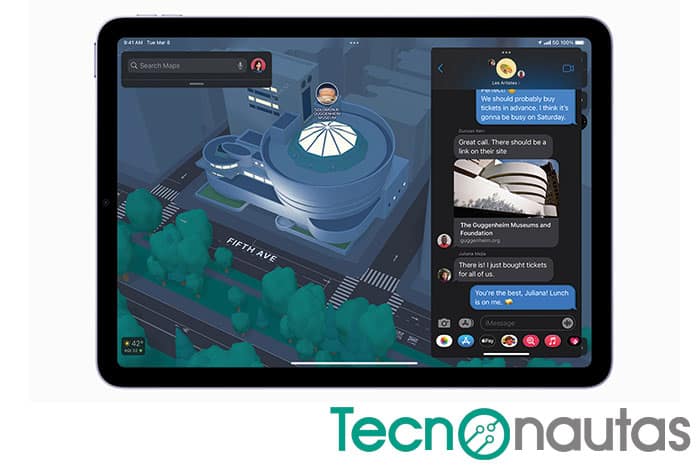 Combined with the CPU and GPU, a 16-core Neural Engine powers advanced machine learning (ML) features that enable next-level experiences. From editing multiple 4K video streams, to running graphically-intensive games, to redesigning a 3D room, to more realistic augmented reality (AR), the performance of the M1 enables users to do more than ever with the iPad Air.
From here we can talk about the camera, connectivity and specifications of a screen that has given Apple a lot of joy due to the number of sales achieved in previous years. We are not talking about performance, but rather about size, the iPad Air is one of those versatile and easily transportable tools everywhere from where you can practically do the same things as with a normal iPad.
Follow the leading role of connectivity and the front…
Like the latest tablets released by Apple, the new device continues to focus on connectivity for solutions such as hybrid work models or telecommuting. We will have in this new iPad Air with a 12 MP ultra-wide front camera with Center Stage, it does an automatic sweep to keep users in view while they move. When other people join, the camera detects them too and gently zooms out to include them in the conversation.
So whether you're catching up with loved ones or learning remotely, Center Stage makes connection more engaging than ever. With the addition of Center Stage on iPad Air, all iPad models now have this magical experience. It's the last one missing, but we already have it.
For its part, the 12 MP wide camera on the back of iPad Air allows users to capture sharp photos and 4K video, scan documents and enjoy incredible augmented reality experiences. A comprehensive solution for capturing, editing and sharing photos and videos. Again, it must be said that we practically have enough of the Pro model, since the iPad Air is an incredibly versatile and ultra-portable mobile studio.
Aligned with the new connectivity
We do not fall short in terms of connectivity and data transmission speed. Apple also introduces its fastest wireless connectivity on the go to iPad Air. With 5G, iPad Air can reach top speeds of up to 3.5 Gbps under ideal conditions. And with eSIM and Wi-Fi 6 support, iPad Air offers greater flexibility when users need to connect, from accessing files to backing up data to communicating with colleagues or enjoy a movie with family and friends using SharePlay .
On the other hand, the USB-C port is now up to two times faster than the previous generation , with data transfers of up to 10 Gbps, so importing large photos and videos is even faster. The port connects iPad Air to a broad ecosystem of USB-C accessories, including cameras, external storage, and displays up to 6K resolution.
Design, all the good things with a but…
Beloved for its thin and light design, the new iPad Air comes in a gorgeous range of colors: space gray, starlight, pink, purple, and a new all blue. iPad Air features a 10.9-inch Liquid Retina display for an immersive viewing experience, with 3.8 million pixels and advanced technologies, including 500 nits of brightness, full lamination, P3 wide color gamut, True Tone and an anti-reflective screen coating.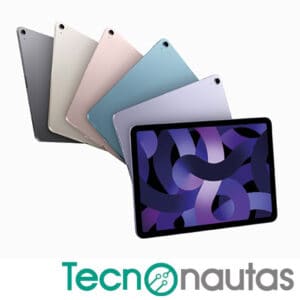 Combined with the Liquid Retina display, iPad Air's landscape stereo speakers deliver wide stereo sound for a great movie-watching experience. Touch ID is built into the top button of iPad Air, offering the same ease of use and secure authentication that users know and love for unlocking iPad Air, signing in to apps, or using Apple Pay.
The only big but that can be put on the device is in the construction of its back. Based on user experience on various tech forums, the case appears to be flimsier than ever. So much so that many seem to almost touch the battery on the back of the iPad Air. Perhaps such lightness has its cost and Apple has gone too far. The explanation may be due to a change in construction materials and thinner aluminum in the mount. This, obviously, would also have its explanation in the economic part, because as is known, this iPad model is the cheapest of Apple's offer.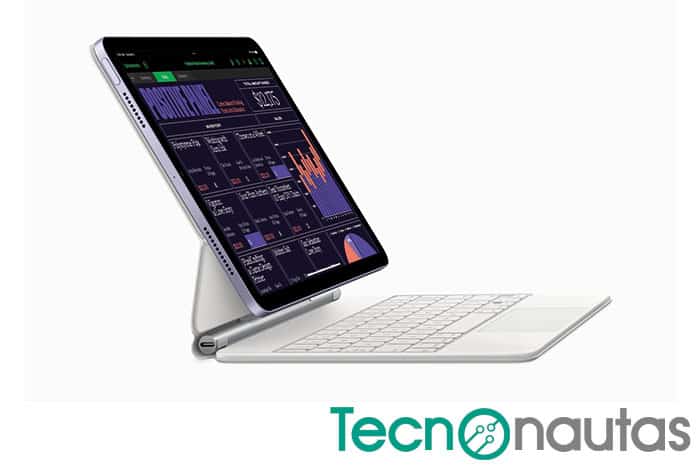 In any case, the performance provided by this new tablet, which is compatible with accessories such as the second-generation Apple Pencil, which turns the iPad Air into a digital diary and a drawing notebook that users can carry, is highly valued. anywhere. With wireless charging and pairing, Apple Pencil offers pixel-perfect precision and seamless lag, making writing as easy and natural as using pen and paper.
It is also compatible with the Magic Keyboard, which offers the best typing experience with its floating design and integrated trackpad; the Smart Keyboard Folio, with its comfortable typing experience in a slim design; and Smart Folio Cases, which come in beautiful color coordination—black, white, electric orange, dark cherry, English lavender, and navy blue—that complement the finishes of the new iPad Air.