A very interesting function is the so-called mouse track , in which the movement of the mouse pointer is represented by several mouse symbols. We have shown you such a mouse trace here as an example.

This mouse track, depending on the set length, is displayed by arranging the individual mouse movements . The user can configure how long this mouse track should be. We would like to show you today that you can activate or deactivate the mouse track under Windows 10 .
Activate mouse track in the Windows settings
The easiest way is to call up the Windows settings using the Windows key combination

and then select the item
Devices (Bluetooth, mouse and printer)
and then the selection point " mouse " on the left side. Now numerous mouse options are visible, but the settings for the mouse track can only be found under
More mouse options

Here you have to switch to the " Pointer Options " tab and in the "Visibility" area you will now find the option in question:
Show mouse track
Checking the option activates the mouse track, using the slide switch below you can still select how long the tail of the mouse track should be. There are a total of 7 setting options here . Incidentally, these changes take effect immediately.
Activate mouse track via registry setting
The same function via the Windows registry. To do this, you have to call up the following registry path in the registry editor.
Computer HKEY_CURRENT_USER Control Panel Mouse
There is already the following registry entry here, which increases the mouse track.
MouseTrails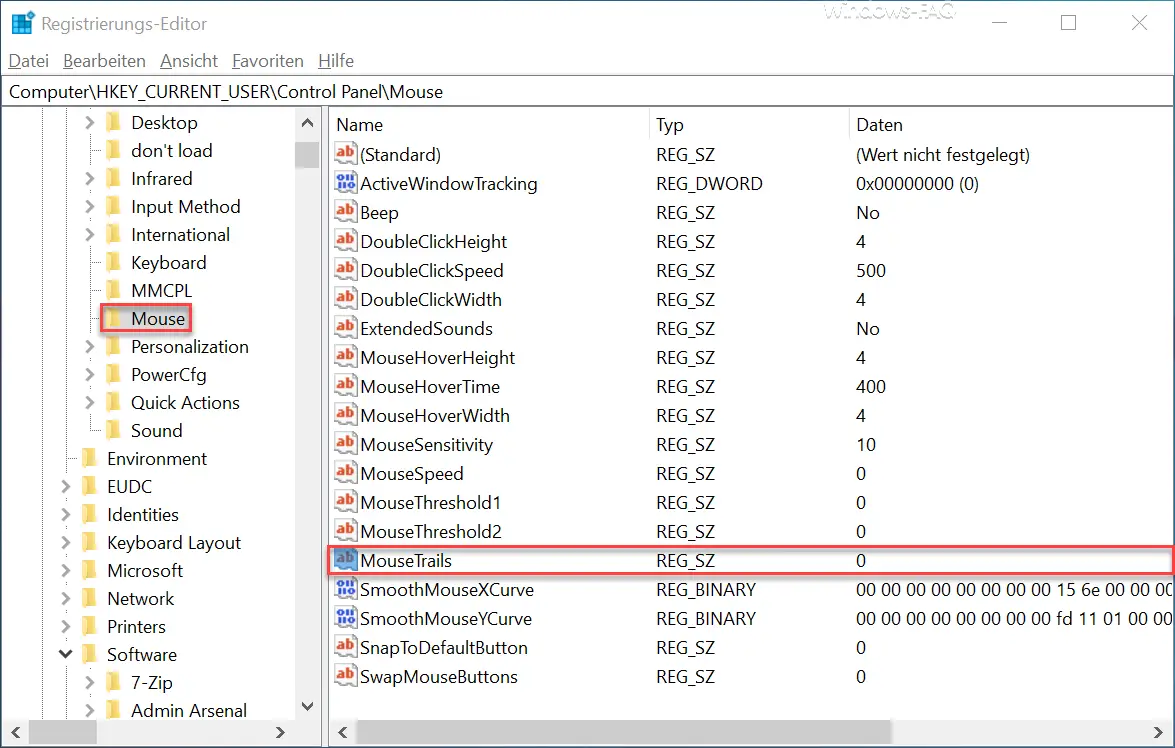 As long as the value of the registry entry " MouseTrails " is at " 0 ", the mouse track is deactivated . If you increase the value to " 1 – 7 ", the mouse track is activated . The higher the number, the longer the mouse track becomes . However, the maximum value is " 7 ".
The registry changes are not immediately active, you have to either log in again or restart your PC once.
You can also find other interesting articles about the " Windows Mouse " here:
– Change the speed of the mouse pointer under Windows 10
– Scroll inactive windows when pointing – Windows 10 mouse setting
– Activate keyboard mouse under Windows 7
– Activate window by pointing with the mouse in Windows 7
– Change the size of the mouse pointer
– Several monitors and PCs via software operate with a keyboard / mouse