The Windows Update error code 0x8e5e03fa apparently now occurs increasingly with Windows 10 users who try to import the latest Windows Update. This update error code is not tied to a specific Windows update, it occurs with different Windows updates , and users have already reported this to us several times. That is why we want to show you today how you can get this problem under control.
Eliminate update error 0x8e5e03fa
Below we have shown you the original error message of this update error 0x8e5e03fa  .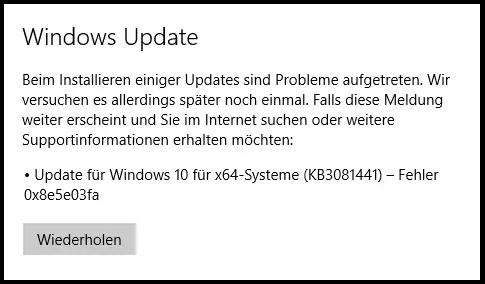 Unfortunately, as is so often the case with Windows update errors , this error code can have various causes. It is certainly sensible, as always, to reset or empty the Windows Update Store, to temporarily deactivate the virus protection for the update process, to run a system check and, if necessary, to have system problems fixed , etc.
All of these measures together should eliminate the problem. For this purpose, a script was created which is called " Reset Windows Update Agent ". We have already reported on this in the past, you can find all the necessary information in our article " Fix Windows 10 update problems with a script ".
After you have downloaded the script , make sure that you start the script (ResetWUEng.bat) as administrator. If you do not do this, the repair script cannot make the changes to your Windows system. If necessary, you will be informed about the missing rights to execute the script.
After you have started the script as admin , the following window appears.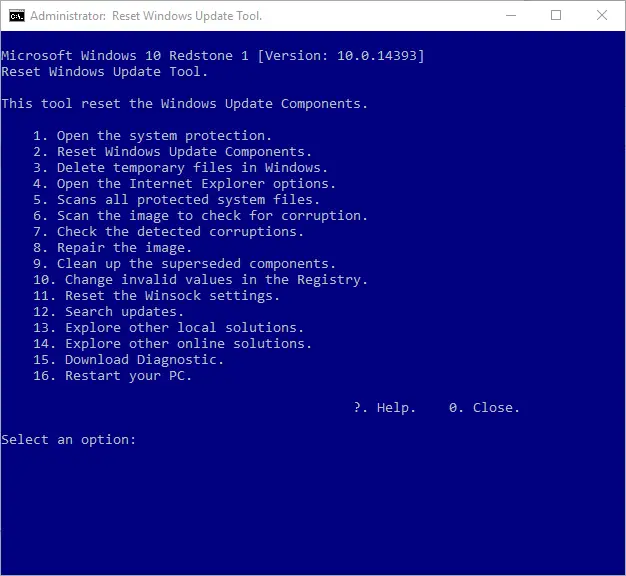 Now you can start the checks and repair work described above via selection point 2 " Reset Windows Update Components ". Then the batch job works through numerous subject areas and finally the menu is displayed again. You can then restart your PC via menu item 16.
After rebooting the Windows 10 system, you should try again whether the Windows 10 update error code 0x8e5e03fa occurs again.
If you are interested in further information about the numerous Windows Update error codes , the following articles may be interesting for you.
– 0x80070490 Windows Update error code
– 0x8000ffff Windows error code
– 0x80072ee7 error code for Anniversary Download
– 0x80070003 error code for Windows Update
– Windows App Store error code 0x8024500c
– Windows Update error code 0x80240fff
– 0xc1900201 error code for Windows 10 Anniversary Update
– 0xc004f014 error code for Windows 10 Upgrade Home -> Pro
– 0x80248007 error code for Windows Update
– Windows Update error code 0x80245006