The Office 2013 or Office 2016 installation (including Office 365) is often not as easy as expected. Many users experience the following problem or error message
Office is installed
Please restore the internet connection.
Office is still installed in the background and an internet connection is required to complete the installation.
The original error message of the Office 2016 installation can be seen here below.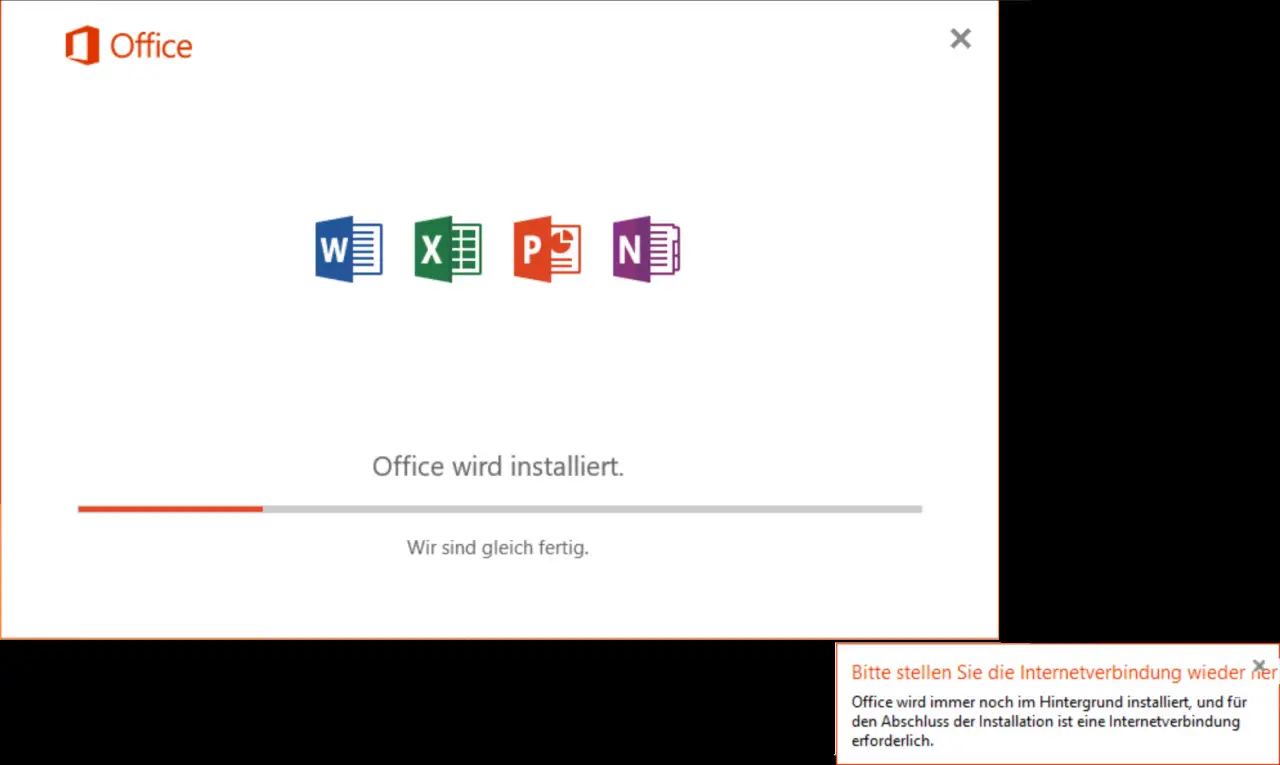 Cause of the Office installation problem
Why this message comes up is completely unclear. We examined it closely, the internet connection is not the cause of the problem, because in our tests the internet connection was permanent via WLAN or LAN connection . There were no ping times to indicate any packet loss or network problems.
The message appears to appear due to other facts. Unfortunately, the Office Setup program does not continue the installation, this can be checked in the Windows Task Manager . There is no use canceling the installation, because the same message reappears when you restart.
Remove canceled Office installation
First you have to completely remove the now canceled Office installation from the Windows system. Because if you try to start the installation again, the following error message will appear relatively quickly.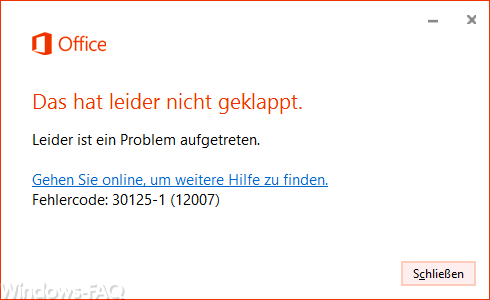 That unfortunately did not work. 
Unfortunately there was a problem.
Error code: 30125-1 (12007)
Unfortunately, this is not that easy and that's why Microsoft has provided a special tool (O15CTRRemove) for uninstalling Office.
Simply download the tool and start it. Then let the tool run through. But be careful, it can take 5-15 minutes for the entire Windows system to be cleared of the incomplete Office installation .
Before you carry out an Office installation again, you should definitely restart the Windows PC.
Download the Office Offline installation package
The best and easiest way is to simply download the Office installation package completely from the Microsoft download servers and then carry out the installation offline. This works as follows.
Open the website  www.office.com/myaccount
Log in with your Microsoft account and switch to the " Office Home & Business " area

Here you now select " Language and installation options "
After that, the item " Other installation options " must be selected.

Then another mask appears in which you click on " Download offline installation program ".

Then the download of the Office installation program starts as an .IMG file, the file name is " HomeBusinessRetail.IMG ". Office 2016 is a 2.7 GB file. Due to the size of the download, the download can take between 30 and 90 minutes.
After the download you can mount the IMG file with a double click and start the SETUP program directly from it . Then simply follow the installation instructions and complete the installation. Now the Office error message described above regarding the missing internet connection should no longer occur.
Below we have listed other interesting articles about Microsoft Office and installation problems.
– Interactive "Menu to ribbon guides" for Word, Excel, Powerpoint and Outlook 2010
– Error message "The stub received incorrect data"
– Error message "Outlook cannot be started … .."
– Profile error message "You were logged on with a temporary profile. "
– EPLAN error message DCOM 0x80040154 – class not registered
– 0x80246003 Windows Update error Office Validation Add-in
– Office 2013 installation error – Unfortunately it didn't work