The Windows Update error code 0x80240442  appears very often when installing Windows 10 updates, but older operating systems such as Windows 8.1, 7 or XP are also affected by this error. Today we would like to show you how you can solve the problem accordingly and install the missing Windows updates without any problems.
First of all, we have shown you the original error message of Error 0x80240442 in the following image.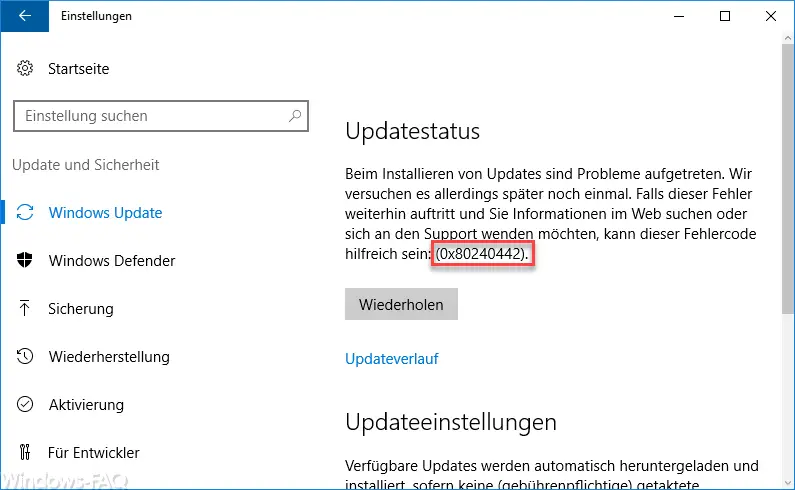 Security software & encryption programs
If you use software from other manufacturers, such as anti-virus programs , anti-malware , tuning programs , RAM disks or encryption programs such as Bitlocker , BoxCrypt, TrueCrypt etc., then you should deactivate them before installing the Windows updates. If this is not possible, the programs should be uninstalled if necessary to determine whether these programs cause the error 0x80240442 .
Do not disable Microsoft services
Furthermore, you should check which services are started, which do not come from Microsoft and therefore do not belong to the scope of the operating system . You can do this quite easily by deactivating the following entry " Windows Services Overview – Hide All Microsoft Services with MSCONFIG " and accordingly all services.
After that, a restart is of course necessary. Please check again whether the update error 0x80240442 still occurs.
Reset Windows Update components
If all of this has not helped so far, please reset the Windows Update components completely. This works very simply by calling a command prompt (CMD). Please note that this is carried out " as administrator ". The following commands must then be issued.
NET stop wuauserv
NET stop cryptSvc
NET stop bits
NET stop msiserver
REN C: Windows SoftwareDistribution SoftwareDistribution.yyy
REN C: Windows System32 catroot2 catroot2.yyy
NET start wuauserv
NET start cryptSvc
NET start bits
NET start msiserver
This will rename the two folders that contain all the necessary information about the Windows update files. Thus, the next time the Windows updates are called up, the Windows operating system creates these directories completely new and also creates the necessary files from scratch.
This should now have finally removed the update error 0x80240442 . If you continue to have problems, please leave a message at the end of this post. If you are interested in further information about other Windows Update difficulties , we recommend the following posts here on our blog.
– Error 0x800704c7 with Windows Update
– 0x8e5e03fa Windows 10 Update error code
– Windows Update error code 0x80240437
– 0x80240031 Windows Update error
– 0x8007052E error code with Windows Update
– Windows Update error code 0x80080008
– 0x80070490 Windows Update error code
– 0x80070003 error code with Windows Update
– 0x8000ffff Windows error code
– Windows Update error code 0x80240fff
– 0xc1900201 error code for Windows 10 Anniversary Update
– 0x80248007 error code for Windows Update
– Windows Update error code 0x80245006
– 0x80072ee7 error code for Anniversary Download
– 0xc004f014 error code for Windows 10 Upgrade Home -> Pro