Unfortunately, Windows 10 users keep reporting error code 0x800f0988 when upgrading to Windows 10 version 1909 . This error  0x800f0988 seems to be relatively widespread and, unfortunately, Microsoft can hardly find it.
We have shown you below the original error message from upgrade error 0x800f0988 .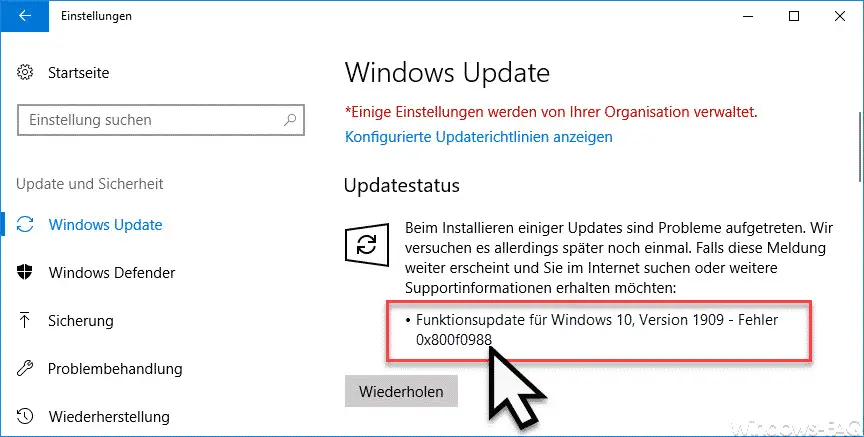 Unfortunately, the error message in the Windows Update does not reveal much. You should now try the following to eliminate the update error 0x800f0988 .
Delete software distribution
First of all, after restarting your Windows 10 PC, you should delete or rename the Windows Update directory " SoftwareDistribution ". Windows 10 stores the update files in this directory that it needs to upgrade to 1909 or to import Windows updates. If this directory does not exist, Windows 10 simply downloads all missing update files again and tries to install them.
To do this, you open a command prompt with administrator rights and then execute the series of commands below.
net stop wuauserv & net stop cryptSvc & net stop bits & net stop msiserver
Ren C: Windows SoftwareDistribution SoftwareDistribution.old
Ren C: Windows System32 catroot2 Catroot2.old
net start wuauserv & net start cryptSvc & net start bits & net start msiserver
This then looks like this.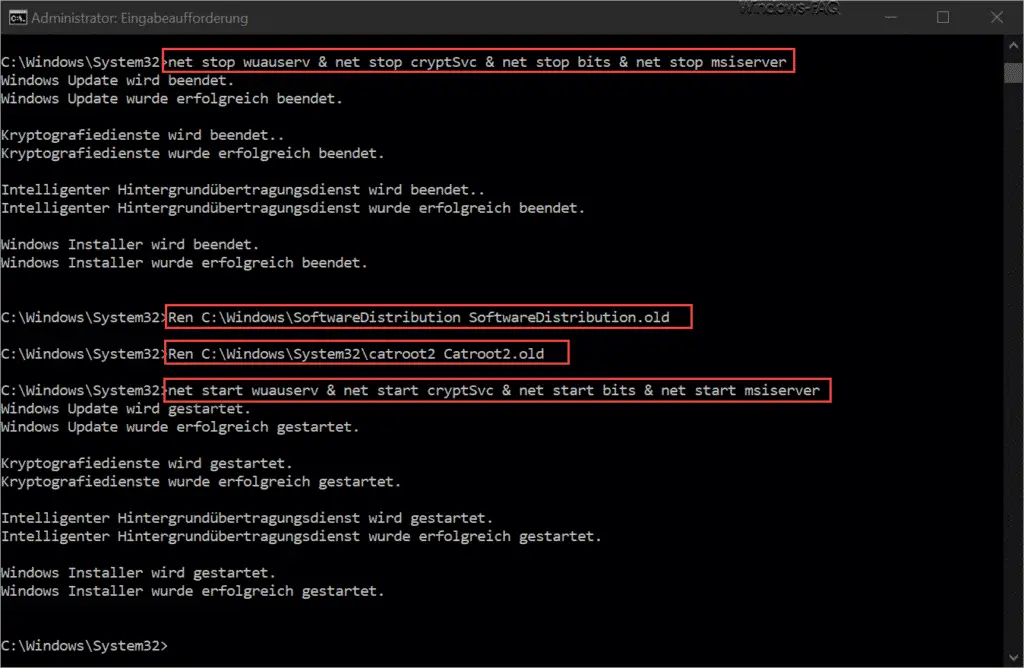 Then you should immediately start the faulty Windows update again and check whether the error code 0x800f0988   continues to occur.
Eliminate 0x800f0988 with DISM
Another option is to use the DISM command to perform a cleanup and restore process for the Windows image. You can  do this by starting a  command prompt with administrator rights and then issuing the following DISM command.
DISM / online / cleanup-image / startcomponentcleanup
This looks like this in the command prompt.

This process can take a few minutes. Then you should restart your Windows 10 once and then run Windows Update again. The update error 0x800f0988 should no longer occur.
In the links below you will find further help for other Windows Update error messages .
– Error code 0x80246008 with Windows Update
– Error code 0x80246017 with Windows Update
– Windows Update error code 0x80070BC9
– Error code 0x80072EFE when installing .Net Framework 3.5
– Windows Update error code 8007000E
– Error code 0x80246001 with Windows Update
– Windows Update error code 0x800c0002
– Windows Update error code 0x80070157
– 0x8024000E
Windows Update error code – XML Data Error – Windows Update error code 0x8007007e
– Windows error code 0x80070570
– Windows 10 Upgrade error code 0x80190001
– 0x800704B3
Windows Update error code – Windows Update error code 0x8024a20617
– 0x80070017 Windows Update error code
– The Windows Store cache may be damaged
– Windows Update error code 0x80072F76 – 0x20017 when running the Media Creation Tool
– 0x8024a223 error code with Windows Update
– error code 0xc1900130 with Windows Update
– 0x80072AF9 Windows Update error code
– Windows Update Fehlerco de 0x80200013