Users particularly often complain about error code 0x800f081e when updating Windows 10 to Windows 10 Spring Creators Update Version 1803 . Apparently there are certain constellations on the different Windows 10 installations, in which the update error message 0x800f081e occurs.
Unfortunately Microsoft does not provide too much information about the error code. Here is a short info that we found directly from Microsoft:
0xf081E CBS_E_NOT_APPLICABLE the package is not applicable
The error message indicates that the update package cannot be processed. After some research on the Internet, this can have 3 causes.
Reset 0x800f081e Windows Update Store
The solution that has helped most users is to delete the Windows Update Store and have it rebuilt. To do this, you have to open a command prompt with admin rights and execute the following commands in sequence.
net stop wuauserv
net stop bits
net stop cryptsvc
ren c: windows SoftwareDistribution c: windows SoftwareDistribution.OLD
net start cryptsvc
net start bits
net start wuauserv
These commands rename the " SoftwareDistribution " directory . If Windows does not find this directory during the upgrade or update, it will be completely rebuilt. Possibly. Missing update files are then downloaded automatically and stored there again, so that this process eliminates many Windows update problems . We have already reported about it several times.
Then you should restart your Windows PC and then try the update again.
Download the update from the Windows Update Catalog
If the update error code 0x800f081e continues to occur, please download the update directly from the Microsoft website " Windows Update Catalog " and install the update manually.
Disable media features
Some users report that the following procedure should fix error code 0x800f081e . An installed " Media Feature " seems to be the cause of the error code  0x800f081e . For this reason, it is advisable to use the " Programs & Features " function (appwiz.cpl ") and then" Activate or deactivate Windows features "to deactivate and deactivate everything in the" Media Features " area .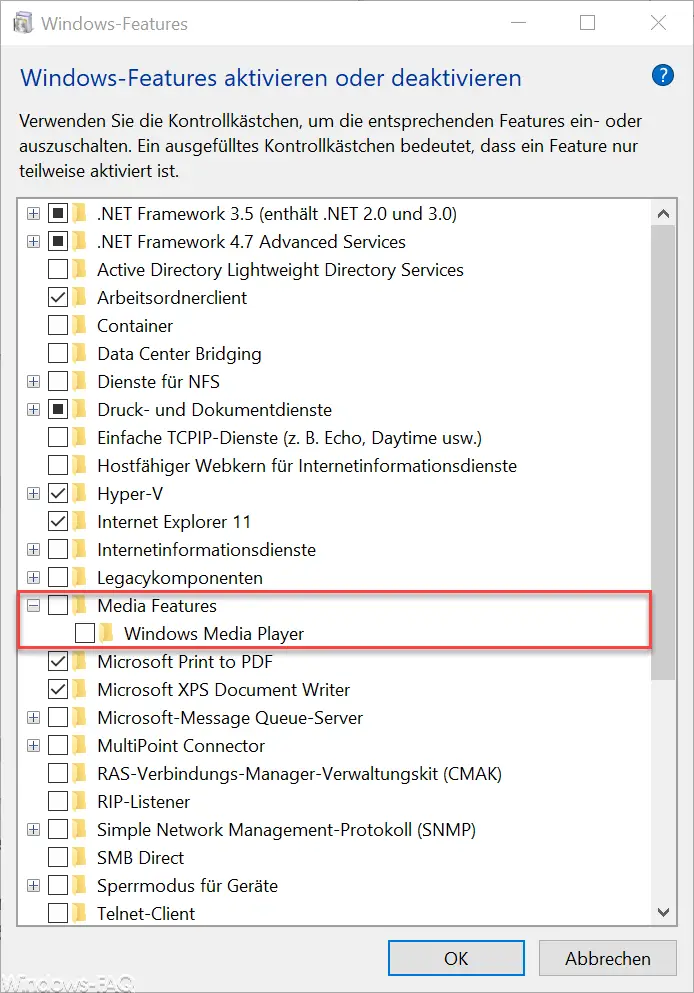 After you have done this, you should restart your PC once and then start the update or upgrade process again. The update error 0x800f081e should no longer occur.
You can also find a solution to other Windows update error codes here:
– 0xC000000F Windows boot
error code
– 0x80245002 Windows Update error code – 0x8024200D Windows Update error code
– Windows Update error code 0xC1900101 – 0x30018
– 0xC1900101 – 0x20017 Windows 10 could not be installed
– 0x80D05001 error code for Windows 10 update
– 0x80070035 error code "The network path was not found"
– 0x80242006 Windows Update
Error Code – 0x80010108 Windows 10 Update
Error Code – 0x8024a105 Windows Update Error Code
– Windows Update Error Code 0x80248014