Currently the Windows Update Error Code 0x80096004 is very common and we would like to show you ways how you can get this problem under control. Here is the image of the Windows update error 0x80096004 , which a user received when he wanted to install the latest Windows 10 updates. He informed us of this by email.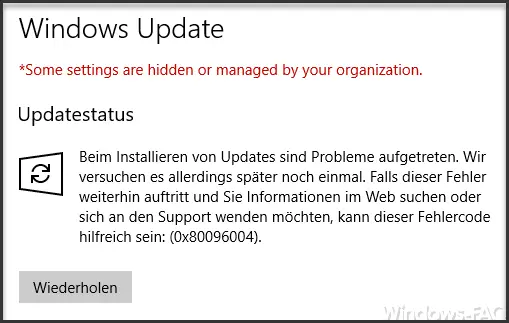 Unfortunately, neither Microsoft nor the network gives any information about the Windows update code 0x80096004 . We were able to re-enact the error and the following then led to the elimination of the Windows 10 update error .
Check Windows resources
With us it was the case that there was apparently a problem with the Windows resources , so certain system files were not in perfect condition or the version numbers of the system files did not match. This can happen very often due to the installation of third-party application programs or the installation of Microsoft Office products . That is why Microsoft has supplied an independent program with which the Windows resources can be checked and repaired very quickly and easily, as we have already reported about it several times.
If you are unsure and do not want to carry out this resource check of the Windows system files , you can simply have your Windows installation checked with the "Verify" parameter .

The command for this is then correct:
sfc / verifyonly
In this picture you can see that the SFC resource checker did not find any errors when checking the integrity of the Windows system files . The exact message is
Windows Resource Protection found no health violations.
In this case you do not need to start the SFC repair run. However, if there are integrity violations , you must replace the " Verifyonly " parameter with " Scannow ". Overall, the check takes between 10 and 20 minutes, of course, depending on the speed of your PC.
After you have repaired any system violations, you should definitely restart the system and then start the Windows update function again immediately. Now the error 0x80090004 should no longer occur.
0x80090004 in connection with the Windows Store
We have already reported about the same error message that the error can also occur in connection with Windows 10 Store . A corresponding solution to the app store error can be found in our entry under " Windows Store error message 0x80096004 ".
Unfortunately, there are always error messages when retrieving and installing the Windows updates, and it is sometimes very opaque why the corresponding error message or update error code occurs. We have listed a selection of the most popular Windows Update bugs below.
– 0xC1900101 – 0x20017 Windows 10 could not be installed
– 0x80240031 Windows Update error
– 0x80070003 error code with Windows Update
– Windows App Store error code 0x8024500c
– 0x8000ffff Windows error code
– 0x80072ee7 error code with Anniversary Download
– 0xc004f014 error code with Windows 10 Upgrade Home -> Pro
– Windows Update error code 0x80240fff
– 0xc1900201 error code for Windows 10 Anniversary Update
– 0x8e5e03fa Windows 10 update error code
– 0x80248007 error code for Windows Update
– Windows Update error code 0x80245006
– 0x80070490 Windows Update error code