Many Windows users are currently complaining about the  0x80072AF9 Windows Update error code . Like most Windows Update error messages, this occurs suddenly. In our example, it occurred when installing the relatively new cumulative update KB4345421 in Windows 10 version 1803, as you can see below.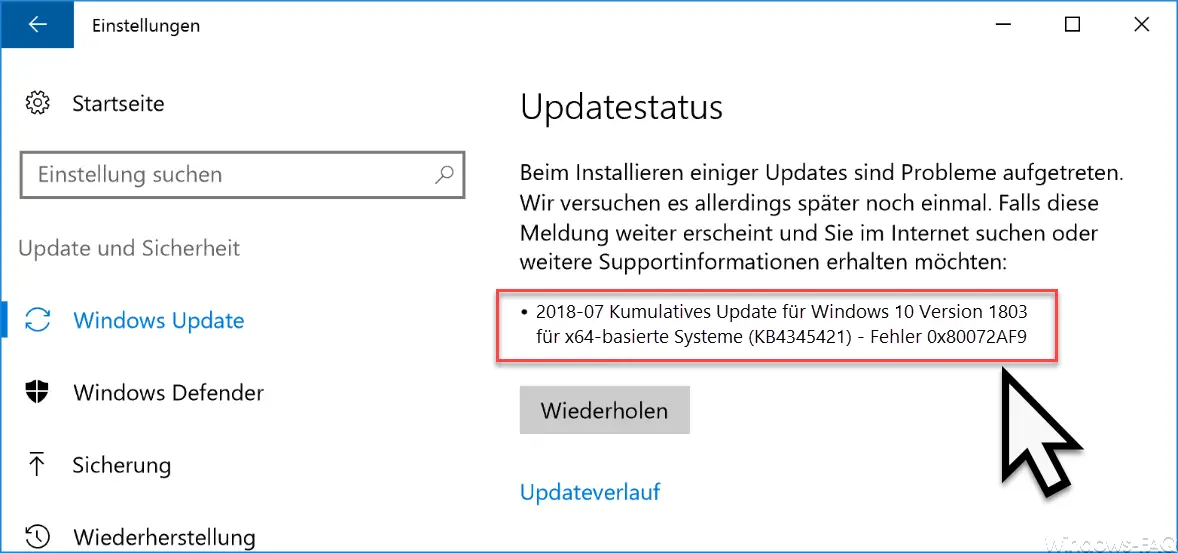 You should try the following solution options to fix error 0x80072AF9 .
Download and install the update manually
If the error code 0x80072AF9 occurs in the normal Windows Update Procedure, it is advisable to manually download the problematic update directly from the Microsoft Windows Updates Catalog and to carry out the installation manually. This way, you can rule out problems when downloading the update from the start.
Background programs prevent the installation
Installed background programs are often to blame for installing Windows updates. We recommend that you deactivate any tuning programs , painting and spyware monitoring programs, antivirus programs at the time of the update and reactivate them after a successful update.
Check Windows system files
Possibly. missing or faulty Windows system files are also to blame for the update error 0x80072AF9. In this case you should execute both of the following commands. Please start a command prompt with administrator rights and then execute these commands:
SFC / scannow
and then this command if the error 0x80072AF9 reappears after a Windows restart during the update.
DISM / Online / Cleanup-Image / RestoreHealth
Clean up Windows Update Store
If all measures have not yet taken effect and the error code 0x80072AF9 still occurs, you should clean up the Windows Update Store. This store contains all the necessary files for the updates that have not yet been installed. We have already described the process for cleaning up the update store several times, you can find detailed instructions in our entry " 0x80240034 error code during Windows update ".
You can find further help for other Windows update errors in these articles:
– Windows Update error code 0x80200013
– Windows error code 0x80073715
– 0x80070652 error code for Windows Update
– Windows Update error code 0x80240022
– 0x1900107 Windows Update error code
– 0x80070bc2 error code for Windows Update
– Windows Update error code 0x80244007
– 0x800f081e error code for Windows Updates
– 0xC000000F Windows
500 error code error – 0x Windows Update
– 0x8024200D Windows Update error code