Today, on Microsoft  Patchday in January 2017 (January 10th , 2017 ), there seem to be problems with the Windows 10 updates again. We have the Windows Update error message on several PCs
receive. We were able to install Windows updates properly on the same PC's about 1 hour beforehand.
Below is the original error message from update error code 0x80244022 .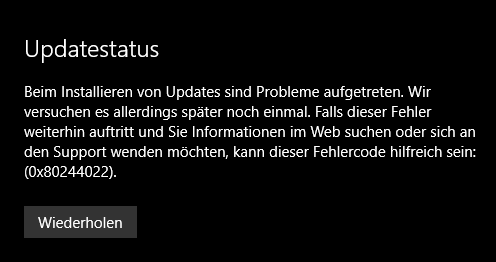 Apparently this problem occurred with error message 0x80244022 immediately after the latest Windows 10 updates appeared on today's first patch day in January 2017. It is currently still unconfirmed whether the Windows Update server was overloaded or because of other Windows Update problems.
We were able to determine that the new cumulative updates for Windows 10 1511 and 1607 are now partially delivered correctly to the Windows 10 clients using the normal Windows Update function. So far there have been no problems when downloading the Windows 10 updates via the Windows Update Catalog.
Let us hope that after the update problems of the past few months, no further problems have arisen and Microsoft has finally got the problems under control. If you have problems with the cumulative updates from January 2017 for Windows 10, it would be nice if you would leave a corresponding comment here at the end of this post.
Below we have listed the links to the new cumulative updates from January 2017. There are also the download links , which you can use to download the updates directly and should therefore not result in an update error 0x80244022 .
– KB3213986 Update for Windows 10 Anniversary (Build 14393.693)
– Windows Update KB3210721 for Windows 10 1511 (Build 10586.753) released
There are still problems downloading Windows 10 updates today. Users complain several times that, for example, the latest cumulative update for Windows 10 version 1809 brings error  0x80244022 , as you can see below.