Users report again and again about the error code 803D000A during the Windows update . This error code is not a specific Windows 10 update error , it occurs again and again on all Windows versions. The exact reason why the error occurs seems to be unknown, but we can show you how you can get the error under control.
First, here is the image of the original error message that we received on a Windows Server 2008 R2 .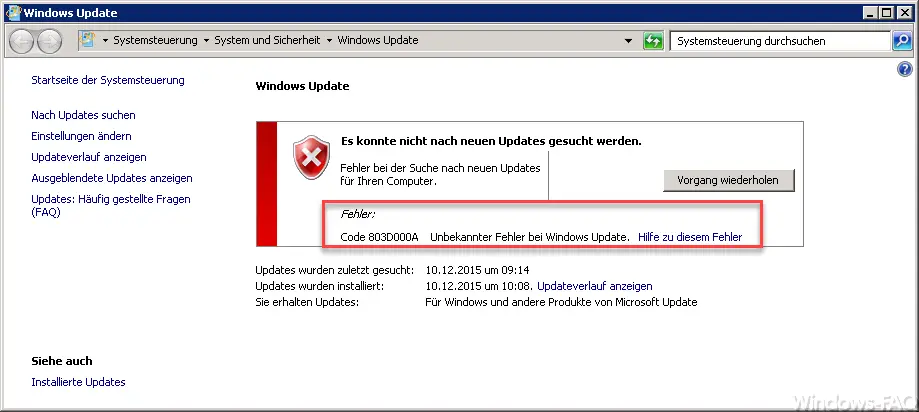 The exact error message is:
Failed to check for new updates. Failed to find new updates for your computers.
Error: Code 803D000A Unknown error with Windows Update.
Deactivate virus scanner
If you receive the error code 803D000A when calling up the Windows updates, you should briefly deactivate your virus scanner and possibly the firewall . Both systems can negatively influence the Windows update process and be the cause of the problem. Of course, you should not forget to reactivate the antivirus software as well as the firewall software after the successful installation.
Register BITS again
There may also be a problem with BITS , the Background Intelligent Transfer Service , which is responsible for getting and installing the Windows updates. The Windows service " Bits " includes some DLLs that you should register again. The following commands are necessary for this.
regsvr32 qmgr.dll
regsvr32 qmgrprxy.dll
You should carry out this DLL re-registration in a command prompt with administrator rights or directly via the Windows key + "R" . Then you should restart your Windows PC and check whether the error 803D000A occurs again.
You can find much more information about Windows update errors in the following posts here on Windows FAQ.
– 0x80096004 error message with the Windows 10 update
– 0xC1900101 – 0x20017 Windows 10 could not be installed
– 0x8000ffff Windows error code
– 0x80072ee7 error code with the anniversary download
– 0x80240031 Windows Update error
– 0x80070003 error code with the Windows update
– Windows App Store error code 0x8024500c
– 0x8e5e03fa Windows 10 Update error code
– 0x80248007 error code for Windows Update
– Windows Update error code 0x80245006
– 0x80070490 Windows Update error code
– 0xc004f014 error code for Windows 10 Upgrade Home -> Pro
– Windows Update error code 0x80240fff
– 0xc1900201 error code for Windows 10 Anniversary Update