Today we would like to report a Windows Update error 80240442 , which can occur again and again. We currently had this error on a Windows Server 2012 R2 , but it can just as easily occur on a Windows 10, 8.1 or Windows 7 . Below is the original error message from update error code 80240442 .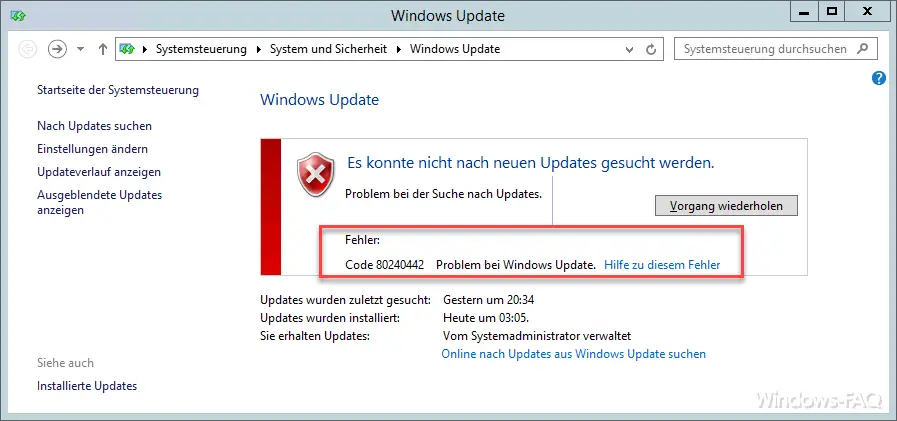 Check third-party software
First you should check whether you have installed third -party software from the areas of security software (anti-malware, firewall), backup software , tuning programs or encryption programs such as Bitlocker, Truecrypt etc. This software can intervene in the Windows update process and lead to the described error message 80240442 .
In this case, you should, if possible, deactivate the software, switch it off or stop the corresponding services. You can then test whether these programs are possibly the cause of the update problem.
Windows services
In general, you should check whether the services that are necessary for the Windows Update function are all started. These are the services
WUAUSERV (Windows Update)
CryptSvc  (Cryptographic Service)
Bits (Intelligent Background Service)
If they are all started, please stop all services that do not belong to Windows or that do not come from Microsoft. The easiest way to do this is via MSCONFIG , because there you can deactivate these services very quickly.
Reset Windows Update components
If none of this has worked so far, you still have to reset the Windows Update components. This works as follows by calling all of the following commands in an MS-DOS command prompt that you started with administrator rights.
net stop wuauserv
net stop cryptSvc
net stop bits
net stop msiserver
ren C: Windows SoftwareDistribution SoftwareDistribution.BAC
ren C: Windows System32 catroot2 catroot2.BAC
net start wuauserv
net start cryptSvc
net start bits
net start msiserver
As a result, the Windows update "memory" is completely emptied and all pending Windows updates are completely reloaded from scratch. The update error code 80240442 should then  no longer occur.
If you are interested in further bug fixes from the Windows Update , we recommend the following posts.
– Windows Update error code 803D000A
– 0x80096004 error message with Windows 10 Update
– 0xC1900101 – 0x20017 Windows 10 could not be installed
– 0xc1900201 error code with Windows 10 Anniversary Update
– 0x8000ffff Windows error code
– 0x80072ee7 error code with Anniversary Download
– 0x80248007 error code with Windows Update
– Windows Update error code 0x80245006
– 0x80070490 Windows Update error code
– 0xc004f014 Error code for Windows 10 Upgrade Home -> Pro
– 0x80240031 Windows Update error
– 0x80070003 Error code for Windows Update
– Windows App Store error code 0x8024500c
– 0x8e5e03fa Windows 10 Update error code
– Windows Update error code 0x80240fff