The Windows Update error code 0x80246019 occurs quite rarely, but users keep complaining about this Windows Update error message. Unfortunately, as you can see below, the error message does not indicate the cause of error 0x80246019 .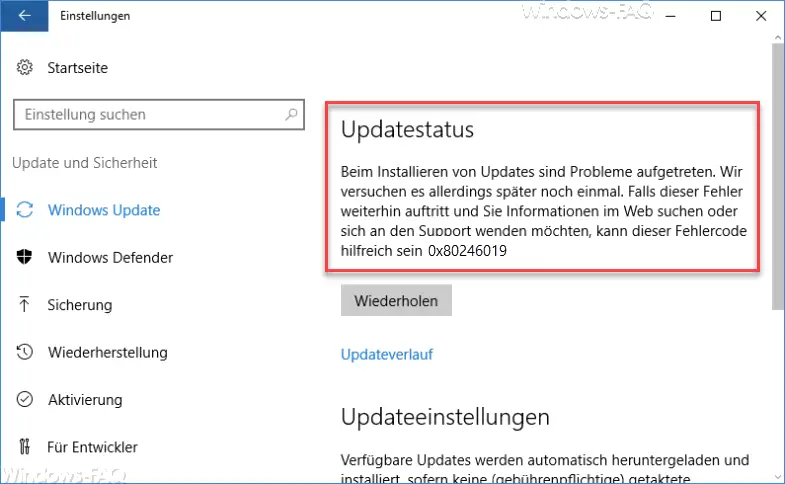 Microsoft Tool against error 0x80246019
Microsoft also offers a special tool for this error code, which examines your Windows installation for any problems and then adjusts them if necessary. The program is called
WindowsUpdateDiagnostic.diagcab
and you will find the appropriate download link at the end of this article . This update solves problems that prevent Windows from updating. Among other things, the entire Windows update process and a Windows network diagnosis are carried out , as you can see below.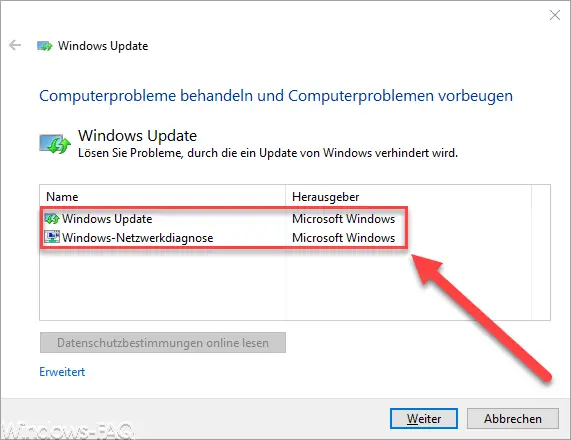 It is important that you start the program " WindowsUpdateDiagnostic.diagcab " after the free download with administrator rights, because only then does the program have the necessary rights to replace any system files or to find and eliminate errors in the Windows update process .
The use of the program is more or less self-explanatory. After performing the Windows Update Troubleshooting Tool, you should definitely restart your Windows PC once so that all changes become active. You can then test whether Windows Update now throws error code 0x80246019 again  .
Remove unnecessary hardware
Some users have also reported that connected hardware components such as printers, scanners, webcams or other USB devices can cause error 0x80246019 . It is best to remove all devices that you do not need for unconditional work and then run Windows Update again.
Here you can download the tool described above:
– Download WindowsUpdateDiagnostic.diagcab
Further information on other Windows Update error codes can also be found in these articles.
– 0x80070bc2 error code in Windows Update
– Windows Update error code 0x80244007
– 0x800f081e error code in Windows Updates
– 0xc000000f Windows Boot Error code
– 0x80245002 error code in Windows Update
– 0x8024200D Windows Update Error Code
– Windows Update error code 0xC1900101 – 0x30018
– 0xC1900101 – 0x20017 Windows 10 could not be installed
– 0x80D05001 error code during Windows 10 update
– 0x80070035 error code "The network path was not found"
– 0x80242006 error code during Windows update