Today we would like to report about the Windows Update error code 0x80070BC9 , which we have received more and more in the past few days. For inexplicable reasons, the integrated Windows Update process aborts with the error code  0x80070BC9 , as you can see here in the image below.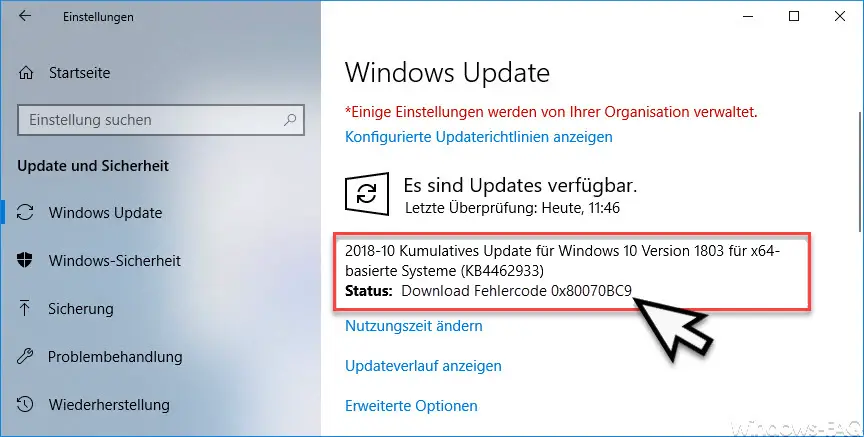 Unfortunately, the error message that Windows displays when error 0x80070BC9 occurs is not particularly meaningful. However, you should carry out the following steps to eliminate the error and install the missing Windows updates.
Clean up update store
As a rule, problems with the Windows Update Store are often the reason for such update messages. For this reason, you should delete or rename the directory in which all downloaded Windows Update files are located. The easiest way to do this is to start a command prompt, which must have administrator rights.
Then you execute the following commands in sequence.
net stop bits
net stop cryptsvc
net stop wuauserv
rd / s / q% windir% SoftwareDistribution
del% windir% WindowsUpdate.log
net start wuauserv
net start cryptsvc
net start bits
This removes the content of the Windows Update components that have already been downloaded or renames the associated root directory . If you now run Windows Update again, Windows automatically creates this folder including all necessary subfolders and then stores the downloaded Windows Update files in this folder structure.
Please check whether the update error 0x80070BC9 occurs again.
Download faulty Windows update manually
Another good option is to download the missing or incorrect update from the Windows Update Catalog and install it manually. Simply go to the Microsoft website
https://catalog.update.microsoft.com/
and carries out the download using the KB number. We would advise you to delete the Windows Update Store beforehand as described above.
Virus scanners can generate error code 0x80070BC9
We keep finding that third-party virus scanners are the cause of Windows Update error codes. For this reason you should definitely deactivate the virus scanner for a short time , this is usually possible with all virus scanners. Then you delete the update store as described above and it is best to carry out a manual installation of the problematic Windows update.
After installing the Windows updates, you should of course not forget to reactivate the virus scanner .
Finally you will find further help for other Windows updates error codes.
– Error code 0x80072EFE when installing .Net Framework 3.5
– Windows Update error code 8007000E
– Error code 0x80246001 with Windows Update
– Windows Update error code 0x800c0002
– Windows Update error code 0x80070157
– 0x8024000E error code with Windows Update – XML Data Error
– Windows Update error code 0x8007007e
– Windows error code 0x80070570
– Windows 10 upgrade error code 0x80190001
– 0x800704B3 error code with Windows Update
– Windows Update error code 0x8024a20617
– 0x80070017 error code with Windows Update
– The Windows Store cache may be damaged
– Windows Update error code 0x80072F76 – 0x20017 when running the Media Creation Tool
– 0x8024a223 error code with Windows Update
– Error code 0xc1900130 during Windows Update
– 0x80072AF9 Windows Update error code
– Windows Update error code 0x80200013