Again and again we receive requests that Windows 10 users get the error code when installing Windows 10 Feature Updates (i.e.Windows 10 Version 1803 or 1809)
receive. There can be various reasons why this error occurs again and again when installing Windows 10 function updates or cumulative updates. Microsoft uses the term " Error_External_Backing_Provider_Unknown " for the update error 0x80070157 , which unfortunately does not provide much information either.
The error message 0x80070157 then usually looks like this.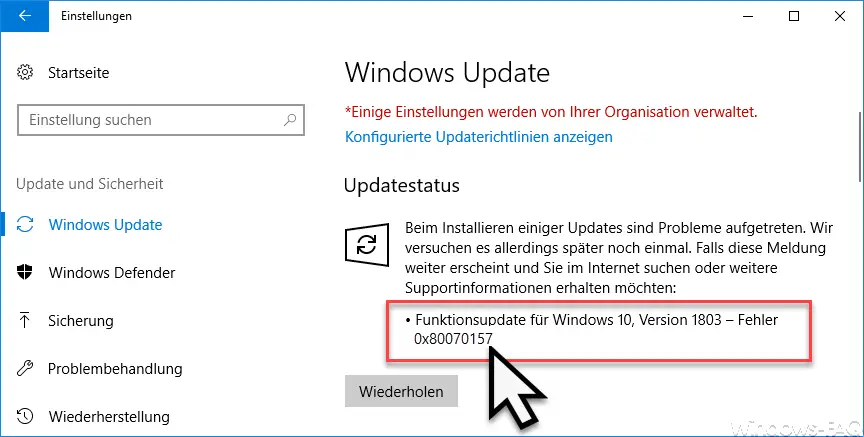 You should try the following options to eliminate error 0x80070157.
Deactivate virus scanner
Very often with this error 0x80070157 the virus scanner is the cause of the problems. So you should briefly deactivate your virus scanner or uninstall it if necessary. Then check again whether the update process generates error code 0x80070157 again . Of course, you should definitely reactivate the virus protection after these tests so that you have reliable virus protection.
Check Windows system files
The second option is to check the integrity of the Windows system files . This works with the Windows command " SFC ", which has numerous options. In our article " Check and repair Windows system files ", we explained in detail how you can have your Windows installation checked for errors with the SFC command and how this also eliminates existing system errors.
The important thing is that after you run the command
SFC / scannow
restarts the Windows PC and then executes the Windows update process again. Only then can you determine whether the update error 0x80070157 continues to occur.
Clean Windows update files
Another option is to delete the Windows Update download folder "SoftwareDistribution" and create it again. The following steps are necessary. Please open a command prompt with administrative rights and enter the following commands in order.
net stop cryptsvc & net stop bits & net stop msiserver & net stop wuauserv
ren C: Windows SoftwareDistribution SoftwareDistribution.ALT
ren C: Windows System32 catroot2 Catroot2.ALT
net start Wuauserv & net start Msiserver & net start Bits & net start CryptSvc
Now all files in the " SoftwareDistribution " folder are deleted. However, this is not a problem either, because Windows 10 will automatically create this folder and store the newly downloaded updates in numerous subfolders. It also makes sense to delete the Catroot folder, because we have described this in detail in our article " Deleting the Catroot & Catroot2 folder in Windows update problems ".
Then the Windows Update function has to be started again and the update error code 0x80070157 should no longer occur.
Finally, we have listed further help for other Windows Update error codes below.
– 0x8024000E error code with Windows Update – XML ​​Data Error
– Windows Update error code 0x8007007e
– Windows error code 0x80070570
– Windows 10 Upgrade error code 0x80190001
– 0x800704B3 error code with Windows Update
– Windows Update error code 0x8024a20617
– 0x80070017 error code with Windows Update
– The Windows Store cache may be damaged
– Windows Update error code 0x80072F76 – 0x20017 when running the Media Creation Tool
– 0x8024a223 error code with Windows Update
– error code 0xc1900130 with Windows Update
– 0x80072AF9 Windows Update error code
– Windows Update error code 0x80200013
– Windows error code 0x80073715
– 0x80070652 error code with Windows Update