When installing Windows 10, the installation error code 0x80300024 can also occur. This Windows error code  0x80300024 is already displayed in Windows Setup when selecting the data medium , as you can see below.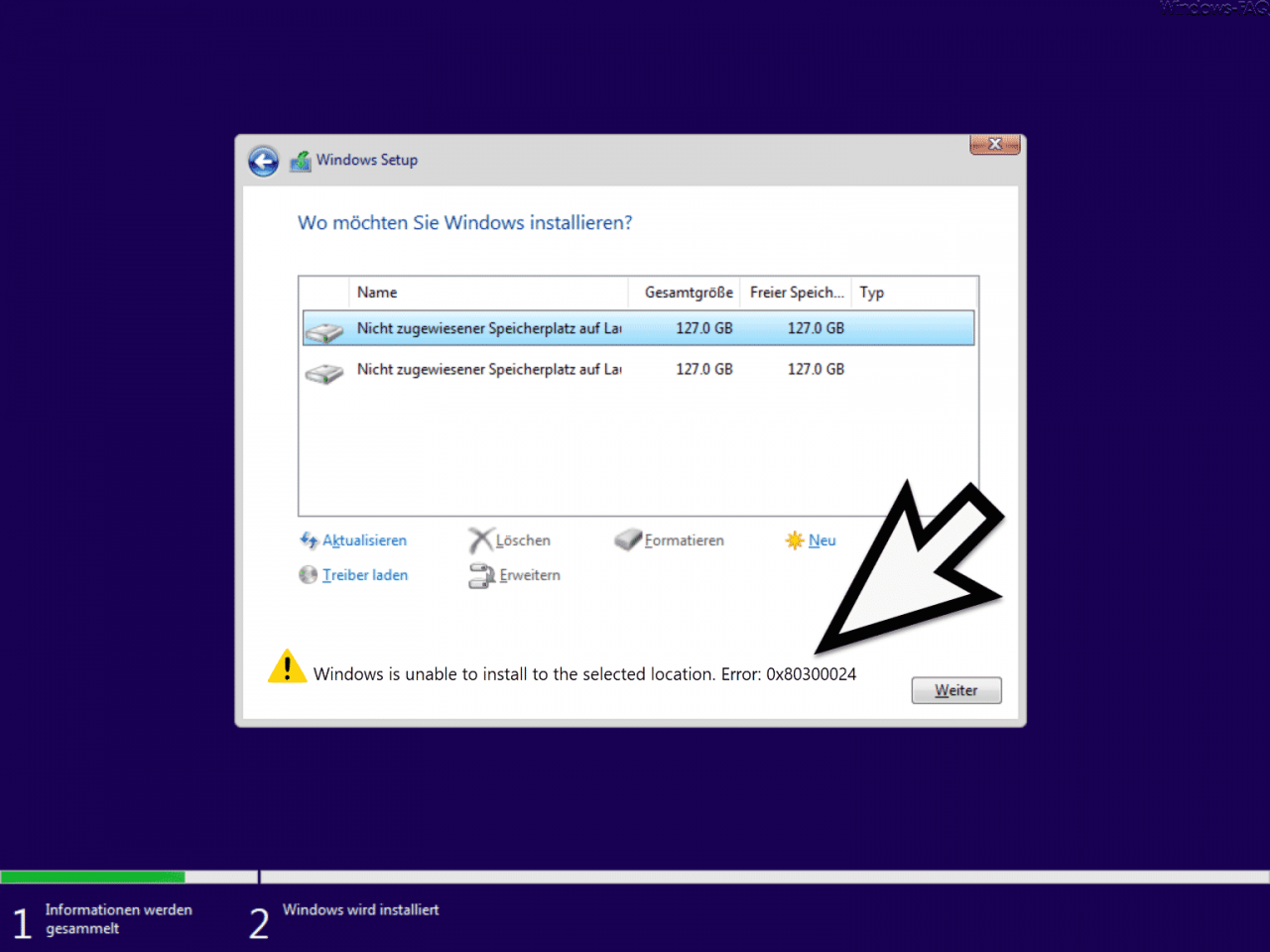 The text of the Windows installation error 0x80300024 reads:
Windows is unable to install to the selected location. Error: 0x80300024
For other Windows systems, the message can also be as follows:
We couldn't install Windows in the location you chose. Please check your media drive. Here´s more info about what happend: 0x80300024
Incidentally, all Windows versions are affected by this Windows installation error and the error also occurs frequently with the Windows Server versions.
Eliminate error code 0x80300024
The solution to the problem is usually relatively simple. As you can also see in the picture, several hard drives are installed in this PC. The Windows Setup program seems to have problems with this in certain circumstances.
For this reason, if you also get the error code 0x80300024, you should briefly remove all other hard drives apart from the installation hard drive . If the hard drives are installed, the best thing to do is pull the SATA cables . Furthermore, you should check whether you have possibly connected external USB hard drives or USB sticks to the PC, because these should also be removed for a short time with error code 0x80300024 .
In addition, you should check in the BIOS of your PC whether the installation hard disk is listed in position 1 in the boot sequence . If not, you should adjust it accordingly and then start the Windows installation again.
Usually the error code 0x80300024 will no longer occur during the Windows installation.
Finally, we have listed more information about other Windows error codes here .
– 0x8024000b error code with Windows Update
– Windows Update error code 0x8024001f
– Error code 0x80246017 with Windows Update
– Error code 0x80246008 with Windows Update
– Windows Update error code 0x80070BC9
– Error code 0x80072EFE when installing .Net Framework 3.5
– Windows Update error code 8007000E
– Error code 0x80246001 with Windows Update
– Windows Update error code 0x800c0002
– Windows Update error code 0x80070157
– 0x8024000E error code for Windows Update – XML Data Error
– Windows Update error code 0x8007007e
– Windows error code 0x80070570
– Windows 10 upgrade error code 0x80190001
– 0x800704B3 error code for Windows Update
– Windows Update error code 0x8024a20617
– 0x80070017 error code Update