With the so-called usage time under Windows 10, Microsoft has introduced a function that the PC does not simply restart during the day after Windows updates and any unsaved work is lost, but that the PC only restarts after the usual working hours.
We have already reported several times about the setting options and functions of the usage time . Today we would like to show you, however, that you can completely deactivate these restarts if you set the following group guidelines. This is called
Do not restart automatically for scheduled installations of automatic updates when users are logged in.
You can find this GPO in the following computer configuration branch.
Computer Configuration / Administrative Templates / Windows Components / Windows Update
We have shown you the Group Policy here below.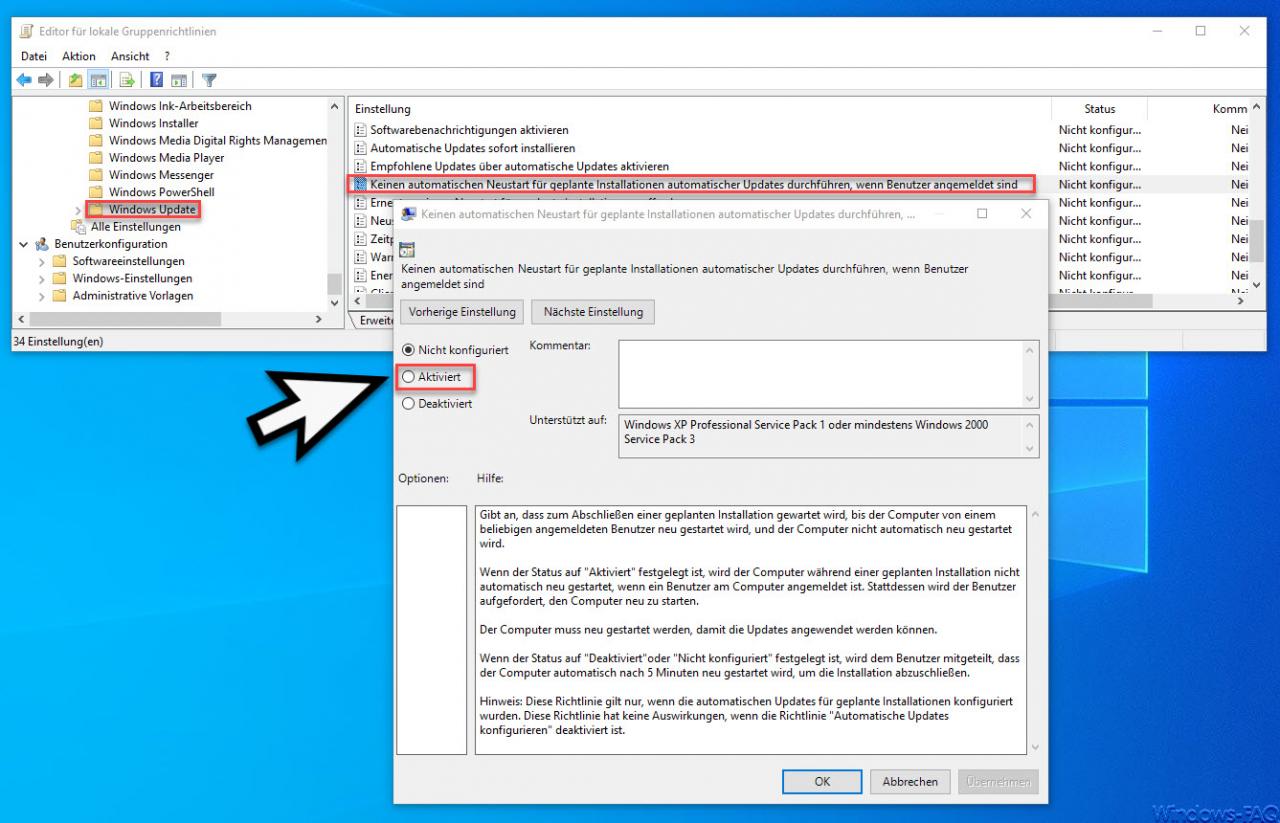 If you " activate " this option , the PC will NOT automatically restart after a Windows update or a feature update if a user is logged on to the PC. With this GPO you can ensure that users do not suffer any data loss just because the PC is restarted due to newly installed updates.
However, this also means that a restart and the installation of security-relevant updates are delayed by setting this GPO , and therefore the security of the clients can unfortunately.
By the way, Microsoft has released the following information about this update GPO.
This GPO indicates that to complete a scheduled installation, the system waits until the computer is restarted by any logged on user and the computer does not restart automatically.
If the status is set to Enabled , the computer does not automatically restart during a scheduled installation if a user is logged on to the computer. Instead, the user is prompted to restart the computer.
The computer must be restarted for the updates to apply.
If the status is set to Disabled or Not Configured , the user is informed that the computer will automatically restart after 5 minutes to complete the installation.
Note: This policy only applies if automatic updates have been configured for scheduled installations. This policy has no effect if the Configure Automatic Updates policy is disabled.
Finally, we have listed two more articles on setting and optimizing the Windows 10 usage time .
– Let Windows determine usage time automatically
– Plan installation time and restart time for Windows 10 updates and set the usage time