Again and again, users are faced with the problem that they no longer have any space in their Outlook mailbox. As soon as size limits are defined on the maximum mailbox size in Outlook , Outlook users reach the limits of their mailbox and have to make space . But this is sometimes not so easy, because which data should you separate from?
Microsoft has the so-called in Outlook
Mailbox cleanup
integrated, with which you have various options to create space in your Outlook mailbox. We show you exactly how this works here.
First you have to left on in Outlook
file
click to see the following mask.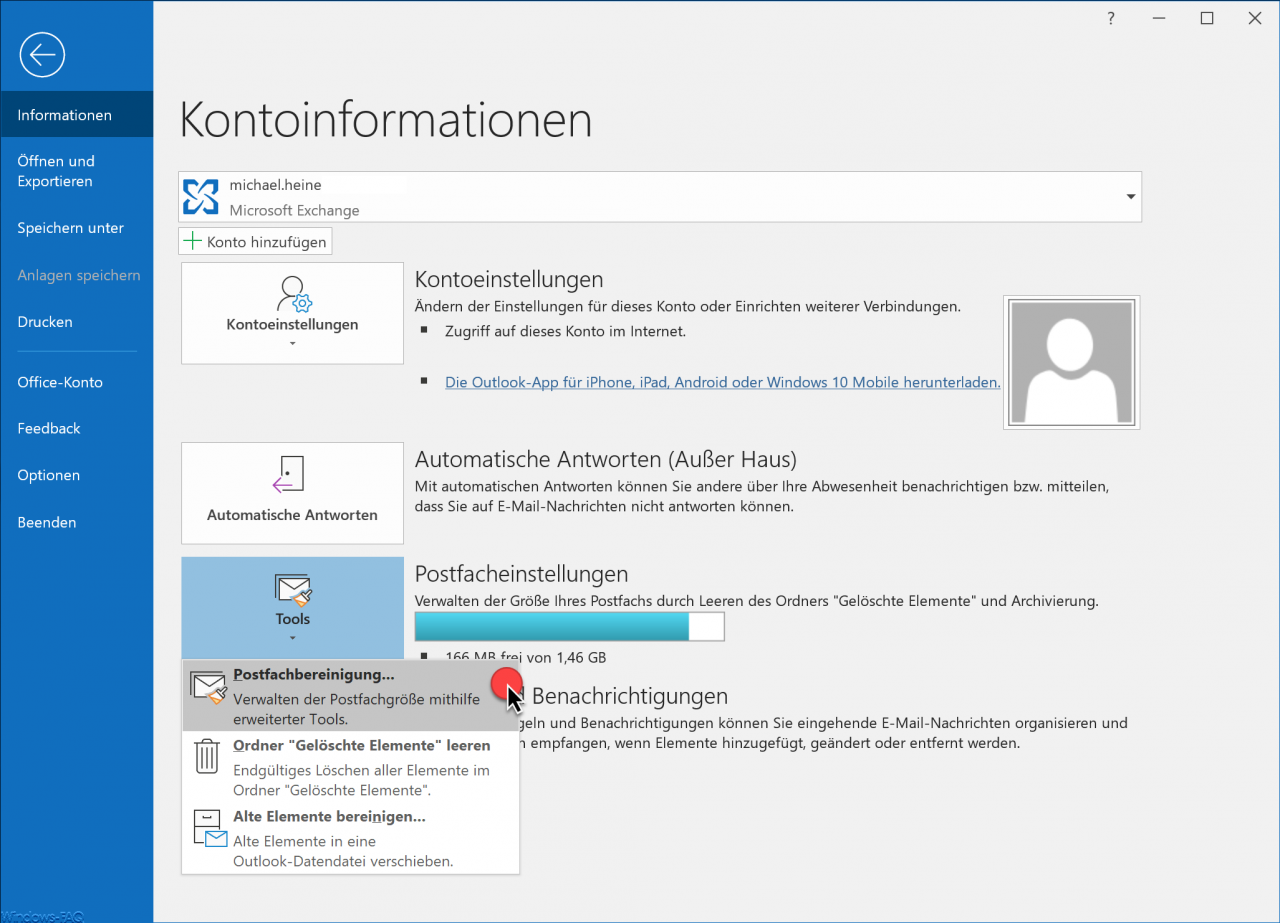 Here you are under the area
Tools
the
Mailbox cleanup
available. After calling up the mailbox cleanup , the following additional window appears with the name " Clean up mailbox ".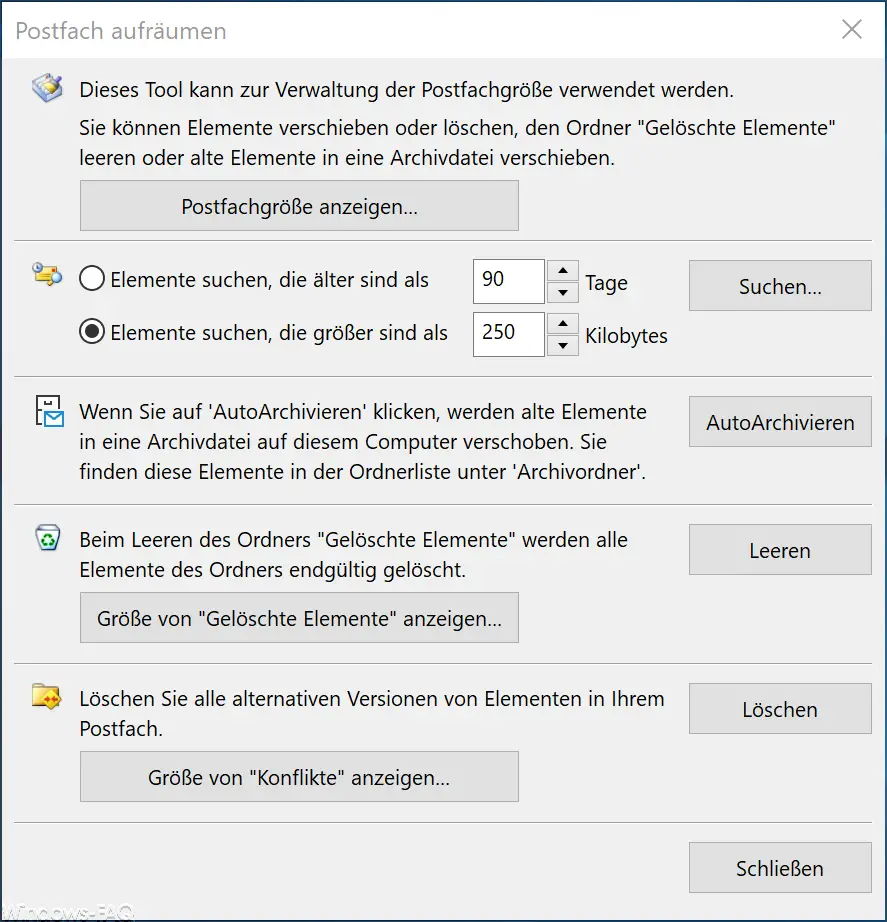 The top option is the " Show mailbox size … " function . We have already dealt with this function in more detail in our article " Determine the size of the mailbox or individual folders in Outlook ".
Find large and old Outlook items
With the 2nd function you can search for old and also large elements that can be deleted based on your age or size. You can choose to only display elements that are older than "X" days or that are larger than "X" kilobytes . Here you have to try a little, with which values you achieve the best results. After clicking on Search you can easily delete the relevant emails.
AutoArchive
Via the item " AutoArchive " old Outlook elements are moved in an archive file on this computer. A PST file is created and moved from the active mailbox to the archive PST file. Thus you gain space in the active mailbox, you will find the archived emails in the folder list under " Archive folder ".
Empty deleted items
Another option is to empty the entire " Deleted Items " folder and completely delete its contents. Via " Show size of deleted elements " you can have a look at the space gained by deleting the deleted elements.
Deletion of conflict data in Outlook
Last but not least, you have the option to create space by deleting " alternative versions of Outlook elements ". These are conflict files that can occur due to duplicate elements, for example. However, this amount of data is usually very small, so this function will only create a relatively small amount of space.
With these functions, you have enough options to bring enough space back into your Outlook mailbox . If you are interested in further tips and tricks for Microsoft Outlook, we recommend the following articles.
– Conversion of Outlook OST files
– Delaying the sending of e-mails in Outlook
– Useful keyboard shortcuts for Outlook
– Retrieving sent e-mails in Microsoft Outlook
– A client operation has failed – Microsoft Outlook
– Reduce or compress Outlook PST file
– Spell check at Activate Outlook
– Backup the Outlook PST file
– Convert Outlook OST file to a PST file with OST2
– Mailbox export to PST files at Exchange Server
– Exchange 2007 mailboxes to PST file
– SCANPST – Tool to repair Outlook .PST files
– Outlook error messages 0x800CCC90 and 0x800CCC92
– Outlook error message "The Operation failed. An object cannot be found. "