When activating Windows licenses, error code 0xC004F034 can occur, even with Windows 10. The exact error message 0xC004F034 then looks like this.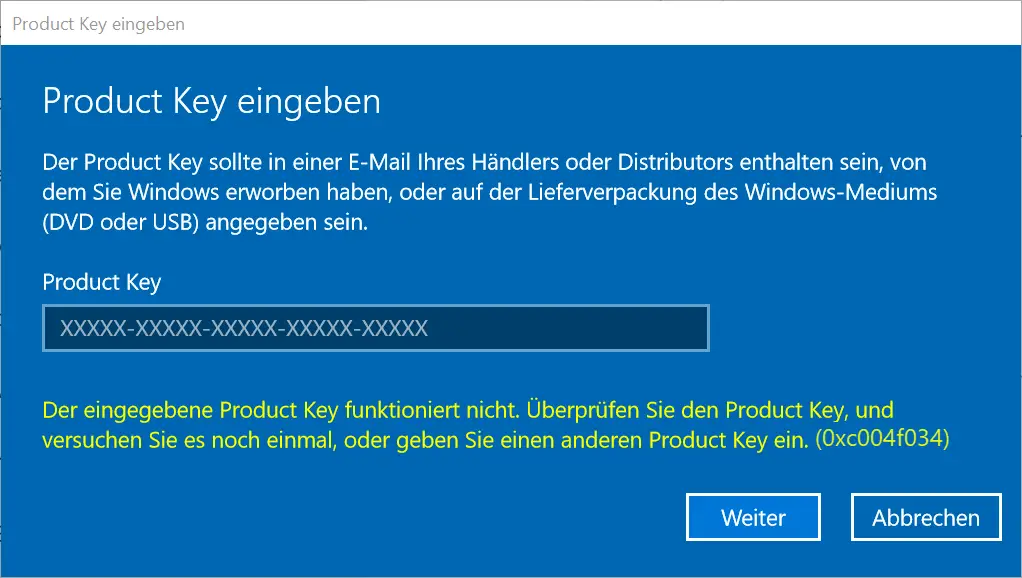 The error message 0xc004f034 ​​appears even though the Windows key entered was entered correctly. This can have the following causes.
Windows activation server overloaded
Activation error 0xc004f034 often occurs because Microsoft's Windows activation servers are overloaded. Usually this problem doesn't take too long and you should try to reactivate your Windows license at a later time. In general, the activation then works perfectly and the activation message 0xc004f034 no longer appears .
Query current key via WMIC
To check which Windows Key is currently stored with you, you can also execute the following command. To do this, simply open a command prompt as administrator and enter the following command.
wmic path software licensing service get OA3xOriginalProductKey
This looks like this:

Then you call the command in the same DOS box
SLUI 3
and enter the key again in the subsequent activation window. If the error code 0xc004f034 occurs again during this activation action , you only have to activate Windows by telephone via the Microsoft hotline. The easiest way to do this is by using the command
SLUI 4
enter. Then you must first select your country and then follow the actions exactly until you come to the phone activation. The call to the activation hotline is usually free of charge and can be completed within a few minutes. The telephone activation Windows usually works smoothly and without problems. In the rarest of cases you will be connected to a Microsoft support representative.
You can find further help for activation errors in these articles.
– Office 365 activation error code 0x80004005
– Windows activation error 0x8007000D
– Activation of Windows error code 0xc004e003
– 0xc004e016 Windows activation error
– Code 0xC004C008 Windows activation error – Check Windows 10
activation
– 0x8004FE30 Windows activation error
– 0xc004f050 Windows 10 error code – Activation error