We are constantly asked the question that when upgrading from a Windows 10 feature update to a newer feature version the following message appears.
Stand-alone Windows Update installer
The update is not suitable for your computer.
Here is the original message when a user tried to upgrade Windows 10 version 1607 (Anniversary) to Windows 10 version 1703 (Creators Update).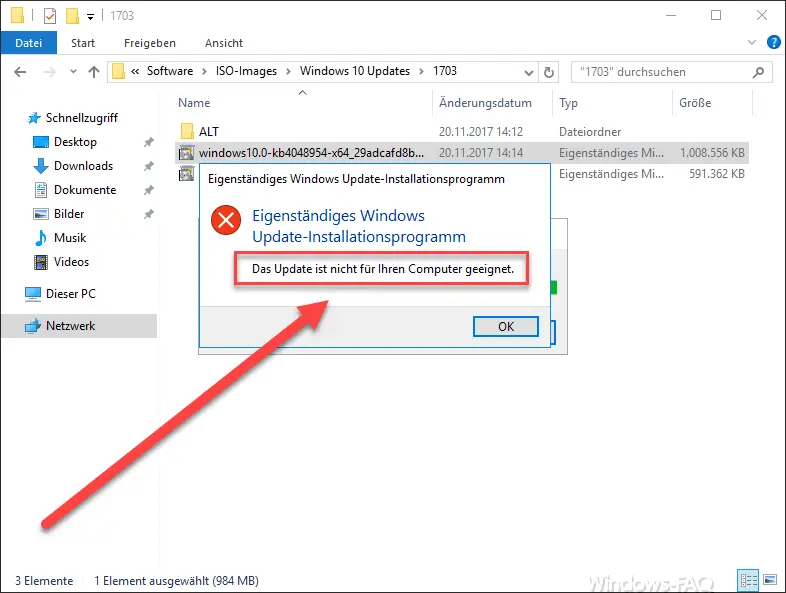 The problem is usually that the Windows 10 user simply wants to install an update of a higher feature update. In this case a Windows 10 Version 1607 Anniversary was installed and the user tried to install the latest cumulative update KB4048954 for Windows 10 Creators Update (Build 15063.728) .
This does not work because the upgrade to the subsequent Windows base build must be carried out first. In this case it is the  update to 15063.0 , the first Creators Update. You have to download the appropriate ISO installation file (Win10_1703_German_x64.iso) and carry out the upgrade.
Only when this upgrade to the desired feature upgrade has been carried out can you install the corresponding last cumulative update  from the appropriate feature update. In this case it would be the update KB40489584 with the build number 15063.728 as already shown . If you want to get an overview of all existing Windows 10 updates and build numbers , then you should take a look at our popular article " Overview of Windows 10 build numbers and Windows updates ". This article is always updated and kept up to date after the appearance of a new update or a new feature update.
You can find more information about Windows upgrade and update in these articles here on our Windows blog .
– Free up used hard disk space with Windows 10 upgrades
– Download settings and upload limit for Windows updates for Fall Creators Update
– Delete Windows update history for Windows 10
– Suspend Windows updates for 35 days for Windows 10 Creators Update
– Configure bandwidth limits for Windows updates with BITS