Most Windows users have probably already noticed that Microsoft Windows 10 has automatically sent Windows diagnostic data .
Today we would like to show you how you can prevent or switch off the automatic sending of diagnostic data to Microsoft .
Feedback and diagnosis
You can find all the necessary settings in the Windows Settings app in the " Feedback and Diagnostics " area. Microsoft has set up its own settings area for diagnostic data there .
ATTENTION: By default, Windows 10 is set so that diagnostic data is sent to Microsoft without the user asking. 
Microsoft explains this as follows:
Complete: Help us fix problems and improve Microsoft products and services. Submit additional diagnostic data (including information about the use of browsers, apps and features, as well as ink and input data) to Microsoft.
You can change this " complete " standard setting to " Simple " at any time . This simple diagnostic data setting then means the following:
Simple: Deliver data that ensures Windows is always up to date and protected.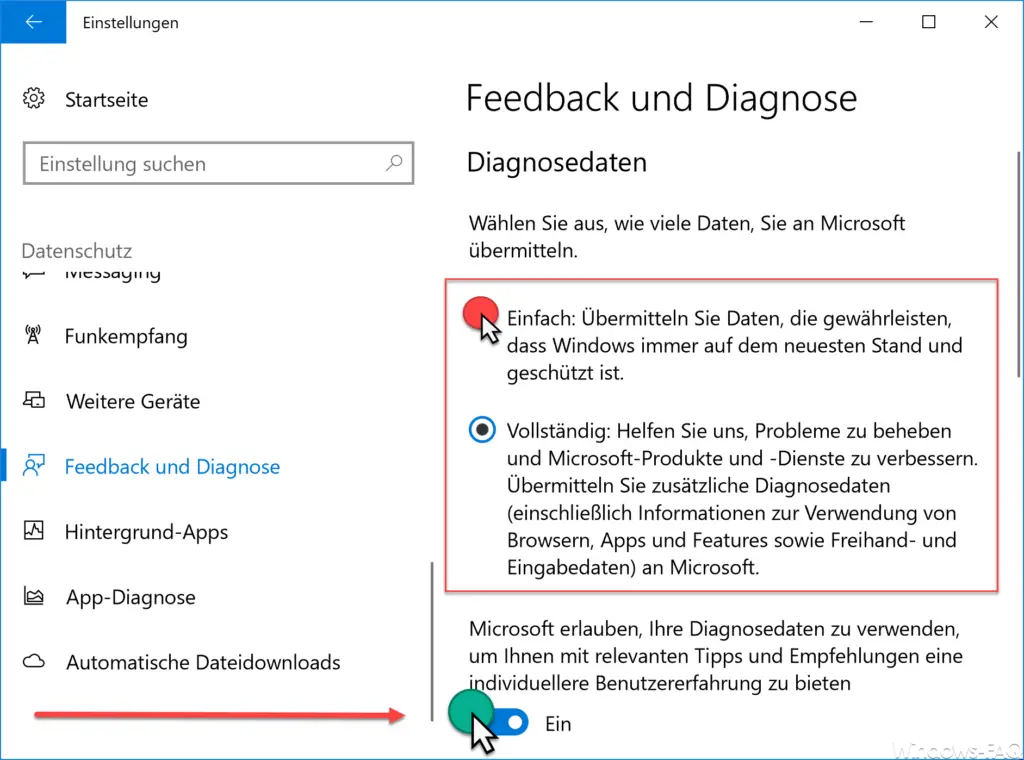 Do not send diagnostic data to Microsoft
If you do not want any diagnostic data to be sent to Microsoft at all, the switch below the diagnostic data must be set to " OFF ". Microsoft explains the diagnostic switch as follows:
Allow Microsoft to use your diagnostic data to offer you a more personalized user experience with relevant tips and recommendations.
Of course, it is up to everyone to set these feedback and diagnostic data settings as desired. However, most Windows 10 users do not worry about it and leave the settings as Microsoft delivers them.
If you are interested in other interesting Windows 10 settings , you should also take a closer look at these articles.
– Remote desktop settings now also in Windows 10 Settings app (Fall Creators Update 1709)
– Install additional language in Windows 10
– 3 finger gestures and 4 finger gestures on the touchpad in Windows 10
– Connect network printer in Windows 10 – Show
memory usage in Windows 10 and free up space