We have already reported several times about error codes from the Windows 10 Store , and again today. Windows 10 users keep getting the error message 0x80131500 when they try to access the Windows Store. Below you can see the original error message from the Windows Store.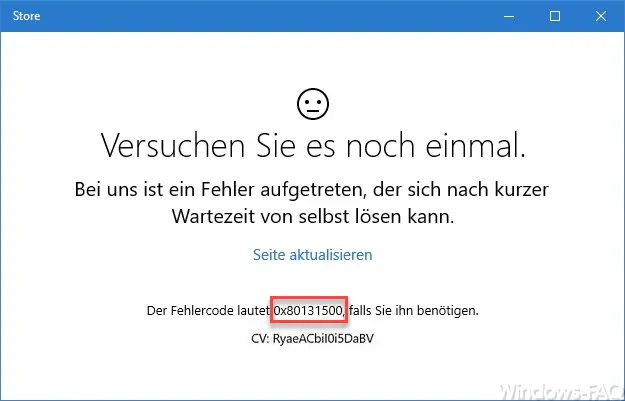 Because of the error message shown, it is not possible to say exactly why the error occurs when opening the Windows 10 store . The text says the following:
Try again.
We have encountered an error that can resolve itself after a short wait. Refresh
Page
The error code is 0x80131500 if you need it
In addition, a CV number is displayed, but it is unrelated. As a rule, the following 2 measures ensure that the error message 0x80131500 does not occur again.
Check date & time
Please check whether your Windows system date and time are set correctly. In the event of deviations, there may well be inexplicable Windows error codes, including error code 0x80131500 .
Microsoft servers are causing problems
As a rule, however, the Microsoft Store servers are the cause of the store error message. Microsoft still seems to have stability problems , so Windows 10 users keep getting various error messages when using the store. Therefore, if you get this error, you should simply wait a while and then start the Windows Store again. As a rule, the error code 0x80131500 then no longer appears and the problem is thus solved.
If the problem persists, please use the comment function and describe your problem, or use the contact form and write us a message. We will then try to help you with your problems.
In the following entries you will find further solutions for known Windows 10 error codes .
– 0x803F7003 error message in the Windows Store
– Windows Store error message 0x80096004
– Windows App Store error code 0x8024500c
– Repair Windows component store with DISM and PowerShell commands
– RSAT remote server administration tools for Windows 10 Anniversary and Creators Update
– Delete service under Windows 10
– Point and Print problems with Installation of printer drivers in Windows 10