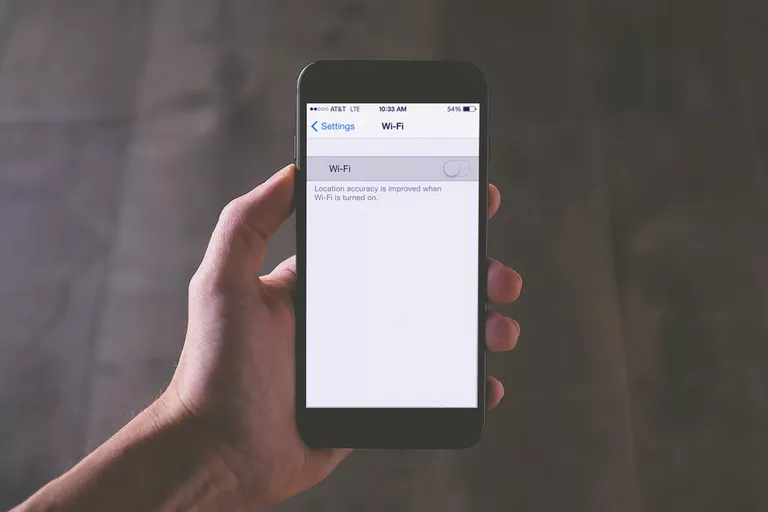 When Wi-Fi goes dark on an iPhone, it's most likely caused by an issue that occurred while updating iOS, the operating system that runs on the iPhone. Luckily, it's not a very common situation: Some users experience Wi-Fi issues with an update, while most others don't, so this is a given situation. Still, if it's happening to you, you'll be happy to know that there are a few things you can try to fix the Wi-Fi issue.
iPhone 4S users typically report grayed out, tamper-proof Wi-Fi settings, but it can affect newer iPhones as well. In fact, any iPhone or iPad that is updated to a newer version of iOS can experience any kind of bug – most of the time, they are simply removed before they are released.
It is important to know that iOS updates are important because they provide security updates and add new features to your device. Don't worry about software updates causing problems; they are rare and you should keep your phone up to date as new software is released.
Option 1: Make sure Airplane mode is off
This might sound silly, but before you do anything more drastic, make sure Airplane Mode isn't turned on. This is a feature that disables Wi-Fi (and cellular networks) because it is designed to allow you to use your phone on an airplane, where outgoing wireless communications are not allowed in some cases.
The easiest way to see if Airplane mode is on is to open Control Center by swiping up from the bottom of the screen (or down from the top right on iPhone X). If the airplane icon is active, tap on it to turn off Airplane Mode and the problem should be fixed. If it's not active, something else is going on and you should move on to the next step.
Option 2: Update iOS
The Wi-Fi problem is the result of a bug, and Apple doesn't usually let the bugs that plague many users linger too long. Therefore, it is very likely that a newer version of iOS has fixed the problem and updating to this version will bring your Wi-Fi back.
You can update your iPhone from the phone itself or use iTunes to download and install the latest version of iOS. When the update is finished and your iPhone has restarted, check if the Wi-Fi connection is working. If it's still grayish, continue to the next step.
Option 3: Reset network settings
If an OS update didn't help, the problem may not be with your OS at all, but rather within your settings. Each iPhone stores a number of settings related to access to Wi-Fi and cellular networks that help you connect. These settings can sometimes cause issues that interfere with connectivity.
It is very important to know that resetting network settings means that you will lose everything that is stored in the current settings. This can include Wi-Fi passwords, Bluetooth connections, VPN settings, and more. That's not ideal, but if that's what you need to do to get Wi-Fi working again, so be it. Here's how:
Open the Settings app .

Tap General .

Go to the bottom of the screen and select Reset .

Select Reset Network Settings . If you have a passcode on your phone, you will need to enter it before you can reset it.

If a warning appears asking you to confirm what you want to do, tap the option to continue.
When this is done, reboot the phone. It's not necessary, but it certainly doesn't hurt.
Option 4: Reset all settings
If resetting network settings didn't help, it's time to take a more drastic step: reset all phone settings. You should not take this step lightly as it will remove all the settings, preferences, passwords and connections you have added to your phone since you started using it.
Resetting your iPhone settings will not remove any apps, music, photos, etc. However, it is always recommended to back up your phone in case something goes wrong.
It's no fun having to recreate all those settings, but it may be necessary. Here's how:
Open the Settings app .

Tap General .

Tap Reset at the bottom of the screen.

Select Reset all settings . If your iPhone is password protected, you'll need to enter it now.

In the prompt that appears, confirm that you want to continue.
Option 5: Restore factory settings
If resetting all settings doesn't work to fix your iPhone's Wi-Fi problem, it's time for the nuclear option: restore factory settings. Unlike a simple reset, a factory default reset is the process by which you remove everything from your iPhone and return it to the state it was in when you first took it out of the box.
This is definitely a last resort option, but sometimes starting from scratch is the right thing to do to solve a serious problem. Follow these steps:
Sync your phone with iTunes or iCloud (whichever you use to sync normally) to make sure you have a backup of everything on your phone. This is especially important if you have stuff on your phone that isn't on your computer or in iCloud. The sync will get them there so that later in this process, you can restore them to your phone.

Open the Settings app .

Tap General .

Scroll all the way down and tap Restart .

Tap Erase All Content and Settings .

If you back up your iPhone to iCloud, you'll get a message at Backup then Erase , or just Erase Now . Choose the one you prefer, but remember that backups are very important.

In the warning popup, tap Erase Now or Erase Phone (the button changes depending on the iOS version of your phone). Your phone will take a minute or two to erase all data
Now you'll want to set up your phone and check if the Wi-Fi connection is working. If so, your problem is solved and you can sync all the content on your phone once again. If it's not working, continue to the next step.
Option 6: Get technical support
If all these attempts have not resolved the Wi-Fi issue on your iPhone, it may not be software related. Instead, there might be something wrong with your phone's Wi-Fi hardware.
The best way to determine if that's the case, and to fix it, is to make an appointment with the Genius Bar at your local Apple store and have them check your phone.
Option 7: Do something crazy (not recommended)
If you read other articles online about how to solve this Wi-Fi problem, you will see another recommendation: put your iPhone in a freezer. Some people report that this solves their problem, but we don't recommend it.
Prev
7 iPhone Battery Replacement
Tips
NEXT
7 solutions for when your iPhone says no SIM
Following