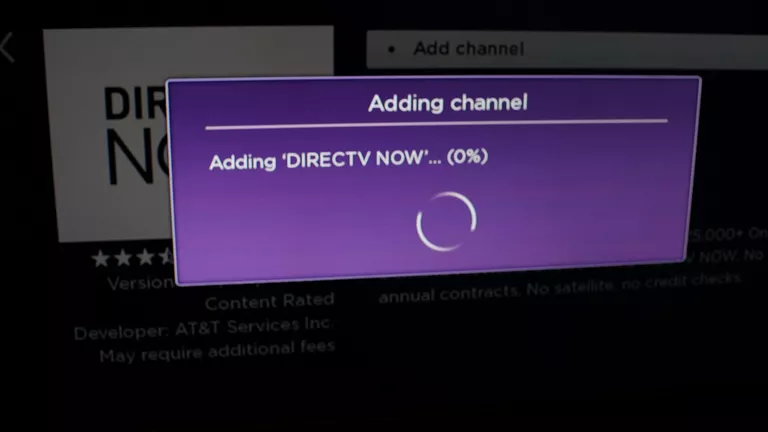 If you have a Roku streaming device and want to watch the content available through your DirecTV subscription, you have a very easy option through the DirecTV Now app for Roku. We're going to go over which Roku devices are compatible and how to get DirecTV on Roku.
How to Install DirecTV Now on Roku
If you have a compatible Roku TV, Roku box, or Roku streaming stick, the process of getting DirecTV on your Roku is as easy as installing any other app.
There are a few steps you need to take before you get the app:
Make sure your Roku device software is up to date.
Make sure the device is connected to the Internet.
Make sure you're signed in to your Roku account on the device.
Once ready, this is what you have to do:
Go to your Roku's home screen.
Select the Streaming Channels option .
Search » DirecTV Now ….»

Select the DirecTV Now app and install it.

If you've tried the steps to get the DirecTV Now app for Roku but don't see the app in your search results, you may not have a supported Roku model. See below for compatible devices.

With the DirecTV Now app installed on your Roku device, sign in to your DirecTV Now account in the app.
Roku Devices for DirecTV Now
Although many Roku devices support DirecTV Now, not all of them do. DirecTV has a full list of supported devices for the app.
The following devices are recommended by DirecTV for the best experience:
4K Roku TV (models: 7000X)
Roku non-4K TV (models: 8000X)
Roku Streaming Stick (models: 3600X, 3800RT, 3800RW, 3800X)
Roku Streaming Stick+ (models: 3810RW, 3810X)
Roku 4 (model: 4400)
Premiere (model: 4620)
Premiere+ (model: 4630)
Ultra (models: 4640X, 4660RW, 4660X)
Roku Express (models: 3900RW, 3900X)
Roku Express+ (models: 3910RW, 3910X)
Although not recommended, the following Roku devices are also supported:
Roku non-4K TV (models: 5000X)
Roku 2 and 3 (models: 4210, 4200 and 4230)
Roku 4K TV (model: 6000)
Roku Express (model: 3700)
Roku Express+ (model: 3710)
Pay close attention to specific model numbers and not just product names. Some Roku devices share a name but have different model numbers. For example, you could have two different Roku 2 models with one that supports DirecTV Now and one that doesn't. Refer to this Roku table to learn more about Roku versions and model numbers.