The one that operates a WSUS (Windows Server Update Services) server uses one or more central Windows Update servers to distribute the Windows and Office updates to its clients in the network. Microsoft has been developing the WSUS for years, but unfortunately it still has a somewhat antiquated interface and it is actually not visible at all what the WSUS server is currently processing or processing.
Right now, where the Windows 10 updates give system administrators so much work , it would be nice if it were visible which client is currently being operated with Windows updates . The monthly cumulative Windows 10 updates cause considerable management problems due to their enormous file size, especially of course on WiFi routes.
That's why we thought about how we might be able to better understand which client is currently updating from the WSUS .
Read WSUS activities via the Task Manager
The solution to the problem is the Windows Task Manager or the Windows Resource Monitor . In the resource monitor there is the area or tab "Network" , which shows you all active network connections or TCP connections. And this is exactly the key, which you can see below.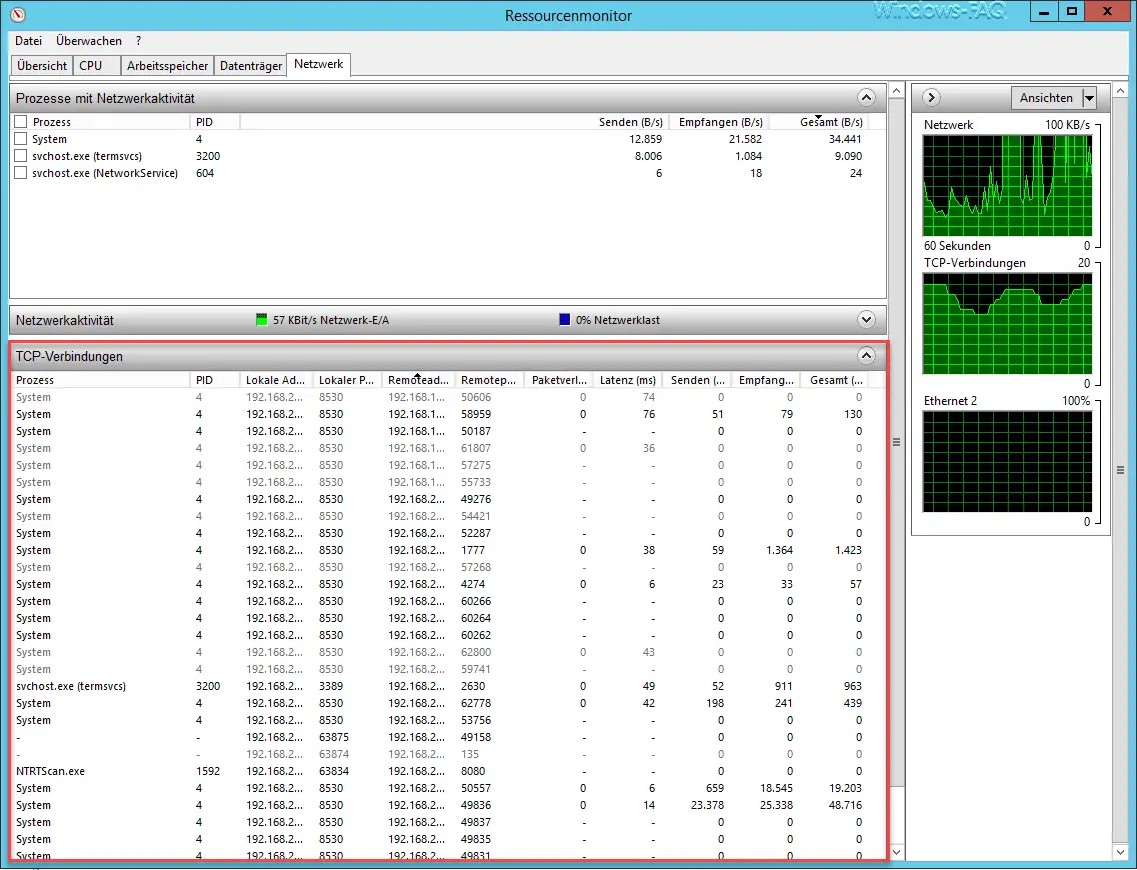 It is important that you really show all the existing columns. Simply right- click in the column heading and select additional columns. The following information is available in the overview of the TCP connections .
process
PID
Local address
Local port
Remote address
Remote port
Packet loss%
Latency (ms)
Send (B / s)
Receive (B / s)
Total (fps)
Based on the remote address of the client PC and the values ​​from the " Total Bytes per Second " column, you can see which client is currently receiving updates from the WSUS server and what bandwidth is being used. This is particularly interesting from the Creators Update case, where the update bandwidth can be limited .
Further information on WSUS servers can also be found in these articles:
– Configure bandwidth limitation for Windows updates with BITS
– Windows 10 WSUS update from version 1511 build 10586.494 to 1607 build 14393.10
– correctly distribute Windows 10 Anniversary Update 1607 via WSUS
– Windows 10 Anniversary Update 1607 available for WSUS
– WSUS connection error – No remote API connection with the WSUS server
– WSUS shows Windows 10 clients as "Vista"
– WSUS database error – Reset server node – Call
internal WSUS database with SQL Management Studio