In order to completely uninstall OneDrive under Windows 10 , several steps are unfortunately necessary. We would like to list them briefly here today so that you can completely switch off the Microsoft Cloud service .
Microsoft OneDrive
But what does the Microsoft OneDrive do ? It is a further development of the Microsoft SkyDrive service and enables Windows 10 users to store data in the Microsoft Cloud quite easily . Microsoft provides every user with 5GB free volume. The data can be easily moved to the OneDrive directory using drag & drop via Windows Explorer and is then available to the user on other PCs that log on to the OneDrive account . Most private Windows 10 users use this to store their documents and pictures there free of charge.
In the company environment, this " feature " is rather uninteresting or is not so popular, so that no company data migrates to any cloud storage . Therefore, many companies are going to completely uninstall the OneDrive service as follows.
Configure OneDrive using Group Policy
First of all, the use of OneDrive should be prevented by GPO (Group Policy) . To do this, switch to the following area in the editor for local group policies (gpedit.msc):
Computer Configuration / Administrative Template / Windows Components / OneDrive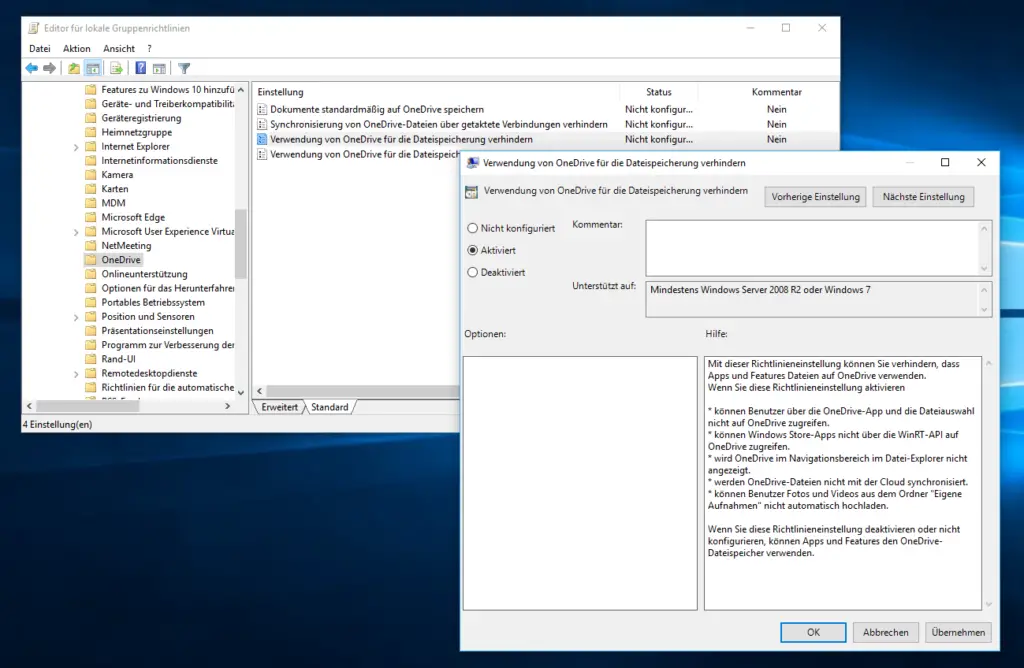 Here the following setting to " deactivate ".
Prevent using OneDrive for file storage.
Microsoft's exact explanation is:
This policy setting helps prevent apps and features from using files on OneDrive.
If you enable this policy setting
users can not access OneDrive through the OneDrive app and file selector.
to Windows Store apps not access the WinRT API to OneDrive.
is OneDrive not displayed in the navigation pane in the File Explorer.
be OneDrive files not synchronized with the cloud.
users cannot automatically upload photos and videos from the My Recordings folder.
If you disable or do not configure this policy setting, apps and features can use OneDrive file storage .
Exit OneDrive via Task Manager
After the group policy has been deactivated, the active task " Microsoft OneDrive " must be terminated using the task manager.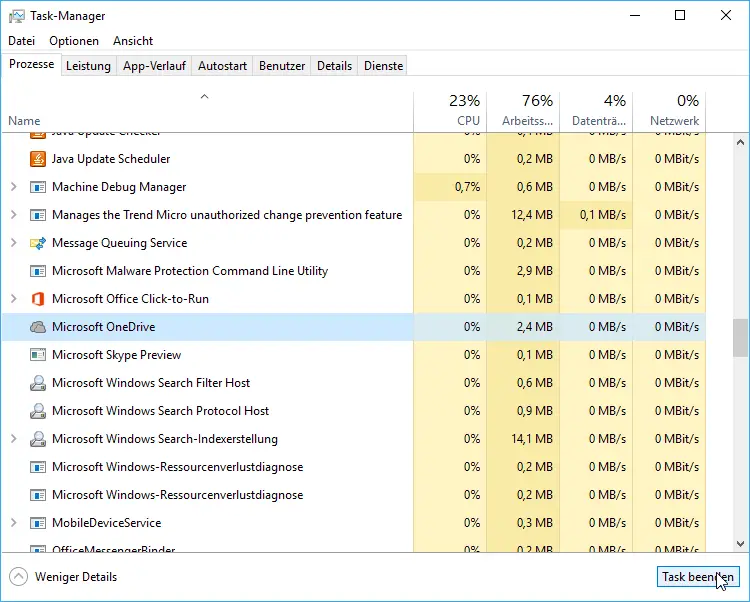 This process can take some time, please wait until the OneDrive process has completely disappeared from the list of active processes  or tasks .
Uninstall OneDrive
Now you can completely uninstall the OneDrive service . To do this, open an MSDOS prompt with administrator rights and open the following program, including uninstallation parameters , in the C: Windows System32 folder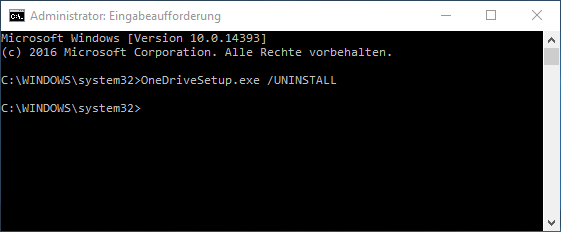 The exact command is:
OneDriveSetup.exe / UNINSTALL
For 64-bit systems: The program is located in Windows 10 x64 in the directory C: Windows SysWOW64.
Please note that no feedback appears after issuing the uninstall command . It takes some time and then the OneDrive software is completely uninstalled.
Update from 04.12.2016: Today we have published another article on the topic " OneDrive ". This article is about how you can easily remove the OneDrive shortcut from Windows Explorer .
Below we have listed further articles on the topic of " deinstallation ":
– Adobe Acrobat Reader deinstallation via MSIEXEC call
– Uninstall Internet Explorer (IE)
– Uninstall Windows updates with WUSA.EXE
– Delete entries from the software list manually